For any country to develop a healthy and sustainable design economy, it needs to have an active and irreverent young street culture. Creativity at street level is a catalyst for future growth. Anyone who has the chutzpah to challenge the norm at a young age will be part of the future establishment – as the artist, the architect, the fashion star or the designer. When you have a place where people sense a freedom to express themselves, in any form, they gather with like-minded individuals who do the same. And when the fashion promenading starts, you see an emergence of people-watching through a new café society.
With a vibrant street life, a place like, say, Braamfontein soon sees burgeoning enterprises – and, though still rough around the edges, these neighbourhoods start to thrive. That pushes the creativity further as people begin to create viable businesses. The globally switched-on start to engage – the photographers, stylists and art directors who, in turn, post on Instagram, report to trend and fashion magazines, or create edgy exhibitions around what they find. Then the international ad agencies, influencers and big brands all come to tap into the cult of the street and bring a wokeness to their clients' campaigns.
This is what has been happening in Johannesburg and all over Africa, from Accra to Addis and Dakar to Durban. We are seeing an unprecedented move towards urban life across the continent, with an increasingly young population who have unlimited access to social media platforms and are way more worldly than their parents ever were.
Most of what is happening is still raw and visceral, but it has immense energy, laced with a new confidence to make a mark
Cultural tourists are beginning to seek out and engage with what is being reported around the world, and the culturally savvy tend to spend a lot of money on lifestyle – shopping, bars and restaurants – while they are here. For example, in Accra, the annual street festival Chale Wote started as a challenge to the establishment through controversial performances and urban installations. Now, several years later, although that still remains the festival's thrust, there are new gallery exhibitions, panel discussions, international artists and support from the presidential office of Ghana. Major media outlets – CNN, BBC and Vogue – regularly send reporters to photograph the cutting-edge fashion that circulates around the event.
Design developments across the continent are bursting forth in an unstoppable wave, primarily in fashion, but with design and architecture following suit. We have rising stars who are pushing out into the world at a fantastic rate. Where once Europe and America sent their creatives and reporters to culturally pillage this continent, thanks to being outed on social media, and through the discovery of our young talent via the same channels, they have started to engage with them instead. Now a fashion story shot in Nairobi is not only going to feature Kenyan designers, but is also likely to be styled by local creative directors and shot by African photographers.
And local promoters in the ever-expanding world of collectable design – such as Cape Town-based Southern Guild – are actively taking the best of our talent to top events like Design Miami/. Where once they were considered an outsider gallery, they are now listed in the top attractions of the show by media outlets such as The New York Times and Architectural Digest.
Across the world, Africa is being watched. Most of what is happening is still raw and visceral, but it has immense energy, laced with a new confidence to make a mark. There have been dynamic shifts in the perception and conception of what African design is. The past few years have seen the emergence of Afro-futurism, which uses the framework of fantasy and science fiction to challenge the world's perceptions of African identity and creatively explore what it means to be an African of today.
The new generations are exploring Afro-urbanism, to create a confident Afropolitan society. They are content to be here; to develop their own style on home ground and then broadcast it to the world. It's no accident that in the pursuit of everything new, global brands are looking to Africa – because in design terms, Africa is not just cool; it's sizzling-hot.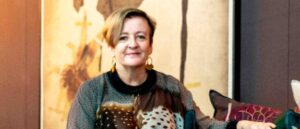 Cathy o'Clery is the creative director of Platform Creative Agency, which specialises in commercial and cultural curation in Africa, from designing and creating museum experiences to conceptualising and strategising forward-thinking marketing campaigns.