How eco-resorts' sustainable design principles are effectively helping us reconnect with nature and protecting the planet's wilderness.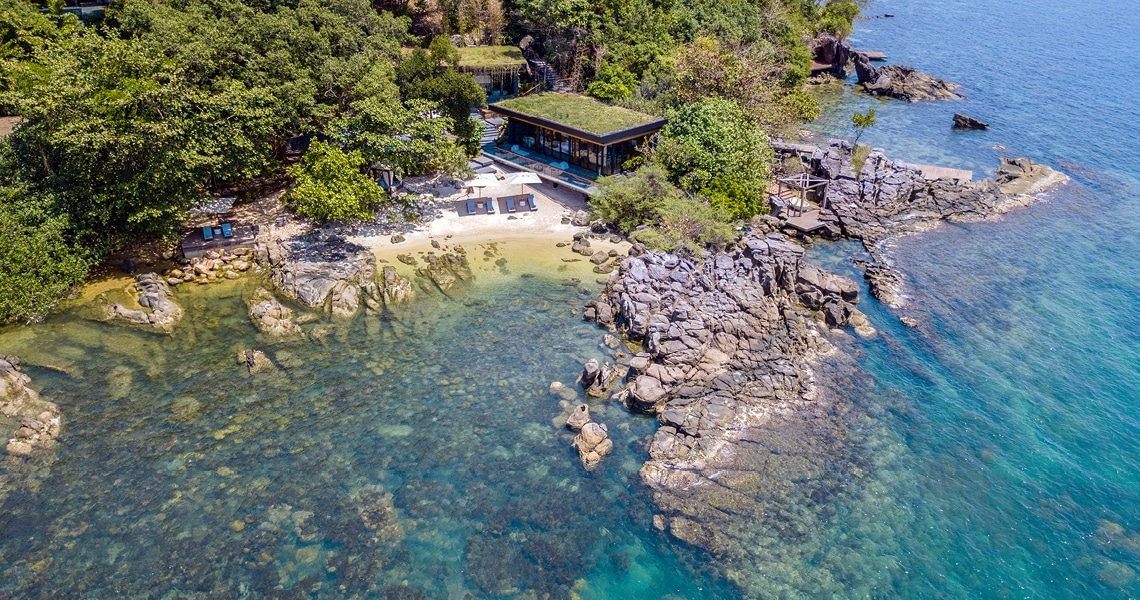 If Covid-19 has taught us anything, it's the importance of health – not just our own but also that of the planet. To play their part in fighting climate change, hotels are turning to Mother Nature, and designing their spaces in ways good for guests and the Earth.
"In terms of hotel architecture, it's about imagining the ways in which people move through a space to create a transformative experience that redefines what's indoors and what's outdoors," says Clint Nagata, founder and creative partner at internationally acclaimed luxury hospitality design firm BLINK Design Group. "It's about creating areas of refuge where guests can feel protected yet immersed in the natural beauty of the site."
Studies show that a connection to nature enhances the guest experience while improving wellbeing and health. Biophilic principles (from bio, meaning "life", and philia, meaning "friendly feeling towards") allow for a more engaging design experience, and trigger a deeper affinity to brands.
"It's about creating moments of 'wow' that are more about the unbuilt environment than they are about the architecture itself," Nagata says. "It's also about reinterpreting and integrating a hotel brand's DNA into an idyllic setting to create a shared journey defined by both people and place."
"It's about creating moments of 'wow' that are more about the unbuilt environment than they are about the architecture."
When it comes to hotel interiors, the presence of plants can be therapeutic, and create balance and harmony. But Nagata believes that true biophilic environments aren't achieved by simply adding a plant to every room.
"Incorporating nature can also be done through the use of natural materials and forms wherever possible, or through free-form patterns found in nature and interpreted into the design of furnishings that are more organic in shape," he says. "It's more about integrating the landscape into the interior to create a strong overall concept that captures the imagination."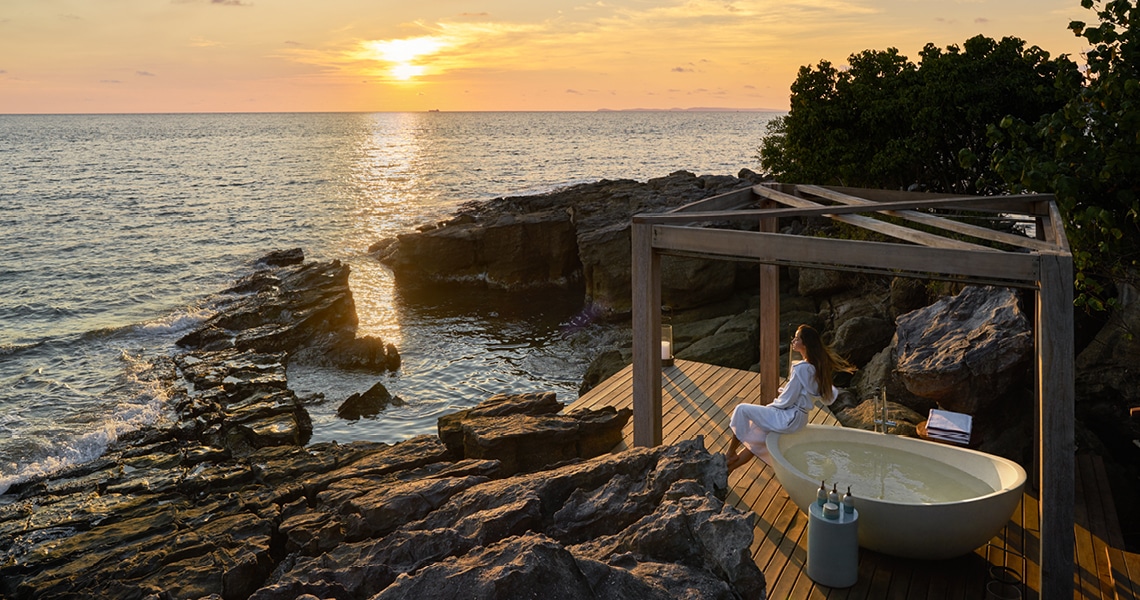 Blurring the boundaries
This might seem like a recent trend, but people have always had an innate desire to connect with the natural world. This simple but powerful need is an important consideration in contemporary hospitality design.
"There's great opportunity for the consideration and introduction of nature," says Allen Kerton, design principal and partner at Coopers Hill, an award-winning international landscape design firm that has been creating unique and timeless environments for brands such as Banyan Tree and the Ritz-Carlton for more than 35 years. "In the modern built environment, design inspiration can be drawn from the many and varied organic forms, colours and textures of the
natural world."
With a commitment to sustainable design solutions, Kerton believes that truly great landscape design can "touch the heart and uplift the soul". One starting point in hospitality design is to blur the boundaries between inside and outside – architecture and landscape – to balance the needs of humankind with the protection and preservation of nature.
"With careful design and coordination, mature trees can be planted in the interior and architectural spaces of hotels to dramatic effect," he says. "Resorts can also be located within or adjacent to a diverse range of natural environments and ecosystems, from forests and islands to mountain streams, agricultural terraces and beaches."
When the diversity of spaces ranges from tropical jungles to rocky coastlines, it's not surprising no two locations are ever the same. Instead, each site has its own unique set of opportunities and constraints, which require careful and appropriately considered site analysis, surveys and planning.
"Unique sites offer designers the opportunity to integrate landscape, architecture and interior into a seamless, holistic guest experience," Kerton says. "There are also opportunities to create memorable landscape-focused experiences, from the arrival entry and lobby experience right through to unique swimming pools, dining, bar and spa landscapes."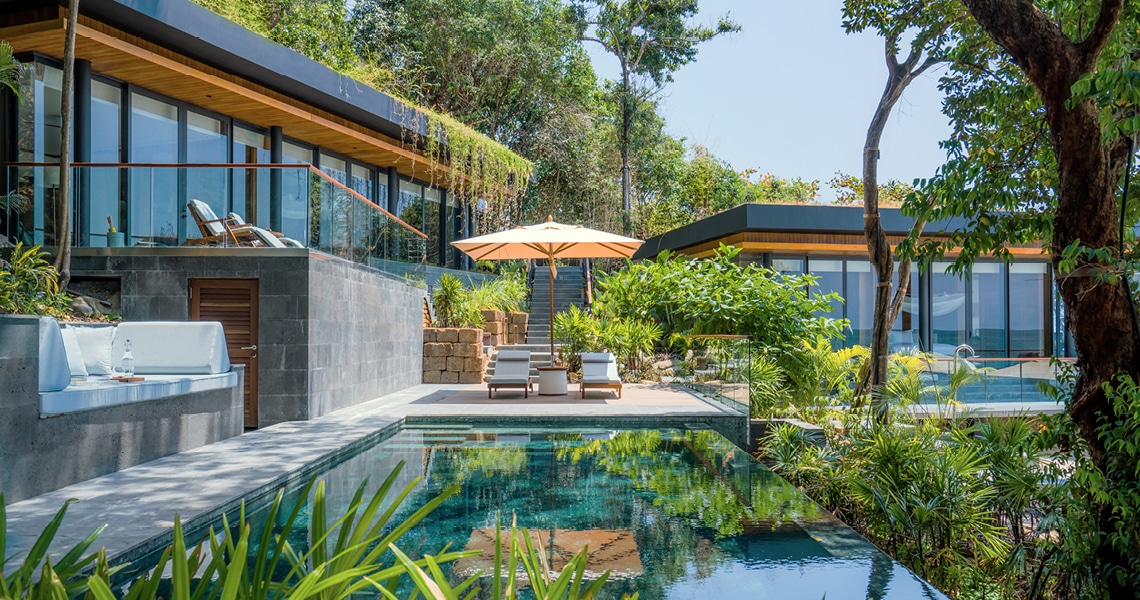 Sustainable design principles
Kerton believes that the creation of a truly immersive landscape experience for guests is much more than just visual. Ideally, it involves multiple senses, from the sound of flowing water to the smell of jasmine and the feeling of brushing against ferns in a forest. It's even possible for guests to get a literal taste of the space they're in.
"In its purest form, biophilic design connects the interior spaces to the landscape and the landscape to the interior spaces," he says. "Incorporation of edible landscapes, kitchen gardens, organic cultivation and farm-to-table into resort design is a growing trend, helping to connect guests with local communities, cultures and farming techniques."
Sensitive, site-specific landscape design and construction techniques are a fundamental aspect of responsible hospitality design. This includes the careful retention, preservation and integration of existing features such as trees, boulders and watercourses on site. Sometimes, there are even opportunities to carry out significant environmental restoration initiatives in association with new resort design and development, such as one project that involved the reforestation of degraded land with indigenous tree species.
"When we designed and constructed an eco-resort off the coast of Cambodia, it was based on sustainable design principles," Kerton says of this example. "Only local, ethically sourced and (where possible) recycled landscape materials were used, while planting was based on the use of indigenous species."
Ultimately, he believes that the location of small-scale resorts and lodges near wilderness landscapes can provide guests with an opportunity to experience these often unique and biodiverse environments in a carefully considered, managed and controlled way. More than that, the revenue from sustainable eco-tourism is
a significant factor in protection and preservation, whether it's of mountain gorillas in Rwanda or Bengal tigers in India.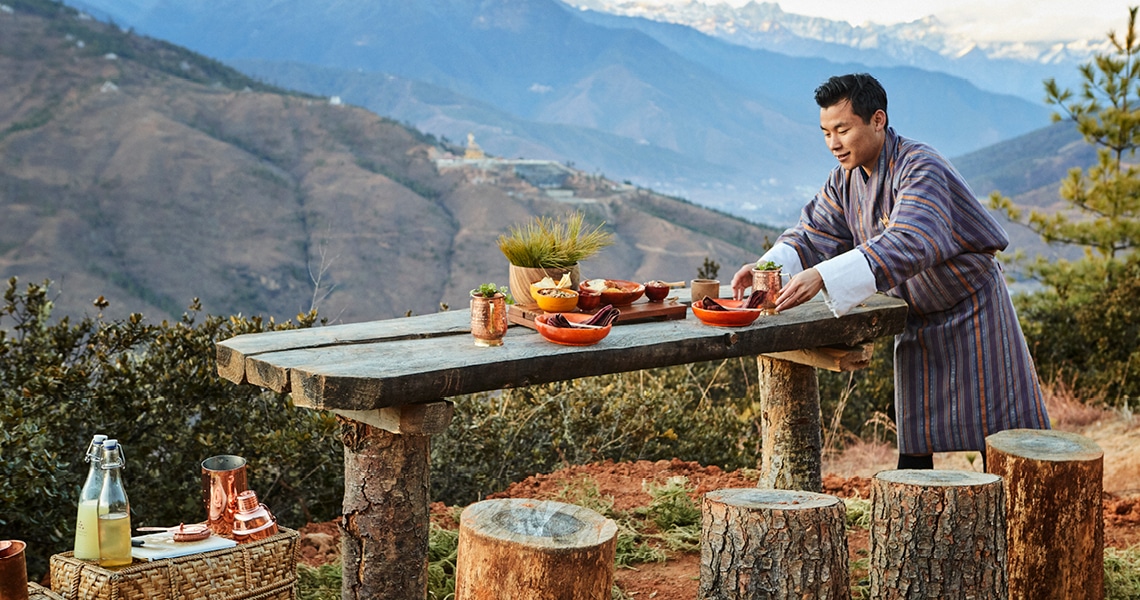 "Sustainable eco-tourism leads the way in small-scale resort and lodge design and operation in or near remote and fragile wildlife environments and ecosystems," he says. "As our cities get larger and more crowded, and the world's wilderness areas become ever smaller and more threatened, there has never been a time when the simple philosophy of reconnecting people with nature and protecting the planet's wild places has been more relevant."