From behind, the low, late-afternoon sun casts an orange glow across a series of fast, flowing corners on the R511 north of Johannesburg. The newly surfaced asphalt is billiard-table smooth, and the beautifully cambered bends invite a flex of the right ankle. The response is typically Lexus – a smooth, linear delivery of power and tons of grip as the RC F hunkers down, swooping left and then right, the chassis exhibiting perfect body control to manage the shift of weight from one side of the car to the other.
THERE'S SOMETHING SPECIAL ABOUT THAT INNATE DRIVER CONNECTION VIA THE THROTTLE AND A HIGH-RPM V8 CRESCENDO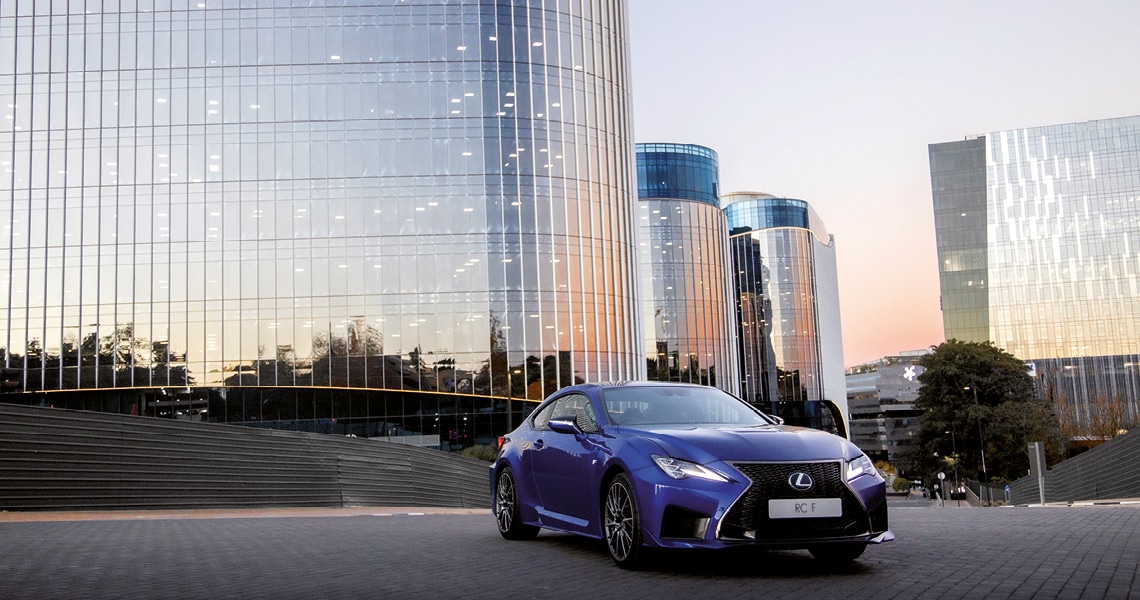 THE DRIVETRAIN There's something special about that innate driver connection via the throttle and a high-rpm V8 crescendo – it's a blend of aural satisfaction and superb performance that stirs the soul. The RC F's free-breathing, 5.0-litre V8 delivers maximum power of 351kW at 7  100rpm, and peak torque of 530Nm between 4  800rpm and 5  600rpm. The highly sophisticated 2UR-GSE petrol engine, finely crafted with forged connecting rods and titanium valves, is lighter, becoming Euro 6 emissions-compliant for the first time.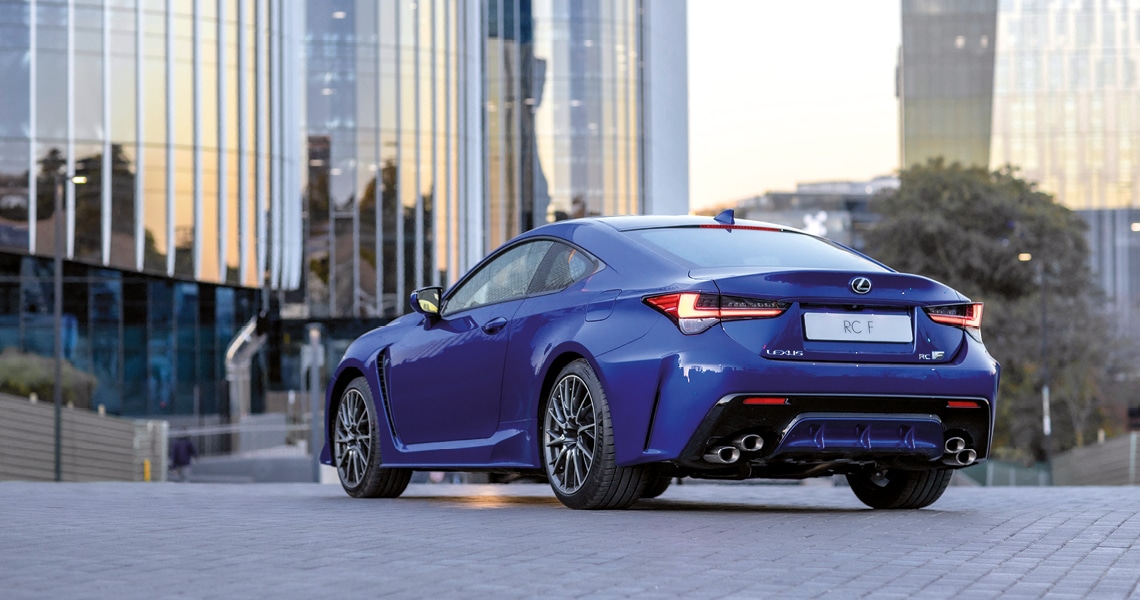 This power is transmitted to the rear wheels via a sophisticated eight-speed torque converter automatic transmission, equipped with newly developed Artificial Intelligence Shift control. Offering ECO, NORMAL, SPORT S, SPORT S+ and CUSTOM modes, the centre console-mounted Drive Mode Select dial allows you to select the one that suits your intentions. In SPORT S and SPORT S+ modes, the transmission delivers more aggressive tuning with even quicker downshifting than the Lexus LC sports car. In ECO mode, the engine output, throttle opening and air conditioning are automatically controlled to enable fuel-efficient driving. It shares a standard level of electric power steering assistance with NORMAL mode, which delivers a balanced feeling of acceleration and smoothness.
NEWLY DEVELOPED MICHELIN PILOT SPORT 4S TYRES HAVE BEEN TAILORED SPECIFICALLY TO THE RC F
THE CHASSIS Enhanced steering effectiveness and reduced understeer were core development targets for the RC F, with lighter and stronger chassis components now delivering an even more agile and dynamic driving experience. Highlights of these enhancements are a steering spring rate that has been increased by 150%, reducing understeer and improving driver feedback, while alloy front suspension upper supports and rear toe control arm brackets offer significant weight reductions and greater rigidity.
The RC F's highly specialised Adaptive Variable Suspension (AVS) has also been improved thanks to faster, smoother and more precise damping force adjustment. The linear solenoid installed inside each SACHS-developed AVS monotube shock absorber can adjust damping force across a range of 30 levels. Newly developed Michelin Pilot Sport 4S tyres have also been tailored specifically to the RC F and further improve turn-in grip, power-down on corner exit and lateral cornering Gs, particularly at high speeds.
ENHANCED AERODYNAMICS It's a case of racetrack tech translated to the road with the RC F, and learnings from the RC F GT500 and RC F GT3 race cars have not only given the RC F unique and eye-catching aesthetics, they've also had a significant impact on the car's aerodynamic characteristics.
"Every shape has been given function, embodying 'race-bred design'," says Lexus RC F chief of development Yuichi Tsurumoto. "Extraordinary effort has been placed on reducing front lift. As a result, even at ultra-high speeds of about 250km/h, the front feels firmly planted on the road surface."
For example, new canard shapes on the front-bumper spoiler corners help optimise stability across a variety of speeds by increasing the vortex generated, therefore resulting in greater downforce pressure and a more planted feel.
For the first time, air breathers have also been added to the rear bumper to exhaust air from the rear wheel arch, helping to deliver more predictable vertical movement and lateral behaviour. A redesigned rear diffuser – painted in body colour for the RC F – incorporates vertical fins to further assist airflow.
LUXURY AND SAFETY Significantly improved aerodynamics, handling and performance have not come at the expense of luxury, refinement or safety, though.
Heated and ventilated seats are standard for the driver and front passenger on all variants, as is the electrically adjustable steering column. The driving position is set low for a sporty feel, while access to the rear seats is aided by electrically adjustable front seats with a one-touch walk-in function that automatically slides forward, then returns to position.
All RC F variants feature an expansive 10.3-inch widescreen centre display with satellite navigation, digital radio and Bluetooth phone and audio streaming, including voice recognition. There's also a 17-speaker Mark Levinson audio system that ensures the crisp sound quality befitting of a premium sports coupé of this calibre.
Like all RC variants, the RC F is equipped with the highest level of safety technology, including the Lexus Safety System+ suite of driving aids: Pre-crash (Brake Synchronised) safety system with pedestrian detection, Standard-Adaptive Cruise Control, lane-departure warning with steering assist, and LED Automatic High Beams. Blind-spot monitor, reversing camera, front clearance, rear parking sonars and rear cross-traffic alert are also standard.
The new high-grade LED headlights and L-shaped taillights flick on automatically – an indication that the sun has now truly set. In the distance, the city lights begin to twinkle and serve as our homing beacon. With the Drive Mode Select set to ECO, we take a slow cruise back to our lodgings in Sandton, suspension settings and throttle responses all dialled down, and seat warmers and climate control turned in the opposite direction to fight off the Highveld's winter grip.
STEVE SMITH