It seems fitting that in the same year that's seen space tourism take one giant leap closer to reality, luxury watch brand Rolex also has its sights firmly set on the cosmos… in the form of its out-of-this-world, innovative dial designs for the Datejust 36 and the esteemed Cosmograph Daytona. 
When it comes to designer watches and their first mark of quality, the watch face does so much more than simply display the time. In the case of a Rolex watch, it has become somewhat of a cultural icon. So it's inspiring to see how the artisans at watchmaker Rolex have harnessed the power of incredible custom watch design to create a set of rare metal faces that are as beautiful as they are practical.  
Both sets of watch faces – on the Datejust 36 and on the Cosmograph Daytona – will undoubtedly appeal to that little piece of Indiana Jones that lives within us all. It's a spirit of innovation, exploration and an appreciation of the finer things in life, such as travel, great design and brands that embody what it means to dream.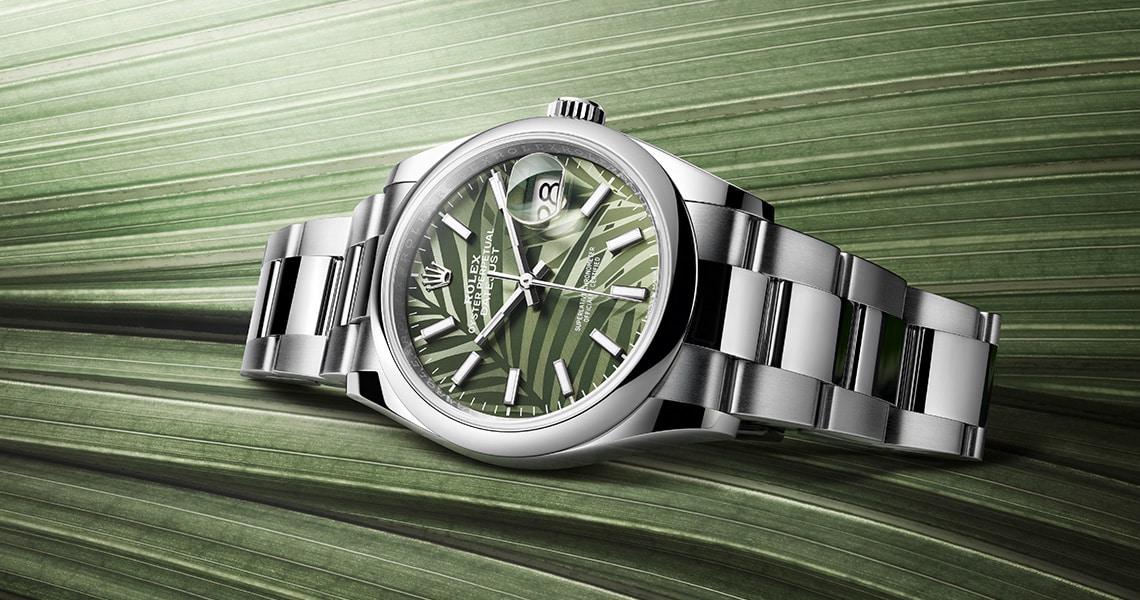 The design team at Rolex maintains that the new dial designs "shine with spirit and vitality" but, they say, "it is not only light that brings out the character in the new dials; they are imbued with other sources of unique, ancient energy." One source – which we see on the Datejust 36 dial design – comes from minerals formed deep within the Earth. The other – on the dial of the Cosmograph Daytona – has literally travelled light years through space, over millennia, to crash down to Earth in the form of a meteorite. It's this energy that gives soul to the new Rolex watch dials, thanks to the skills of the watchmakers.  
The Datejust 36
The timeless elegance of the new dial designs can be seen on four versions of the Oyster Perpetual Datejust 36.  
With a nod to tropical forests and lush, verdant jungle greenery, the dial designs on the Oyster Perpetual Datejust 36 feature an on-trend palm motif, as well as a fluted pattern that can be seen on a number of Rolex bezels and that has become one of the brand's signature aesthetics.   
The colour palette for the dial designs is rich, vibrant metallics in hues of olive green, silver or gold, and minerals such as copper, zinc, nickel, chromium, titanium and silicon have been skillfully combined using cutting-edge watchmaking technology to ensure an ultra-chic dial finish. 
The palm pattern can be seen on three of the watches:  
In Oystersteel, equipped with an Oyster bracelet and an olive green 

dial

. 

 

In a yellow Rolesor version, combining Oystersteel and 18 carat yellow gold, fitted with an Oyster bracelet and a golden 

dial

. 

 

In the Everose Rolesor version, combining Oystersteel and 18 carat Everose gold, on a Jubilee bracelet, and with a silver 

dial

.

 
 The fluted pattern is found on the golden dial of the fourth watch – a yellow Rolesor version equipped with a Jubilee bracelet.

The Cosmograph Daytona
The Rolex Oyster Perpetual Cosmograph Daytona has been dubbed the benchmark for anyone who has a passion for driving and speed, so if you're a car fanatic, this watch is for you. And, if maths is your thing, the Cosmograph Daytona's multi-dial watch face also makes it ideal for measuring time intervals and determining average speeds.  
As the benchmark in its segment, it's no surprise, then, that the new watch dial is made from a slice of etched metallic meteorite that has journeyed through space and time to reach the Earth. According to Rolex, "this material displays patterns that were formed as the heart of an asteroid cooled slowly on its journey through the cosmos – a process that takes millions of years. Each fragment has a unique internal structure, with an aesthetic that's impossible to recreate on Earth, which makes every Rolex Cosmograph Daytona with a meteorite dial a real one of a kind."  
The meteorite dial Rolex Oyster Perpetual Cosmograph Daytona watch can be seen in three versions, each featuring black chronograph counters at 3, 6 and 9 o'clock: 
In 18 carat white gold, fitted with a monobloc Cerachrom bezel in black ceramic, with a moulded tachymetric scale and an Oysterflex bracelet. 

 

The other two watches (one in 18 carat yellow gold and the other in 18 carat Everose gold) have a metal bezel with an engraved tachymetric scale and an Oyster bracelet.

 
For a custom watch design like this one, it's important to realise that the metallic meteorite dial material is notoriously difficult to work with. It requires an expert touch in order to be sliced thinly, and a gentle hand when being treated chemically to reveal its beautiful interwoven internal structure, also known as Widmanstätten patterns.  
With timepieces like these, it's not impossible to believe in the concept of time travel – at least in the most basic way – with an heirloom that's out of this world!