Since the debut of the first generation in 1999, the Lexus IS has pursued the fun of driving unique to compact rear-wheel- drive sports sedans.
In the new IS, the aggressive styling design creates a wide and low form characterised by sharpness, while the IS features advanced safety technologies, including an evolved version of Lexus Safety System+. As Lexus International Chief Engineer Naoki Kobayashi says, "What we had foremost in mind was to make a car that excelled in communicating with the driver… regardless of the road conditions or driving status."
Designers and engineers retained the compact body and aimed to make the new IS a compact sports sedan that provides high-quality ride comfort while offering a high level of vehicle control.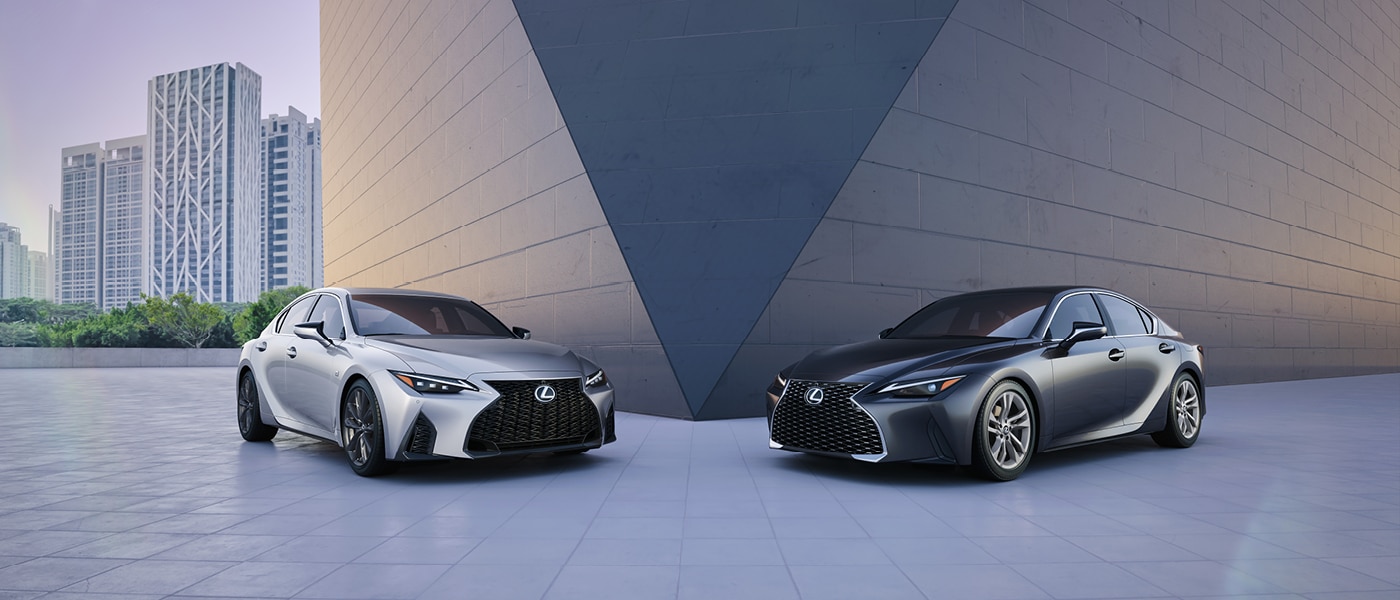 THE AGGRESSIVE STYLING DESIGN CREATES A WIDE AND LOW FORM.
SHARP EXTERIOR ARCHITECTURE
In addition to slender headlamps featuring newly developed compact and lightweight lamp units, a low centre of gravity is expressed through low- positioned areas around the grille matched by lowered side character lines and the shape of the rear extremity of the trunk.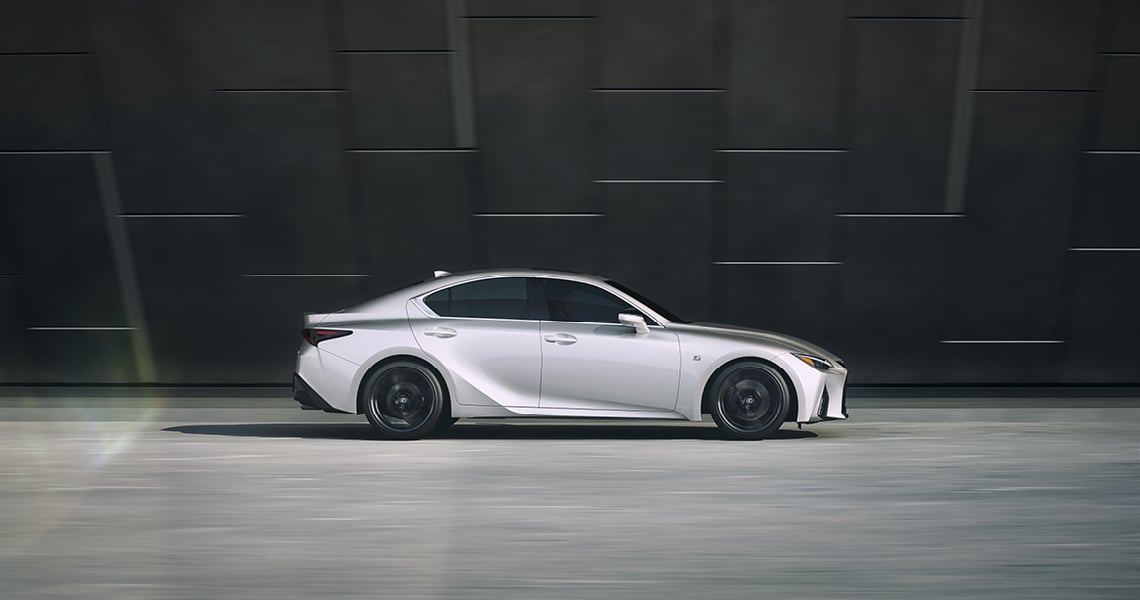 Muscular fenders, straight- line-type rear combination lamps sporting an "L" motif, and three-dimensional bumper garnishes add to the aggressive look. In addition, new-design 19- inch tyres and wide proportions based on a wide track evoke a sense of sporty driving. A new-design Lexus Spindle Grille features a three-dimensional structure that originates from the foremost tip of the grille. Block forms based on a spindle motif combine with a mesh pattern to achieve a sporty impression.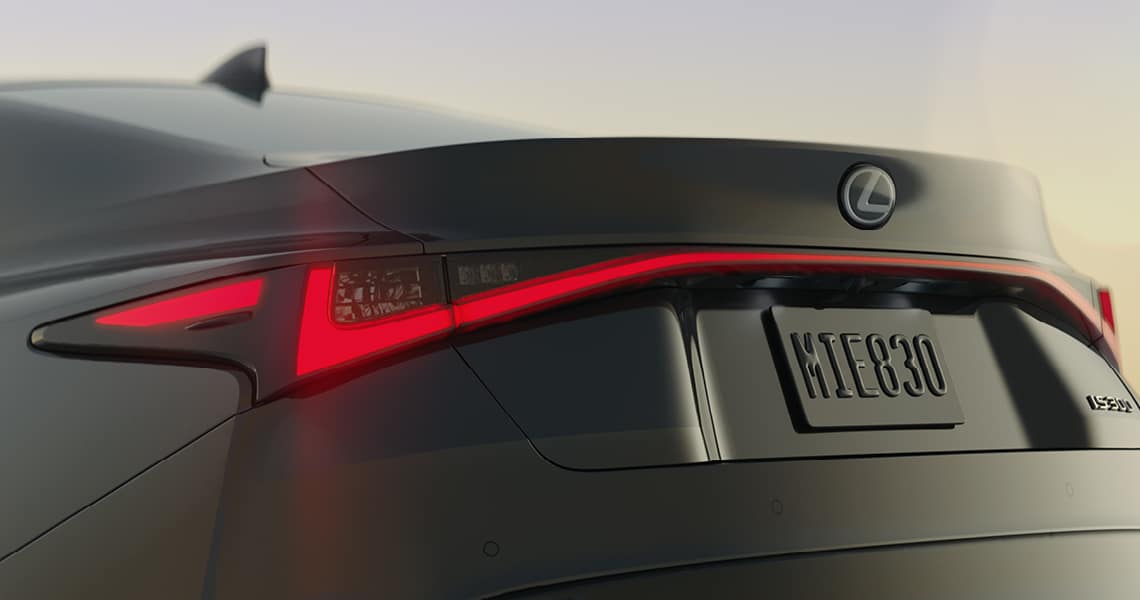 There are now two new exterior colours developed for IS. These include Sonic Iridium, which accentuates the shape of the vehicle, as well as Sonic Chrome, which exhibits a metallic quality in a high-gloss finish. The F Sport version boasts an exclusive "F" mesh pattern as well as a grille-bottom air intake, special 19-inch alloy wheels, a rear spoiler, and the F Sport-exclusive Radiant Red Contrast Layering external panel colour.
MUSCULAR FENDERS, STRAIGHT-LINE-TYPE REAR COMBINATION LAMPS SPORTING AN "L" MOTIF, AND THREE-DIMENSIONAL BUMPER GARNISHES ADD TO THE AGGRESSIVE LOOK.
INTERIOR
The new Lexus IS features a beautifully crafted minimalist interior that combines high-end materials and state-of-the-art technology.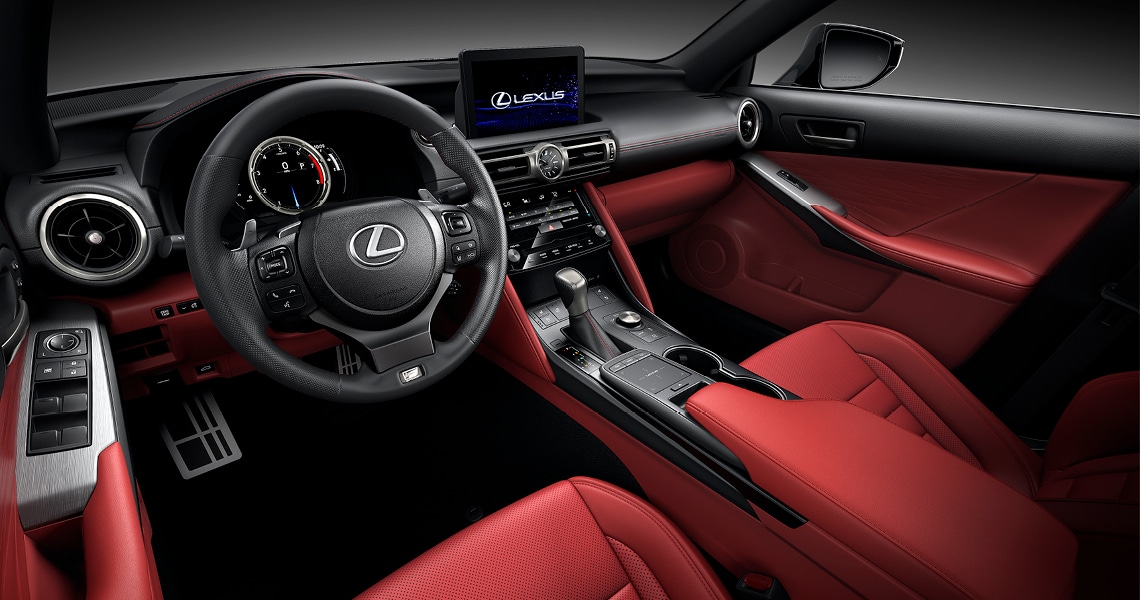 The multimedia system with its new touchscreen is compatible with SmartDeviceLink, Apple CarPlay, and Android Auto, and linking a user's iPhone or Android smartphone to the wide 10.3-inch touchscreen allows for the remote control of the screen and audio functions. The interior design is also available two-tone colour schemes like Ochre or the F Sport-exclusive Flare Red, while the trim's graphic pattern of embossed intersecting lines represents a new Lexus interior design language.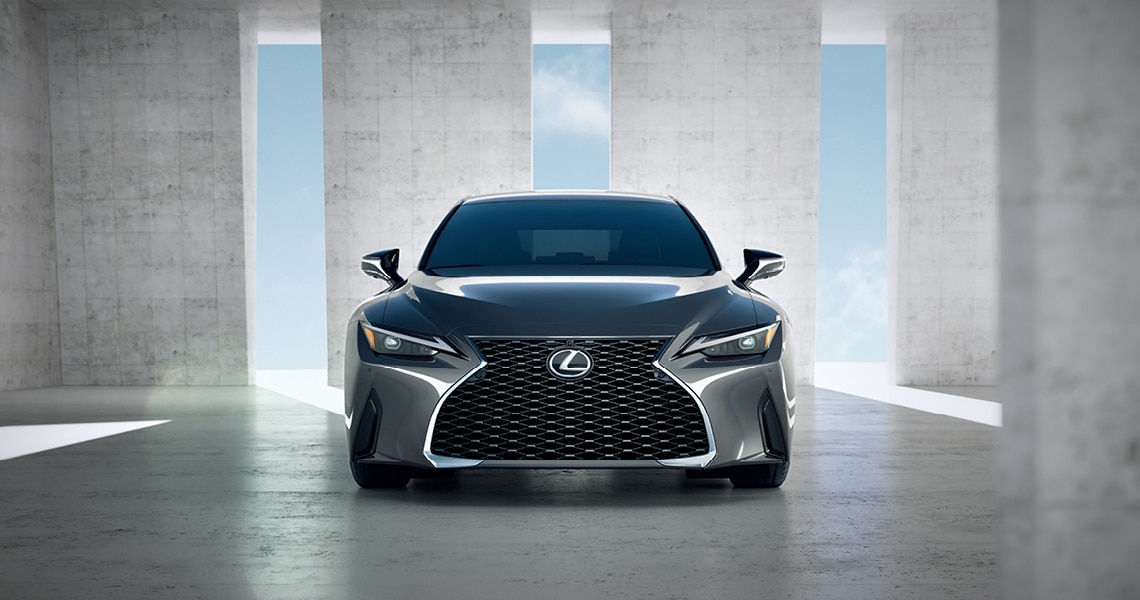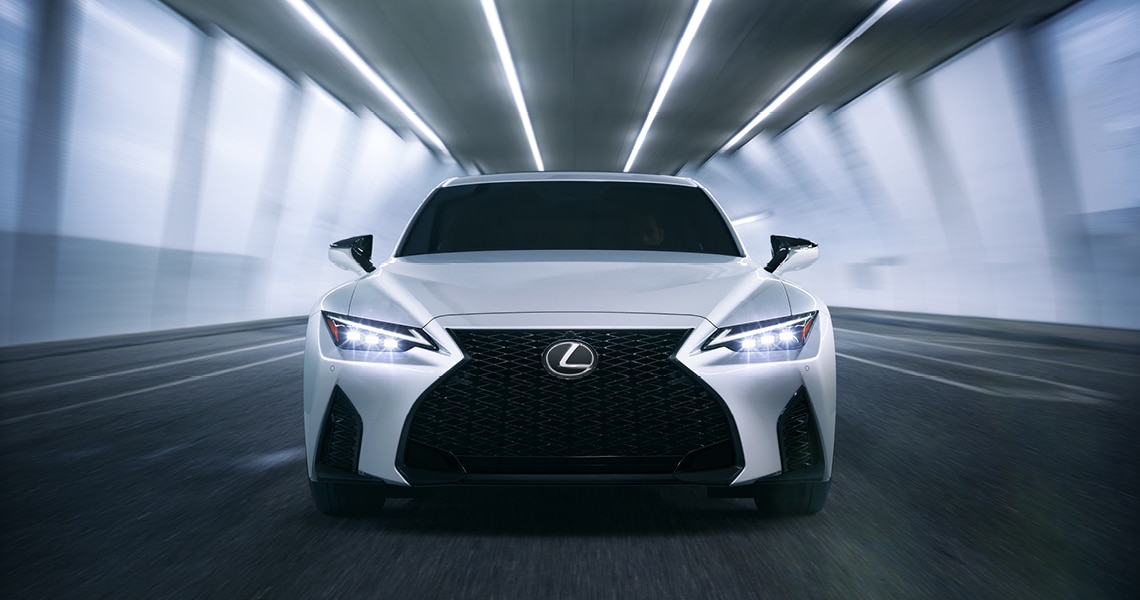 IMPRESSIVE TECHNOLOGY
Dynamic Radar Cruise Control and Lane Tracing Assist (LTA) combine to help the driver stay on course. In the new IS, lane recognition performance has been improved. When LTA is activated, AI technologies are applied to camera-actuated, white-line recognition for advanced deceleration of the vehicle in line with the size of the curve. Keeping lateral g-forces constant while driving through curves contributes to stable and comfortable driving and makes driving assist more continuous.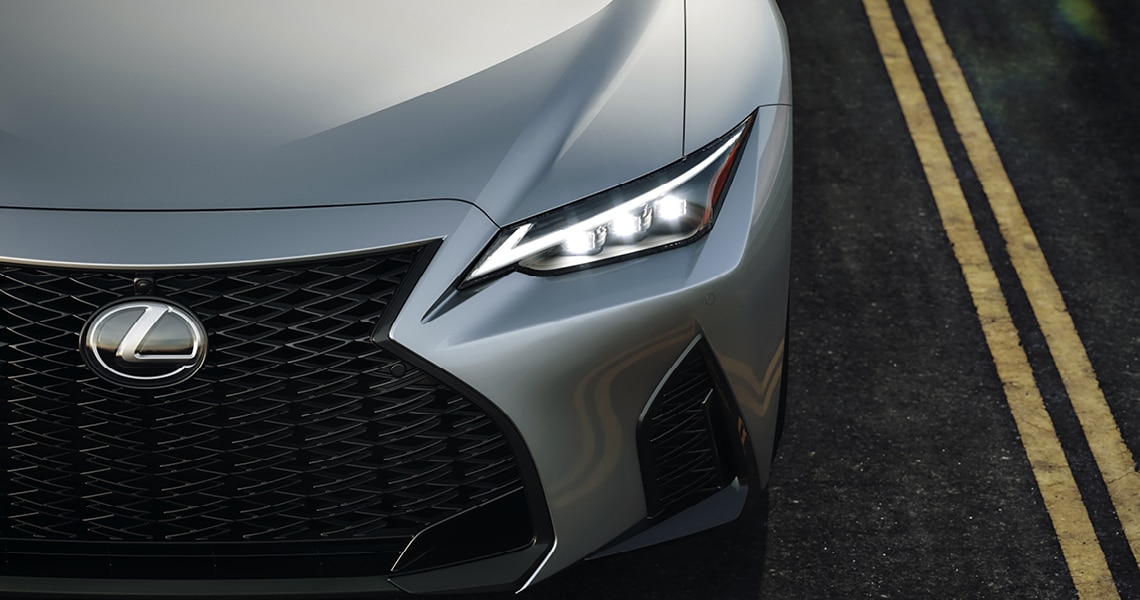 Other new technologies include Automatic High Beam which detects preceding or oncoming vehicles. Various other forms of advanced safety equipment are featured on the new IS, including parking support brakes, and the Panoramic View Monitor, which supports periphery safety checks.
The new IS was developed extensively on the track, specifically at the recently established Toyota Technical Centre Shimoyama, which contains a series of separate tracks including one designed to simulate the Nürburgring.
The dynamic new IS was developed extensively on the track.
ENHANCED SAFETY FEATURES
The new IS boasts a new version of Lexus Safety System+, which has further evolved through the introduction of advanced safety technologies, including added functions such as Emergency Steering Assist which improves the system's lane recognition performance. These advances are part of Lexus' continuing efforts to prevent traffic accidents and fatalities, reduce driver burden, and develop driver- assist systems that provide a more natural and safer driving experience. The Pre-Collision System has been improved to detect daytime cyclists as well as pedestrians in low-light conditions and oncoming vehicles and pedestrians crossing the street. Functions such as Emergency Steering Assist, assist steering within the vehicle's lane as cued by the driver.
The IS boasts a new version of Lexus Safety System+, which has further evolved through the introduction of advanced safety technologies.