M Social won a string of awards, from best hotel interior and architectural design to best green Development and most innovative.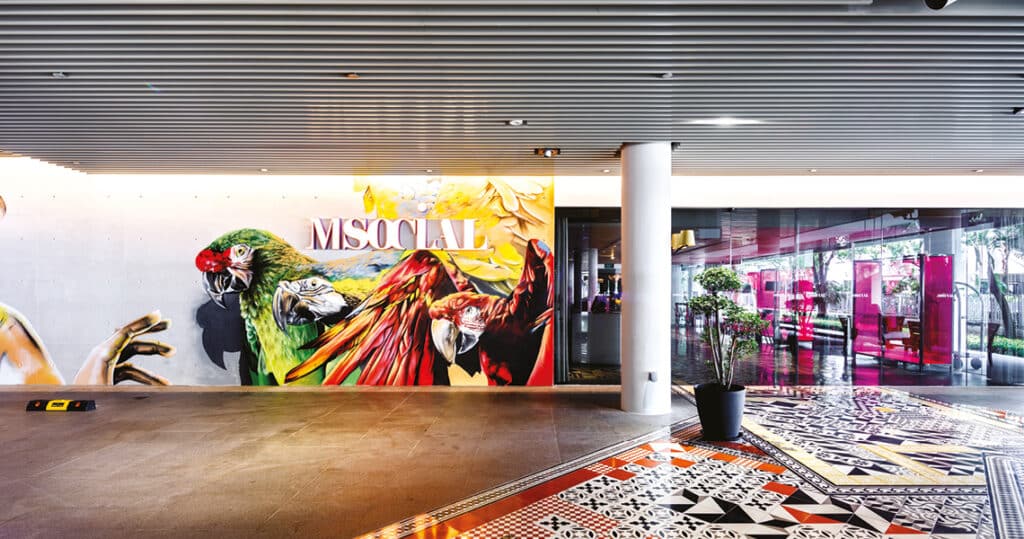 Quirky is a word that's used far too frequently these days – but it is a fitting way to describe M Social Singapore. It's not often that two large bronze peanuts are the welcoming sculptures at the entrance of a hotel, or that room-service orders are delivered by a robot… More on that later.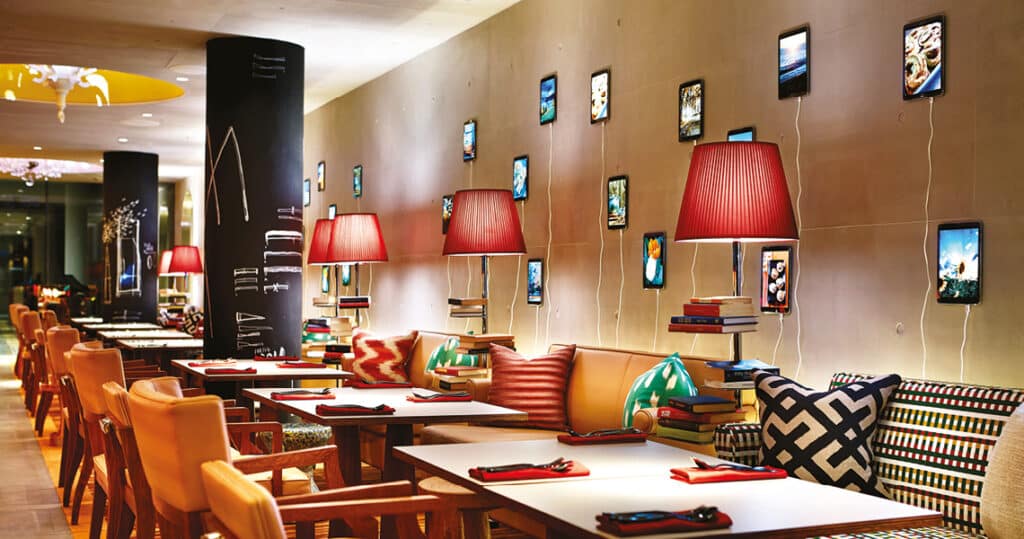 With art, design and technology at its core, and interiors imagined by famed French designer Philippe Starck, the hotel prides itself on having embraced the Millennial mind-set. But everyone is welcome! The 293-room design hotel is all about community, new experiences and having fun. Located along the Singapore River and overlooking the buzzing Robertson Quay, it's an ideal base from which to explore the Lion City.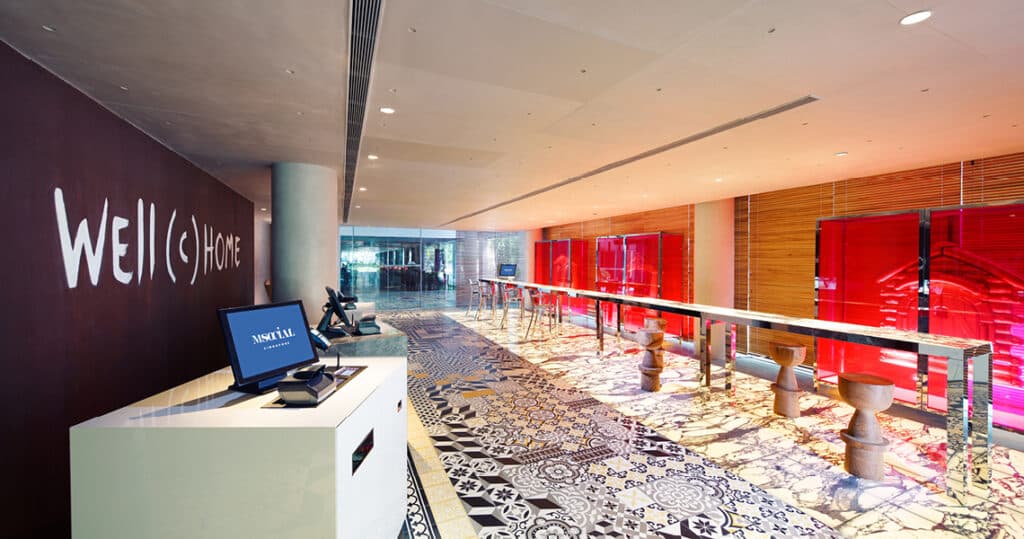 Rooms come in four configurations, each comfortable and light. The Loft Gallery is duplex-style, with raw marble flooring and a queen-sized bed on the first floor, and a mezzanine level complete with comfy sofa bed. The spacious and airy Alcove Cosy features bare concrete walls and mirrored surfaces that extend into a striking, four-metre-tall pitched ceiling; while the Alcove Terrace and Loft Terrace suites are for those combining business with leisure, providing nesting tables to work at and attached balconies for when you need a breather. All rooms benefit from the artistic touch of Starck through fun and interesting furnishings, and each has full-length windows, welcoming in light and a glimpse of Robertson Quay.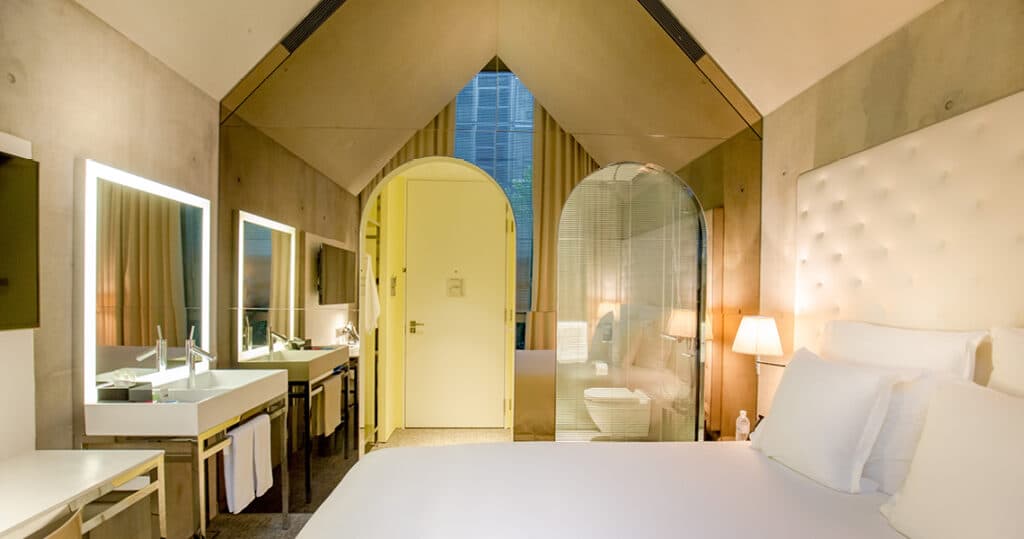 "M Social is where all the elements of the world – including creativity, humour and love – come together in an explosion of energy to create the joy of today's and tomorrow's world," says Starck in his unique, descriptive way. "To me, it is a stage dedicated to creative people."
In its launch year of 2016, M Social won a string of awards, from Best Hotel Interior Design and Architectural Design to Best Green Development and Most Innovative. Three years on, it still ticks all those boxes – and it's also home to Southeast Asia's first front-of-house autonomous service-delivery robot, AURA, who can operate and ride in elevators, navigate her way to a guest's door, announce herself when she arrives, and even open the cloche to reveal the food beneath. Apart from food service, the robot is used to replenish bottled water, towels, toiletries and other necessities on demand, and is even able to "mingle" with guests.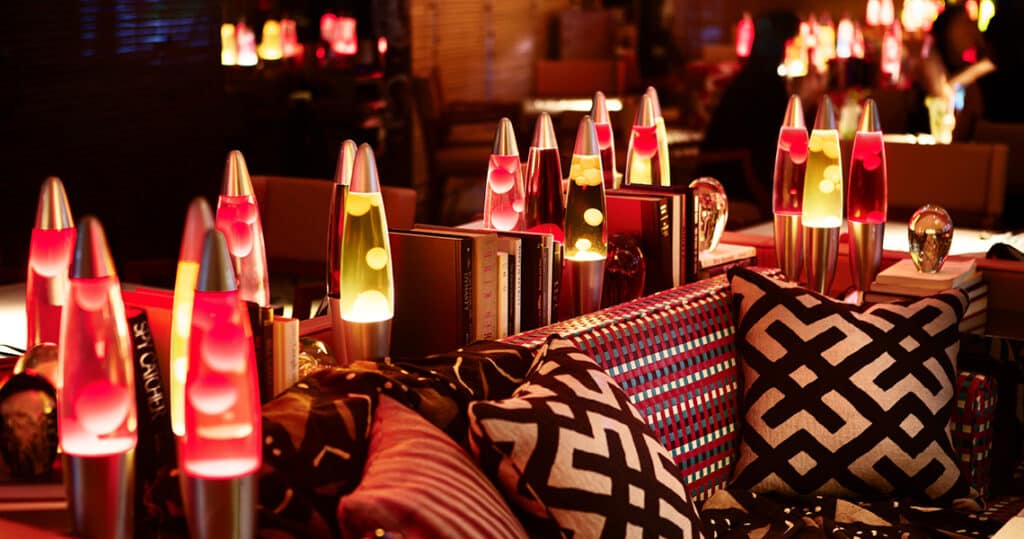 The tech theme runs through the hotel. The on-site restaurant, Beast & Butterflies, is dimly lit, with clusters of lava lamps huddled in one section, a feature wall full of tablets in another, and wooden furniture adorned in retro prints throughout. The kitchen is open-plan and the bar is kitted out with multiple TV screens, but the atmosphere is calm. The menu offers everything from traditional noodle dishes to burgers, and the cocktails are a delight.
With chandeliers, lava lamps, video projections and a wall lined with 40 tablets, M Social's East-meets-West fusion restaurant Beast & Butterflies has an unforgettable ambiance.
At breakfast, AURA's robotic friend AUSCA is on hand to prepare your sunny-side-up eggs or flip an omelette with the fillings of your choice. While the gym is modest in comparison to other large hotels in the vicinity, the rooftop pool area is anything but: surrounded by green hedges and skyscrapers, the pool deck is also used for yoga and Tai Chi classes.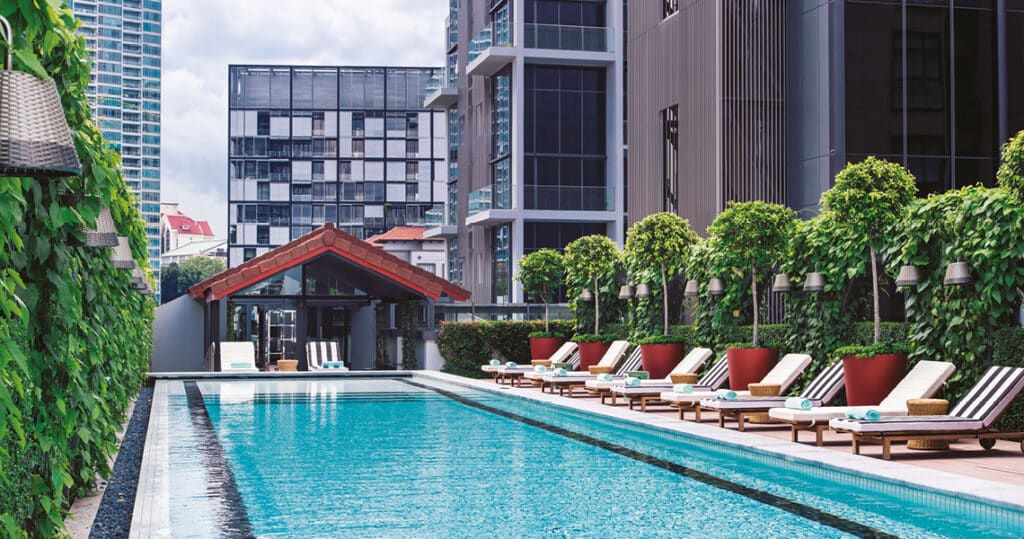 As the hotel caters to "highly connected Millennials" and people on the go, Wi-Fi is both super-speedy and free, and being connected 24/7 is not only okay but encouraged. It may all sound slightly futuristic, but the elements of fun do not outweigh the high quality of service (from humans too), in-room amenities and luxury furnishings.
This avant-garde hotel has the perfect fun factor – as quirky as it is cool.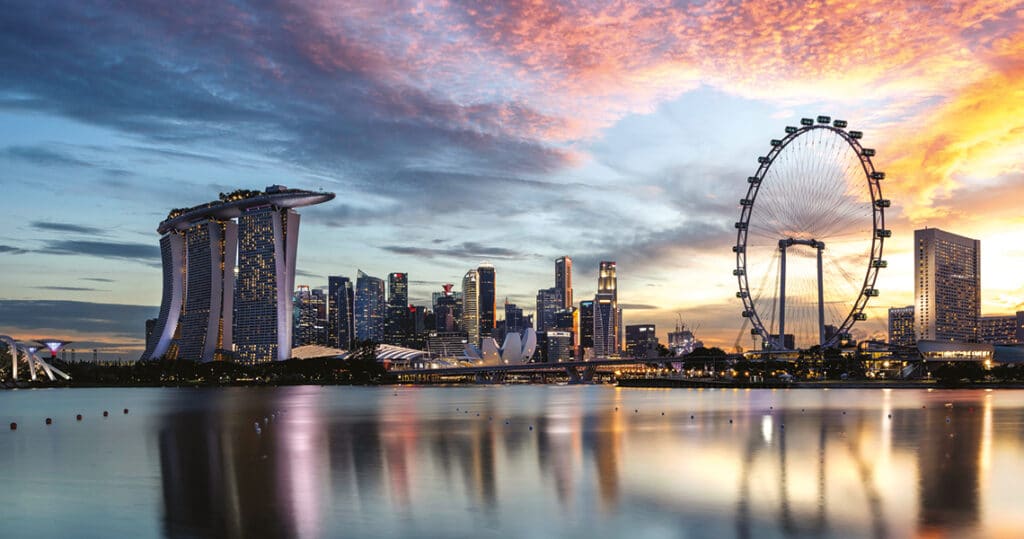 Exploring Robertson Quay
This area was made to explore on foot – and it's safe enough to do so. From the countless laid-back riverside restaurants to experiential dining aboard a boat on the Singapore River, there are more than enough eateries to choose from. Also in the vicinity you'll find art galleries, museums, designer and local boutiques, and an array of craft stores and bookshops.