In a cluttered – yet strangely orderly – studio in Linden, Johannesburg, violin-maker Albertus Bekker teases exquisite instruments out of spruce and flamed maple.
WHEN DID YOU FIRST BECOME FASCINATED BY THE VIOLIN?
I grew up in a musical family as the youngest of three siblings. My brother and sister both played the piano, so by the time I came along, my parents (and the neighbours!) were probably sick of listening to scales all day. They suggested the violin to me at the age of eight. I was too young to make an informed choice, but I was immediately captivated by the look of the instrument, the shiny varnish and the delicate strings.
WHAT INSPIRED YOU TO MAKE YOUR FIRST INSTRUMENT?
I played violin throughout school. While studying mechanical engineering, I visited Mittenwald in Germany as part of a European holiday. This is the centre of the German violin trade, and the site of the German violin-building school, which is where I first saw how a violin is built. When I got home, I got a basic instruction manual and tried building one on a very limited budget and without the correct tools, wood or glue. I basically tried to sand a hardwood plank until it resembled a violin! I shelved the idea until 2000, when the internet – and being able to access information – made all the difference.
FROM WHERE DO YOU DRAW YOUR INSPIRATION?
The most revered violins in the world were built in a town called Cremona in Italy at the end of the 17th and beginning of the 18th century. Nicolo Amati – grandson of one of the probable inventors of the violin, Andrea Amati – ran a fantastic workshop in Cremona. One of his apprentices was young Antonio Stradivari, the most famous violin-maker of all time. Giuseppe Guarneri was a bit younger than Stradivari, and probably learnt his craft from his father. His style was much more rough and experimental than the meticulous craftsmanship of Stradivari. There are very few things that rival his famous violins as cultural objects. Some of the earliest violins (made in the 1500s) are still in daily use in the modern world; the craftsmanship on some of them is so exquisite, they can almost be considered art.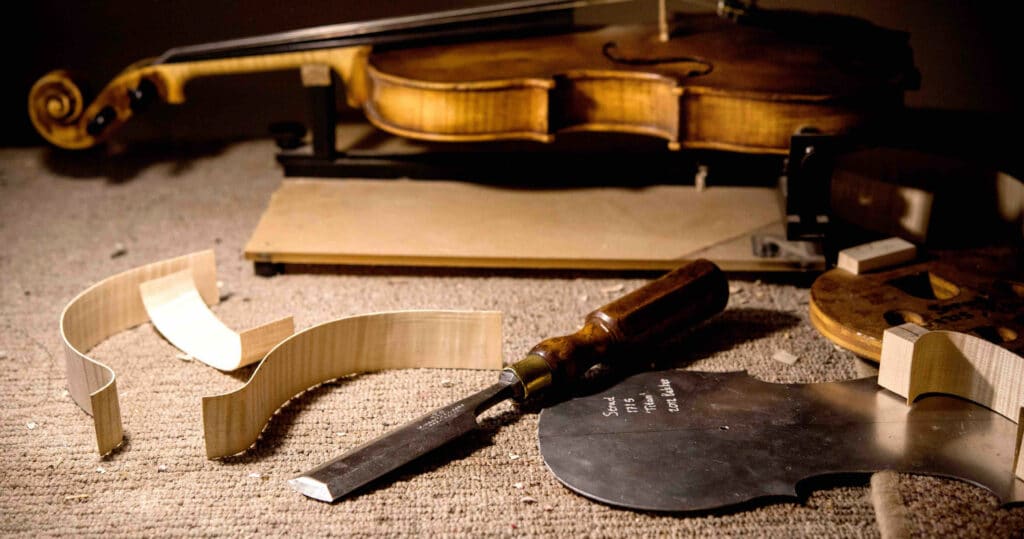 WHAT IS YOUR PROCESS?
I build a violin today pretty much in the same way that Stradivari did in 1700. First, I decide on a model or design. Most of my designs are inspired by famous concert violins, and are based on circle arches flowing smoothly into one another. Then wood is chosen: light and resonant spruce for the top or soundboard, and harder but highly flamed maple for the rest of the body (back, sides, neck and scroll).
The top and bottom plates with the hollow bowl shapes are literally carved from a thick piece of solid wood. All carving is done using traditional hand tools such as gouges and finger planes. The sides are made from thin strips of maple wood, and bent to shape using heat and steam. The parts are glued together with traditional hot hide glue – basically unrefined gelatine made from animal hides.
Next is the finishing process: final scraping of the wood to a smooth finish, staining the wood, filling and sealing the pores of the wood, colour varnishing or glazing, and final layers of clear varnish. Each layer of varnish needs to dry completely before another is applied, so the finishing process can take months.
Finally, the violin must be set up. This involves things such as strings, fingerboard, chin rest, bridge (the piece of wood keeping the strings up) and tuning pegs. A good setup is crucial to get the full potential out of an instrument. Usually, a new violin does not sound good, but over the first few months the sound opens up and improves markedly. The cause of this is still a mystery, and the topic of many debates.
HOW LONG DOES IT TAKE TO CREATE ONE FROM START TO FINISH?
I suspect it is about 60 hours of work. I do this part- time, and I build two or three per year. I sell my violins – which cost up to R60 000 – to professional players, university students and advanced high-school pupils.
HOW DOES IT MAKE YOU FEEL TO KNOW THAT SOMEONE IS APPRECIATING YOUR CRAFT WHILE CREATING BEAUTIFUL MUSIC?
That is the best part. The end result is a tool that's not only beautiful, but that will be used for years, even after my death, by an unknown string of musicians, giving pleasure to many, many thousands of people.