As a child growing up in Port Elizabeth, curator Kefiloe Siwisa wanted to be many things: an artist, a marine biologist, an entomologist, an earth activist ("Essentially an environmentalist, although I didn't know the term for it then"), a fashion designer, a florist (but only working with plants that are categorised as weeds)… "The list is endless," she says.
In the end, Kefiloe graduated with a degree in art history and visual culture from the University of Cape Town, and studied a Master of Fine Arts degree in curating from Goldsmiths University of London. Since then, working for galleries, various organisations and alternative platforms has taken her around the globe, and she spent a year in London as an assistant curator of the 1-54 Contemporary African Art Fair's public programme.
Kefiloe is now the deputy director and curator of the RMB Turbine Art Fair, and her own art has taken on a research methodology: whether she's taking photographs or making videos, or painting or doodling on her walls and floor, it all serves as a means of working through ideas that feed her curatorial process.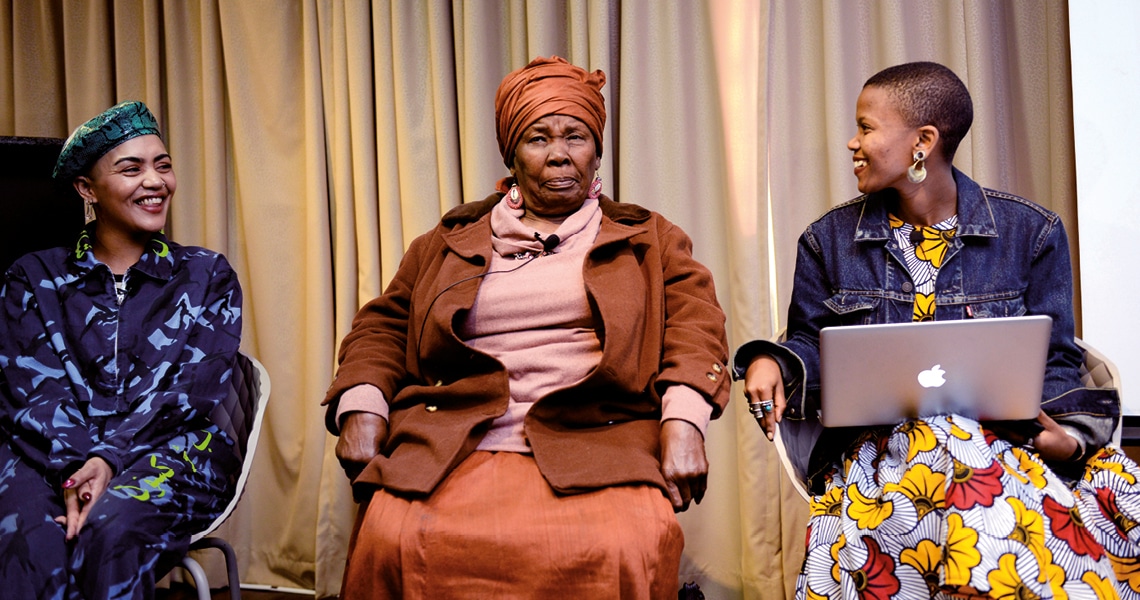 Q&A WITH KEFILOE SIWISA
Earliest art memory My parents fostered creativity in the way they raised us, the way they loved us, the home they made for us. This is where my appreciation and understanding of art as a lived experience comes from. For me, art has always been a way of seeing, thinking and breathing; a road towards understanding and a source of nourishment. There is an image of me at almost a year old, sitting in a brown cardboard box that, according to my parents, was my happy place. When I look back on this image, I understand it is one of the many ways in which my creative spirit was cultivated.
What being a "cultural producer" entails I chose to describe myself in this way because I'm still unfolding, and it carries a sense of ambiguity and fluidity that allows me to resist being categorised. I'd say I'm like water: I can take on different forms, but at the core I am myself. As Alice Walker says in her poem When You See Water, "Water is always only itself and does not belong to any of these containers, though it creates them."
Emerging local talent to look out for There are many local artists that I am in awe of. I encourage people to look beyond traditional art spaces. I'm interested in connecting with artists who practise on the so-called margins and are overlooked, for example those in my home city of Port Elizabeth.
The last piece of art I acquired I was gifted an incredible piece by Jo'burg artist Zenande Mketeni, whose work was featured as part of the Graduate Exhibition at the RMB Turbine Art Fair.
An artwork I covet There are many pieces of art I'd love to own. More than that, my desire is to learn from the makers. Objects bring joy; they also hold stories and knowledge. I wish I could have access to all those stories and knowledge, so I could share it with future generations of makers, dreamers and innovators.
An overview of this year's RMB Turbine Art Fair For four days, the Fair became like a living organism, brought to life by interdisciplinary practices and a diverse group of people. There were so many highlights, but two moments really stood out for me. The first one was on opening night: the venue was charged with people moving like electricity through the space, but Gregory Maqoma managed to clear a pathway in the middle of the atrium among all the madness to perform an excerpt from his movement work Exit/Exist. It was so grounding. For those few minutes it felt as though we all took a collective breath and celebrated our humanness.
Another highlight was facilitating a discussion between Ma Helen Sebidi and Lady Skollie. It concluded with Ma Sebidi reiterating the need for compassion, love and resilience. These lessons are seemingly simple yet so easily forgotten.
My goals and aspirations My goals are multilayered and always evolving, but if I had to articulate what my future might look like, it would take the form of a sustainable, holistic art school, where intergenerational practitioners can come to create, learn, share, produce and archive knowledge, and give back to the land and themselves – a space that prioritises both intellect and intuition.
KEFILOE'S ADVICE FOR ASPIRING CURATORS
There are many paths to becoming a "curator", paths that may seem unclear, difficult at times and different from anyone else's. But if you move along them with grace and a soft radicalism, you're bound to craft something meaningful.

Being present within yourself and each moment will make you a

more mindful and empathetic facilitator. This, for me, is a daily practice, because the word "curator" (which implies stewardship and taking care) is an invitation to embody these values.
Be willing to learn constantly, connect consciously, and transform wildly and playfully. There is no shame in questioning – and there is freedom and privilege in exploring the unknown.

Your root (indigenous) language is your superpower. No matter

which way you are twisted, bent and misshaped, your innate form of expression will always be your greatest contribution.