Laduma Ngxokolo has put the cult in culture, with his now-iconic beadwork-inspired knitwear garnering high praise – and high-profile fans – both locally and internationally. Through his label Maxhosa Africa, he pays homage to his Xhosa heritage in an authentic yet contemporary way, while simultaneously inspiring other designers to tell their stories.
His legacy extends beyond incorporating cultural narratives and traditional craft in design: Laduma has been a pioneer in changing the perception of African luxury brands. What began as a knitwear collection for his final-year project at Nelson Mandela University has grown into accessories and, most recently, an expanding homeware range.
"I was exposed to art from a young age; and I studied art in high school as well," he says. "But when I designed my first sweater, it became even more evident that design was in my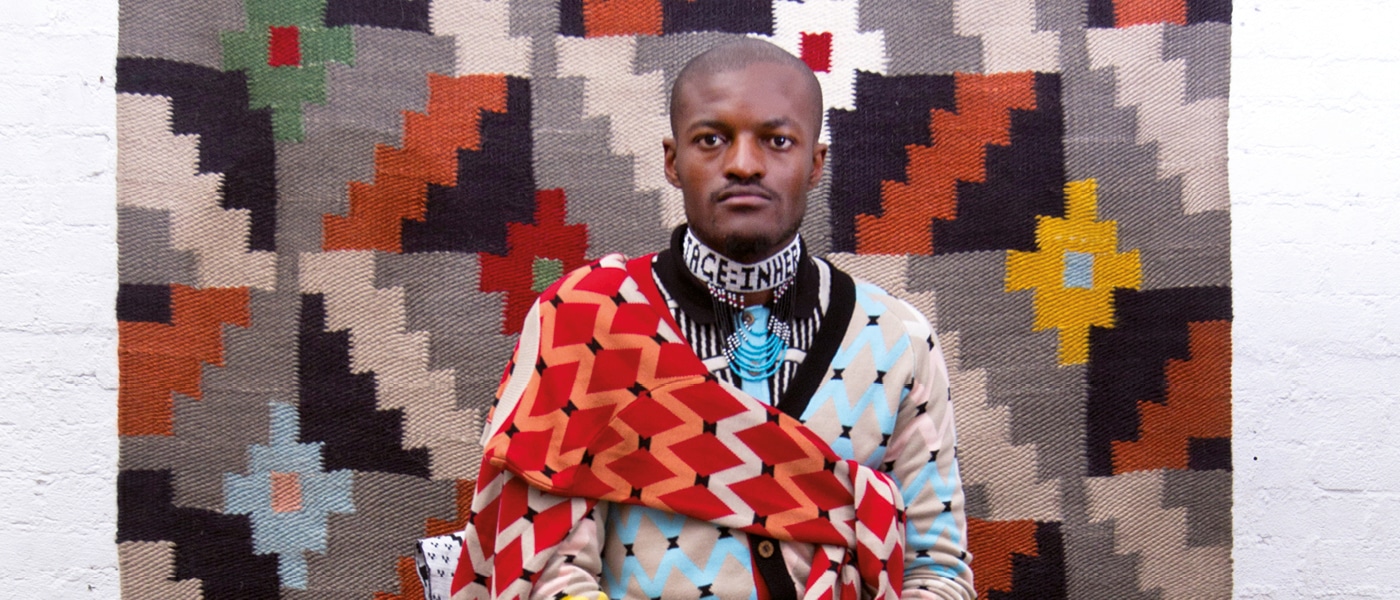 Q&A WITH LADUMA NGXOKOLO
Earliest design memory When I was a pre-teen, our mother would take us to museums and read to us from anthropological books at bedtime. The design mindset was etched from a very early age.
Memorable collabs A fun project this year was the launch of beaded cellphone covers in collaboration with Vukile Batyi. But one of the most memorable collabs of my career so far has been the tapestry I created with (artist) Nelson Makamo. The concept was so well executed, and it sparked a great idea for generations to come.
The benefits of being the Feature Designer at 100% Design South Africa (7-11 August, Gallagher Convention Centre) The platform provided us with the space to challenge ourselves, by fully venturing into homeware and showing that we're an evolving lifestyle brand. The range now includes soft furnishing (standard and oversized cushions), and we're also venturing into the interior-décor space with curtaining and rugs.
My creative process I work with my team throughout the conceptualisation and execution stages. It all starts with an idea, which I archive so I can discuss it with the team and get everyone's input. Depending on the brief, I usually sketch the designs and share them with the programmer, who then inputs the designs into our knitting machines. Our production manager ensures that we have adequate raw materials and a sufficient workforce to execute the designs. It is important for us to be passionate about what we are creating – passionate about what we do.
Interpreting culture in an authentic, iconic way To be honest, being Xhosa has helped a lot in my creative journey. I have always been fascinated by culture, and how it can be interpreted in a multitude of ways; and I have used my own experiences in addition to studying the anthropology of my culture.
Once you study and analyse a culture, you can choose an aspect and translate it into design – but it is very important to respect the culture from which you are sourcing inspiration.
Because the brand has grown, we are now drawing on cultures from across the continent and the world.
What inspires me I am inspired by people, by examining the world during my travels, and by the different energies I encounter. It helps to push the creative process forward.
How I unwind Music is one way I escape. I listen to a lot of music – when I'm heading to work, while I'm working, when I'm trying to relax. I also travel as a form of self-care. It helps to get out of the city and see how other people are expressing themselves.