Over a period of nearly five years, hundreds of Lexus engineers and technicians worked to an incredibly demanding brief, using all its their imagination and two decades of hybrid experience to create one of the most advanced vehicles Lexus has ever built.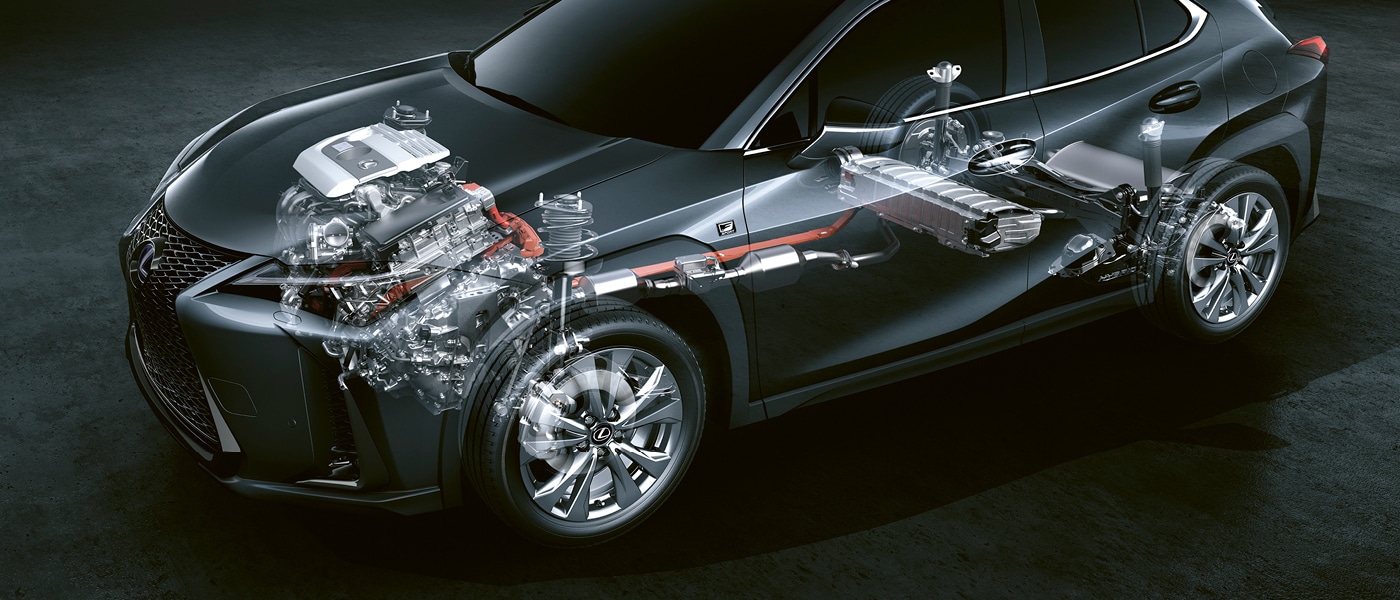 1. NEW PETROL ENGINE The UX 250h's new 2.0-litre inline four-cylinder petrol engine is one of the most efficient internal combustion units created by Lexus (41% thermal efficiency). Advanced features include laser-cut intake valve seats, a high compression ratio (14:1) and D4-S fuel injection combining direct and secondary port injectors. In addition, while exhaust heat recirculation enables quick engine warm-up, Variable Valve Timing-intelligent Electric enhances drivability and at the same time reduces emissions.
THIS NEW SYSTEM USES A DEDICATED ELECTRIC MOTOR/ GENERATOR INTEGRATED INTO THE REAR DIFFERENTIAL
2. FRONT HYBRID TRANSAXLE The UX 250h features a newly engineered front hybrid transaxle that connects the highly efficient 2.0-litre petrol engine to two electric motor/generators, achieving class-leading fuel consumption, quietness and driving performance.To make it more compact, Lexus engineers designed an innovative multi- axial layout in place of the conventional arrangement where MG1 (power generation) and MG2 (drive) electric motors are arranged on the same axle.These compact dimensions allow the steering gear more room to achieve the UX's class-leading turning radius (10.4m curb-to-curb diameter). In addition, with overall transaxle frictional losses reduced by 25%, MG2 is now a higher- speed motor, yielding better performance and effIciency.
3. POWER CONTROL UNIT The UX 250h's compact new Power Control Unit (PCU) is 20% more powerful yet 10% lighter than previous units.The PCU's size and weight were reduced by developing a new compact circuit board, AC-DC converter and power stack structure, resulting in a 20% reduction in power losses and improved fuel efficiency.The PCU is mounted above the front hybrid transaxle, contributing to the compactness of the entire system and creating more space inside the engine compartment. This allows for a low aerodynamic bonnet while providing improved pedestrian protection in the event of a collision.
4. HYBRID BATTERY The UX 250h's nickel metal-hydride (NiMH) battery improves fuel efficiency and Electric Vehicle performance, while also saving on space. Featuring 180 cells of 1.2V each for a total voltage of 216V, the UX 250h's hybrid battery produces 24kW. New electrode material, a revised construction and a more compact cooling system has reduced its size and the unit is now located below the rear seat. This packaging allows for greater interior load space and gives the UX optimised front/rear weight distribution and a low centre of gravity.
5. E-FOUR ALL-WHEEL DRIVE This new system uses a dedicated electric motor/generator integrated into the rear differential that is both smaller and lighter than previous Lexus E-FOUR systems. This means more rear luggage space and improved handling stability. Information is sent from various sensors (wheel speed sensors, G sensor, yaw rate sensor, steering angle sensor, etc.), that is then used to precisely control the front-rear torque distribution when accelerating, cornering or driving on slippery surfaces. E-FOUR also ensures stable driving on uphill slopes or snow-covered roads with lower fuel consumption than conventional, heavier all-wheel drive systems.
6. LIGHTWEIGHT MATERIALS To improve the car's efficiency and performance, the engineering team reduced weight wherever they could.While the UX 250h's 112kg petrol engine is one of the lightest in class, the engineers saved a substantial 27kg by using aluminium instead of steel for the doors, wings and bonnet and composite materials for the tailgate. An aluminium internal tailgate frame with Super Ole n Polymer thermoplastic outer and inner panels was another Lexus first and this resulted in the UX having the lowest centre of gravity (594mm) of any vehicle in its class and the agile handling normally associated with a dynamic hatchback.