The country's best chefs are known for their command of their restaurant kitchens, which they run like well-oiled machines. But have you ever wondered what they're like at home, cooking for their loved ones?
We snuck into the homes of some of South Africa's top chefs to see what they like to work with, what they're cooking and which ingredients they reach for time and again.
Liam Tomlin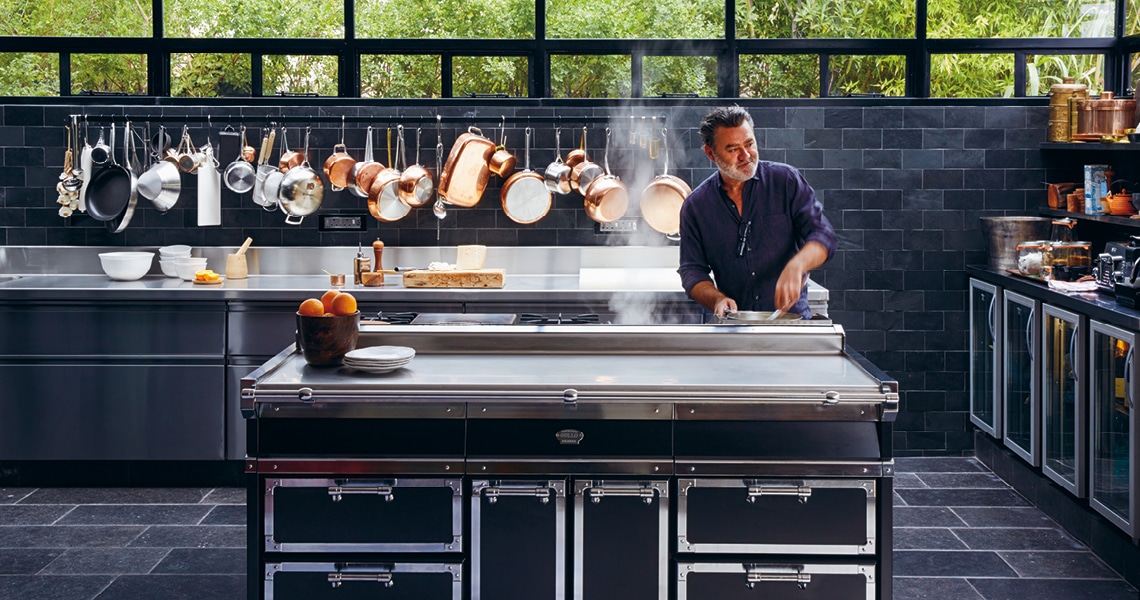 If there's any chef's home you'd like to nab a dinner invite to, it's Liam Tomlin's. The owner of the Thali and Chef's Warehouse empire in Cape Town is everyone's food hero. As you'd expect, the kitchen in his Gardens home is considered, functional and designed with the host in mind. "It has lots of space, both to work in and for storage. And it's open-plan, so you can cook and entertain at the same time," says Liam. "Oh, and my stove, I love the stove." His favourite thing to cook in his kitchen? "A simple roast chicken or raclette. And Singapore chicken when guests come over."
So what does one of the country's best chefs always have on hand in his pantry? Liam considers chorizo, Parmesan cheese, chicken stock, crushed garlic, butter and fresh thyme to be the foundation blocks that flavour and finish most of the dishes he cooks at home. When asked what his advice would be for those of us wanting to cook more like him, Liam simply had this to say: "Take your time – don't rush, be organised and clean. And invest in decent knives, cookware and crockery."
@chefswarehouse_chef_liamtomlin
David Higgs

When he's not running the pass at his two Johannesburg restaurants, David Higgs can be found at his Saxonwold home. He's hard-pressed to pick a favourite thing about his light-filled kitchen, which features a garden view, his fresh herbs planted nearby, and a full bar. "That's the main reason for loving it," he says. His go-to dish might be the humble roast chicken, but his recipe for a scene-stealing potato bake is what always wins dinner guests over. "I make a classic creamy potato bake, layered with good quality white anchovies and topped with Gruyère. It's a beautiful combination of salt, sweetness from the cream, and garlic. It's such a simple dish, but adding the anchovies changes the whole thing. You can serve it with a braai, with chicken or red meat – anything. It works."
When it comes to words of cooking wisdom, David leans heavily towards fresh produce, such as herbs and veggies. "If you have a small piece of ground, or space in your garden, plant some herbs and vegetables," he says. "Not only will you be surprised at the quality you get, but also how much you can save in packaging." Another titbit from the award-winning chef? "Use white pepper. People tend to grind black pepper over everything, but white pepper is great on vegetables and potatoes, and in casseroles. It gives better flavour – especially in a South African kitchen."
Siba Mtongana

It will come as no surprise that Siba's kitchen, at her home in Cape Town, acts as the source of inspiration for her family-focused recipes. "My kitchen is the place I play in, whether it's testing new recipes for work-related projects such as cooking shows and cookbooks, or just cooking a healthy and 'Sibalicious' meal for my family," she says. "It's the heart of our home." And while it is functional, her kitchen works double time as the dreamy setting for many shoots. "I love its clean, fresh design, which acts as a great background for recipe shoots. And I love that there's enough space for us all to sit and eat dinner there together."
With a large family that mostly follows a pescatarian diet, Siba finds herself cooking a lot of seafood for her kids as well as guests. "My formula for entertaining is to make sure the starter and dessert can be made ahead to save you time on the day," she says. "Gone are the days when the host slaves away in the kitchen alone, missing out on the fun." Her go-to starter? "My coated and seared tuna salad never disappoints, especially in spring and summer."
If you're embracing your inner Siba, know that she considers sharp knives "a chef's best friend", and sees kitchen appliances as a nice cherry on top, but not a necessity. She also uses homegrown garlic, ginger and chillies to create her signature flavours, and encourages all cooks to get into gardening. "The two go hand in hand – and there is so much more fulfilment cooking food that you've grown yourself."
Christina Semczyszyn

Christi Semczyszyn, head chef at Tjing Tjing Torii in Cape Town, is known for her bold flavours – and she doesn't leave them behind when it's time to cook in her own kitchen. While renting means she can't make any significant alterations to the space, she's put her stamp on it. "I made it more me by adding plants, and some funky spice racks that my husband made," she says.
Regulars of her restaurant will know she makes a mean ramen, which proves to be the "labour of love" dish she mostly makes at home too. "My husband also works in the service industry, so our hours are awkward and we don't often have time to cook in the evenings. I make a big batch of ramen broth, noodles and chashu pork belly, and freeze them all separately for quick meals when we get home." When she's not slurping noodles, Christi says she turns to curries, complete with sambals and sides, when people come over. "We often do 'themed' dinners – I ask my guests to choose a country when I invite them around, and we make drinks and desserts along with the meal to represent the country."
When it comes to sage kitchen advice, Christi likes to keep it simple. "I mostly make do without fancy appliances because I don't have the space for them. Anything you can do with an appliance can be done by hand," she says. "I do like small gadgets, though. My spatula, can opener and julienne slicer get used the most. And obviously my knives – you need to have decent knives and keep them sharp. It makes chopping a pleasure."