"Friday is always 'F' Day," says Porcius Festers with a chuckle. "Everybody at work knows that." 
We're standing in the driveway of his Cape Town home on a crisp winter's morning. The Lexus collector is looking up at the bright blue sky, glad that the overnight rain has cleared enough for him to pull his four sparkling Lexus vehicles out into the driveway facing his quiet cul-de sac. Well, it's quiet until he starts up the IS F (V8), that is. 
Festers has worked in the automotive industry since 1995 and was formerly a licensed Lexus technician.  
"When I was working on Lexus day to day, I quickly realised that these cars just don't give problems. They're incredible."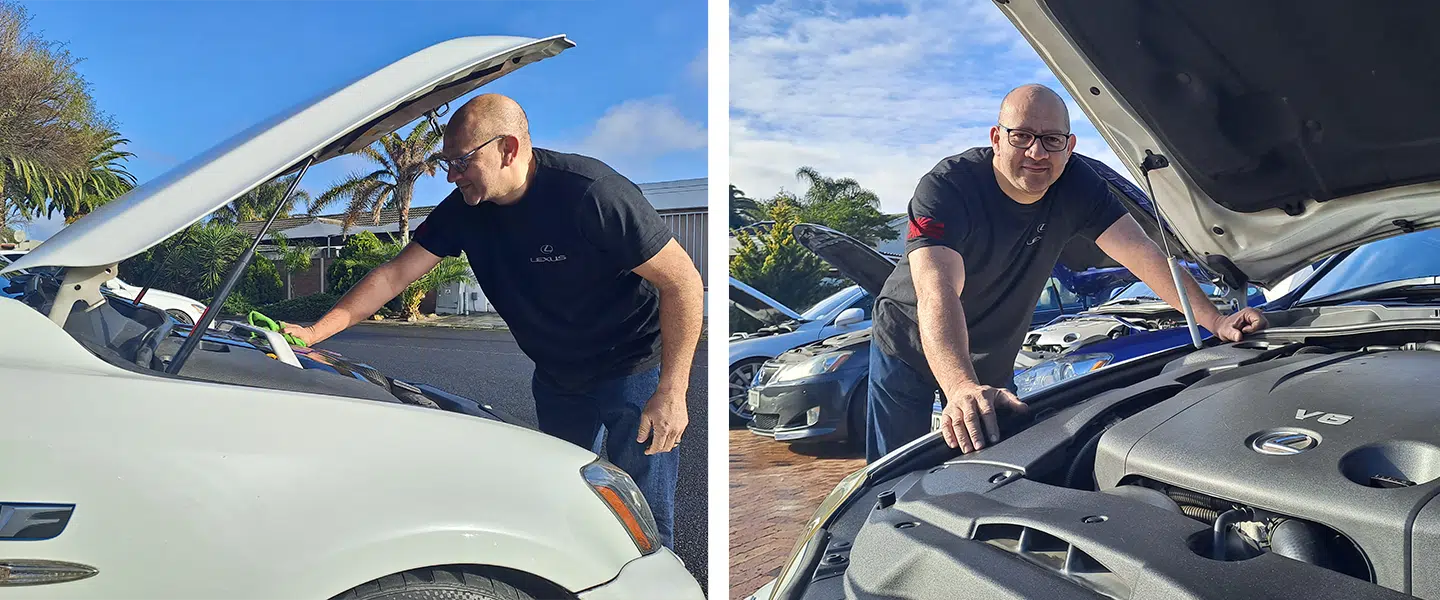 First impressions count
Searching for a safe and reliable family car for his family, Festers bought his first Lexus — a pearl-white 2007 IS250 SE (V6) — for his wife Lynette in February 2015. 
That first Lexus made quite an impression.  
"That is definitely where the problem started," laughs Festers. "That car just drove so lekker. But it was a good problem to have." 
A chance encounter with an eye-catching charcoal IS250 SE that November saw him add a second Lexus to the garage, and the family soon bonded around days spent driving the Cape Peninsula to the low rumble of the V6 engine under the bonnet.  
By the time the Covid-19 lockdowns of 2020 came around, Festers was dreaming of adding an ISF (V8) to his collection.  
"I told my wife that one day I'm going to buy myself a blue one, and buy her a white one," he recalls. "That same year, we lost her."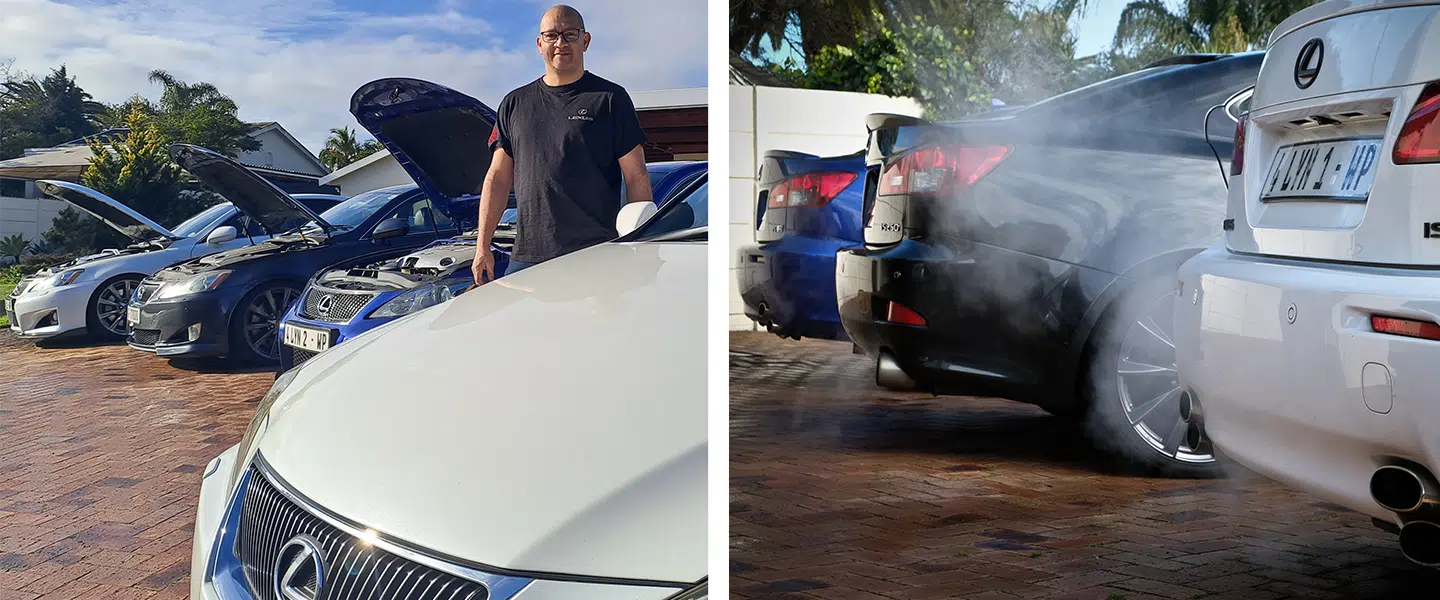 A special reminder
Lynette tragically passed away in late 2020 but is fondly remembered with a bespoke cancer ribbon decal affixed to the rear window of three of his prized Lexus vehicles; a steady reminder of the happy days the family spent behind the wheel. 
And Festers was sure to keep his promise.  
In 2021 he found a white ISF for sale, and a second 'F' in deep blue, just as he had dreamed of. It was in need of mechanical work, but for a career technician with a deep understanding of what goes on beneath the bonnet, that posed little challenge for Festers. He's spent many happy hours modding, tweaking and upgrading his Lexus collection.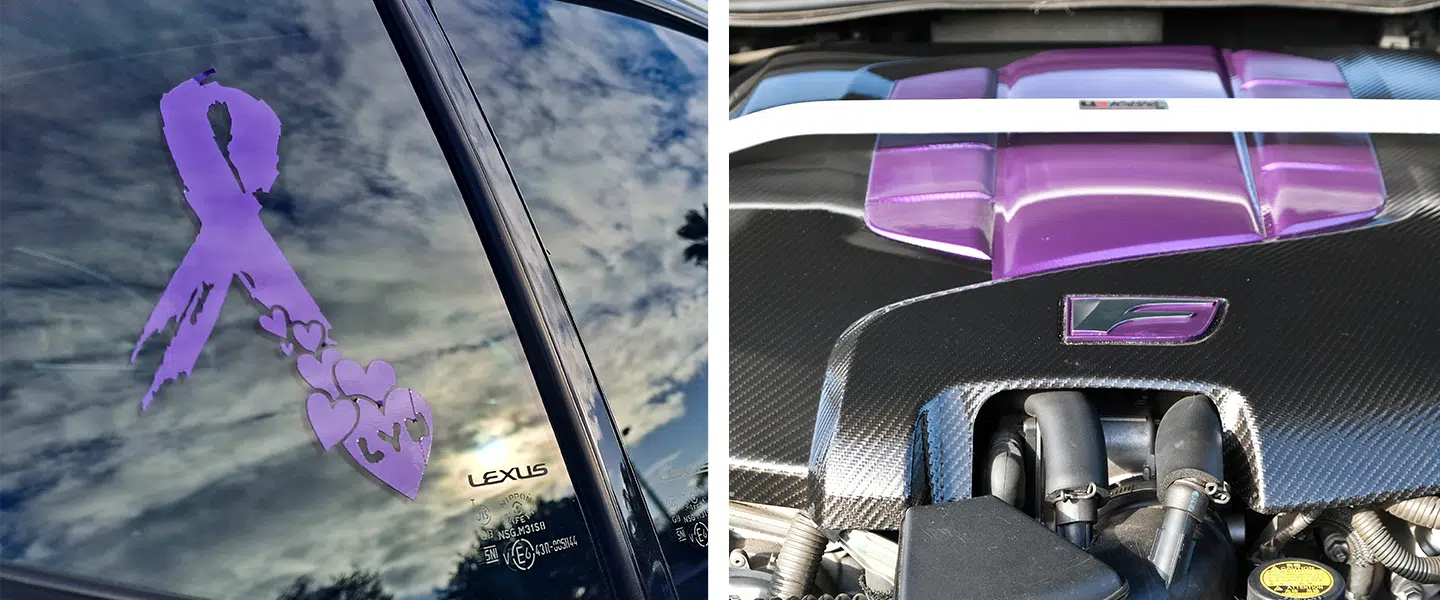 'My modifications'
"Nobody touches my cars except for me," he laughs. "The only exception is if I take them to the exhaust shop, but everything else I do myself. Being a mechanic, I've made quite a few mods to each and every car." 
Those modifications are subtle though, retaining the innate elegance that is intrinsic to the Lexus marque.  
That first IS250 SE he bought now boasts BC Coilovers, subtle boot and roof spoilers, and ISF rims with 19" wheels. Inside, the wood-grain armrests have been replaced with a carbon wrap to update the aesthetic, and he's fitted a full ISF brake system to both the IS250s in the garage.  
"This car stops on a dime," says Festers proudly.  
With the charcoal IS250 SE sporting an eye-catching front spoiler, he applied his technical know-how to install a forward camera into the car's on-board camera system to keep scratches at bay. He's also installed a separate module to ensure that the mirrors automatically retract when the car's central locking is activated. 
The ISF sports models have also had their share of subtle tweaks, notably to the suspension and braking.  
"If you park a standard ISF next to mine, you'll notice the difference: it stands slightly lower, and the wheels are slightly further out, not so tucked in."  
He's also fitted colour-coded brake callipers, engine strut braces, and a rear strut brace to stiffen the drive in the white ISF he dubs his 'performance' car. "If I've had a bad day at work, this is the one I'll take out," he says with a smile. 
Does he have a favourite? As with choosing a favourite child, he's diplomatic in highlighting that each has its own strong points.  
"Every vehicle is different; no two are the same," he says. "They all handle differently. One rides firmer. One is faster from the get-go. Another feels faster at the top end." 
"The blue is my favourite colour, but I don't have a favourite car. I'd say the charcoal IS250 is my daily, but if it's extremely dirty and I don't want to drive it, then I'll take my wife's IS250. On a Saturday or Sunday, and if we're doing drives, it'll definitely be in an F."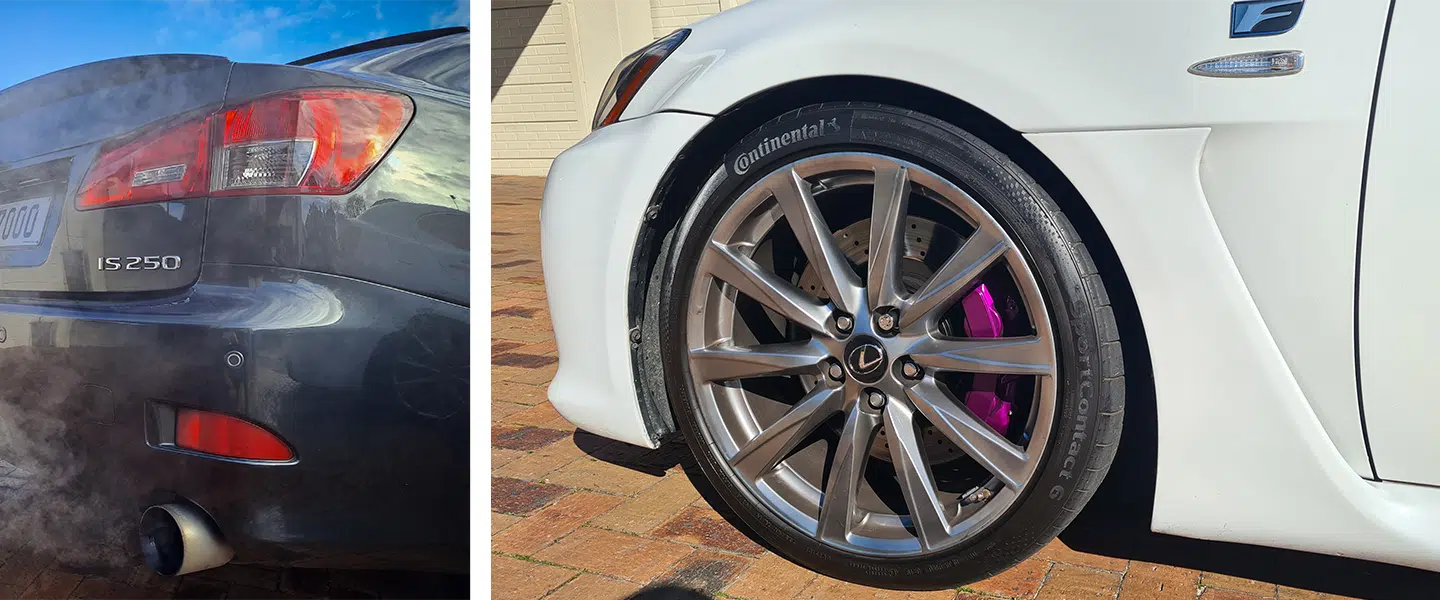 On the road
Those drives could be laid-back breakfast runs to the Wimpy on the N1, or perhaps down to Fish Hoek beach, but Festers is also a member of a local Lexus enthusiasts' group, which meets for group drives, car shows and charity outings. (Read about his fellow Lexus enthusiast here).
That includes showing at the popular Coffee & Cars show in the Winelands and providing underprivileged matric students an unforgettable chauffeur-driven ride to their year-end celebrations.  
But Festers' happiest moments are when he's out on the road with his daughters, even if these throaty V6 and V8 engines aren't shy to show a thirst. 
"If I drive, let's call it enthusiastically, I'll get 350 kilometres on a 60-litre tank. If I drive conservatively, I'll get 450 or 460," he says. "But I didn't buy these for the fuel consumption, right? I bought them for my enjoyment, and the enjoyment of my kids. After I lost my wife, we spent a lot of time together driving these cars and today we live for the memories. So, if we want to go, we go."