Moxy Chelsea certainly lives up to its moniker as the Flower District's secret garden. The entrance to the 35-storey 349-room hotel is through famed florist Putnam & Putnam, and the botanical and floral themes continue throughout the delightfully energetic space. New York's flower district inhabits a block between 6th and 7th Avenues, and is a welcome natural oasis in the centre of the city, in which vendors parade their blooming bounties daily.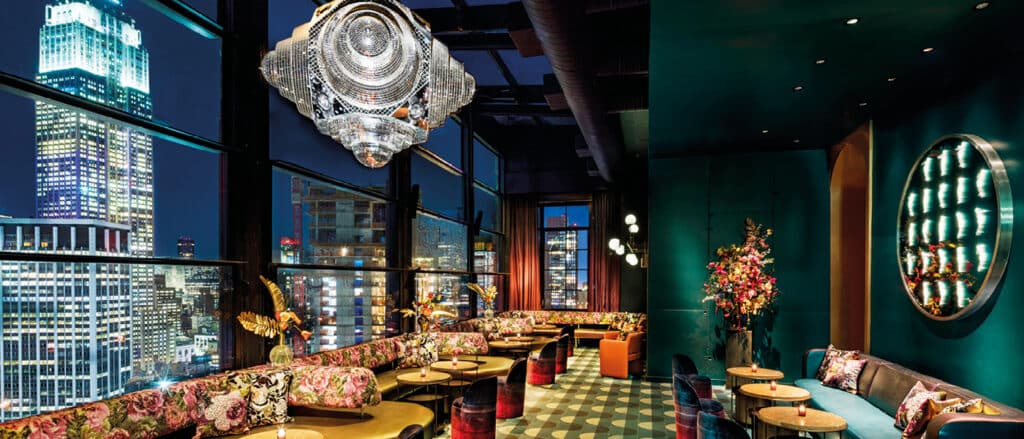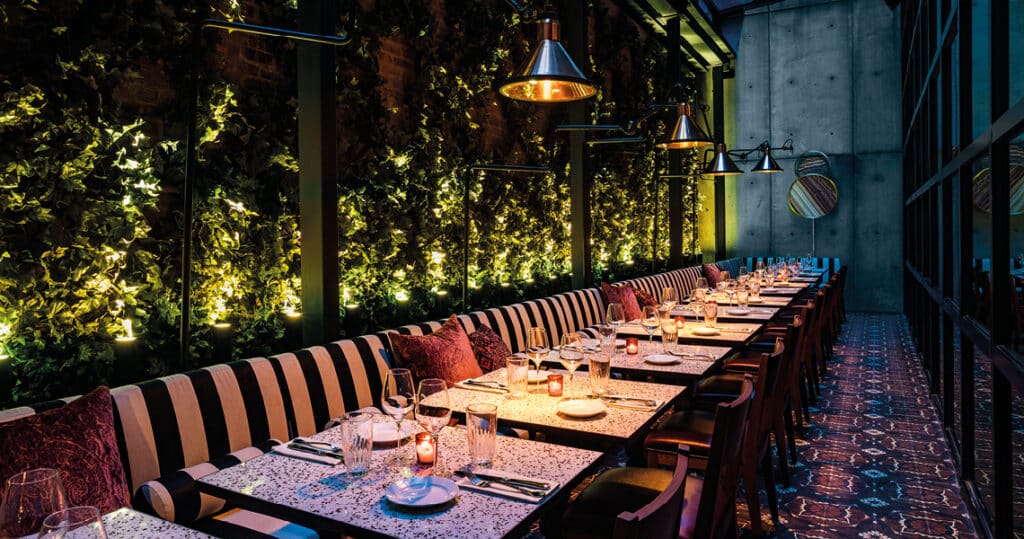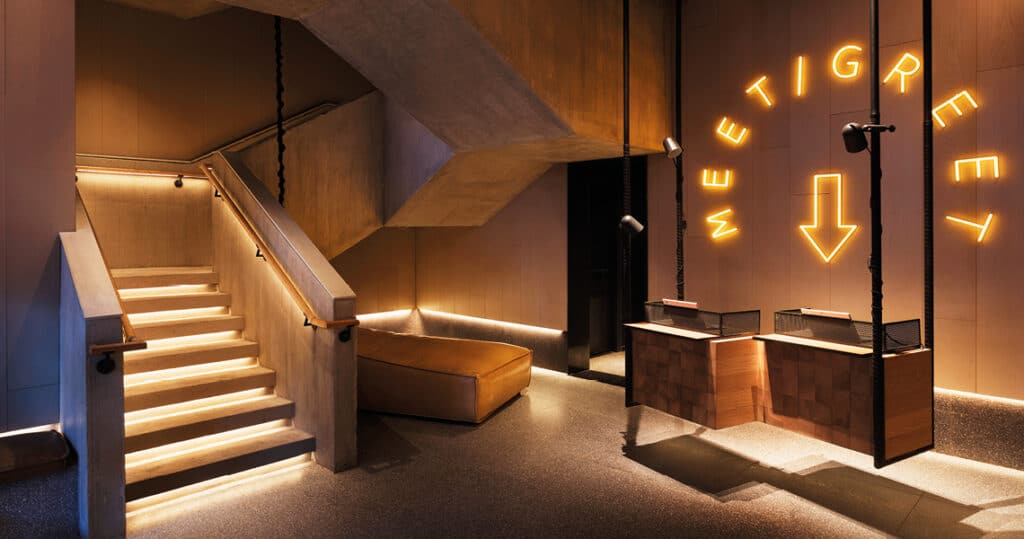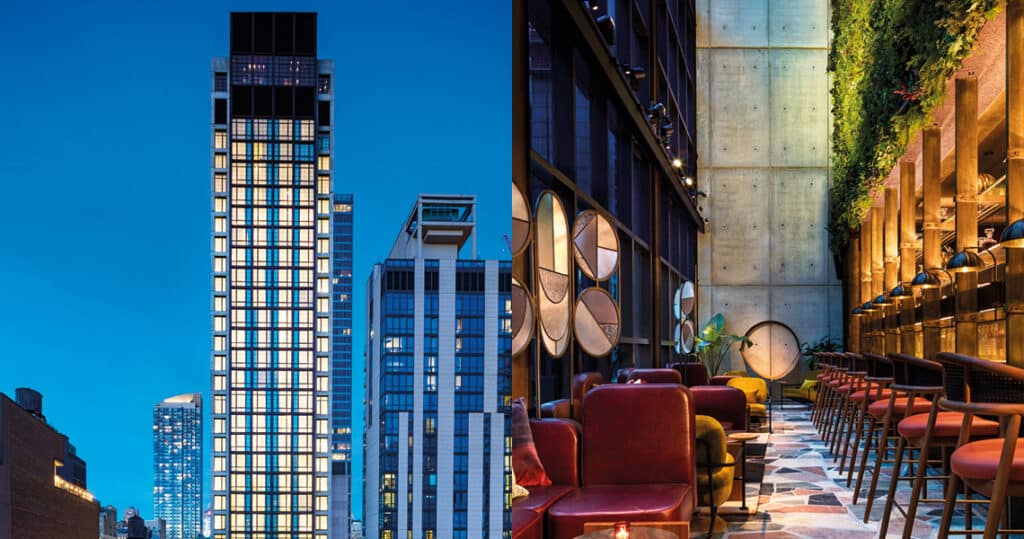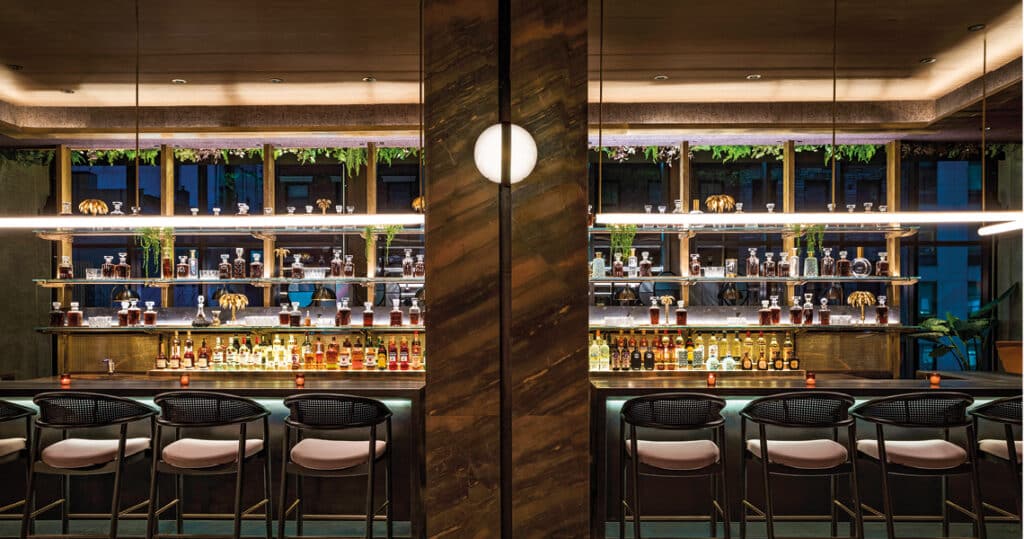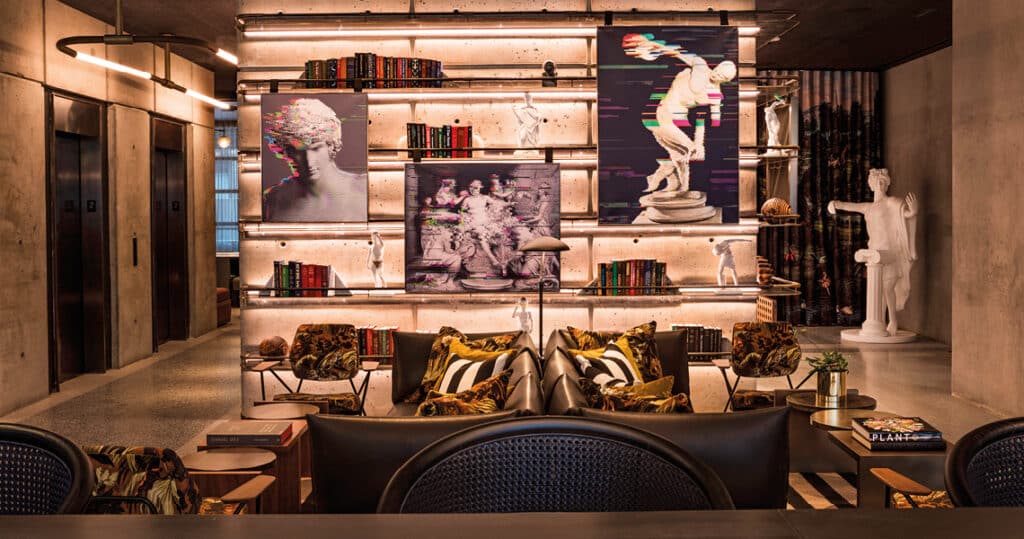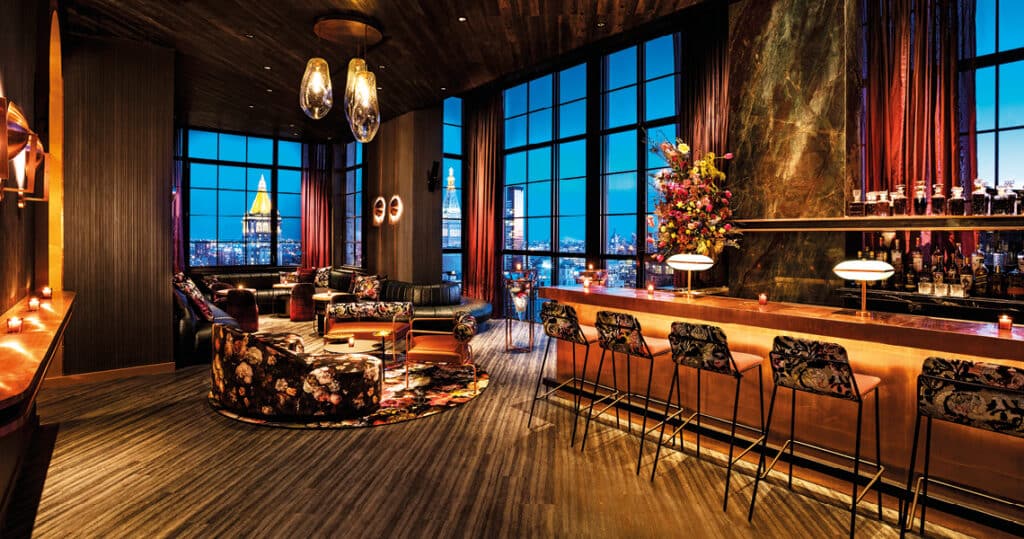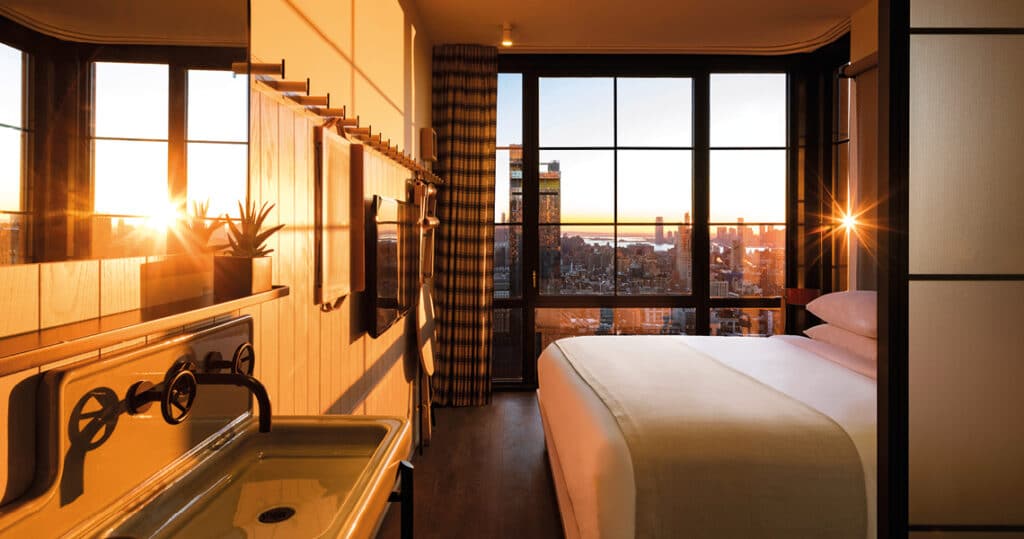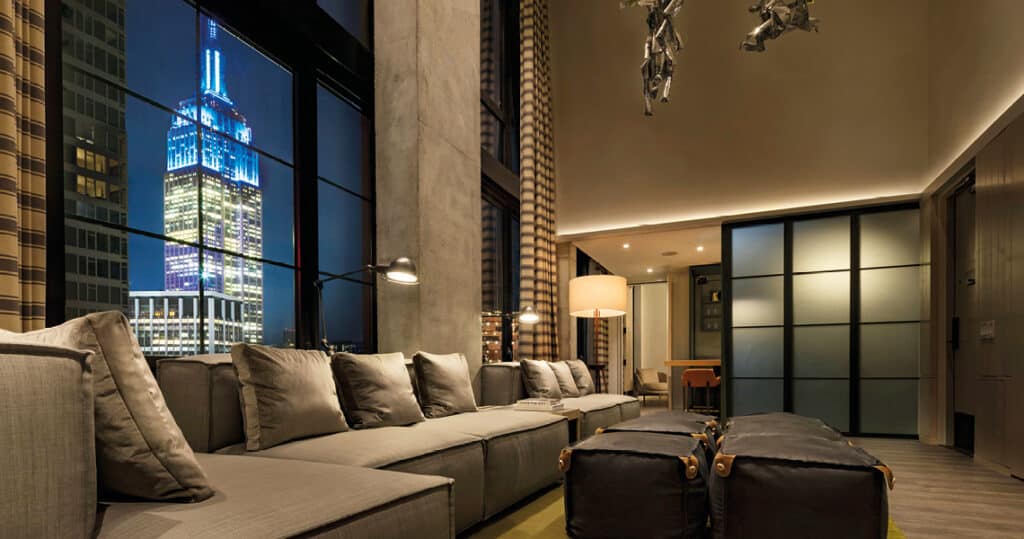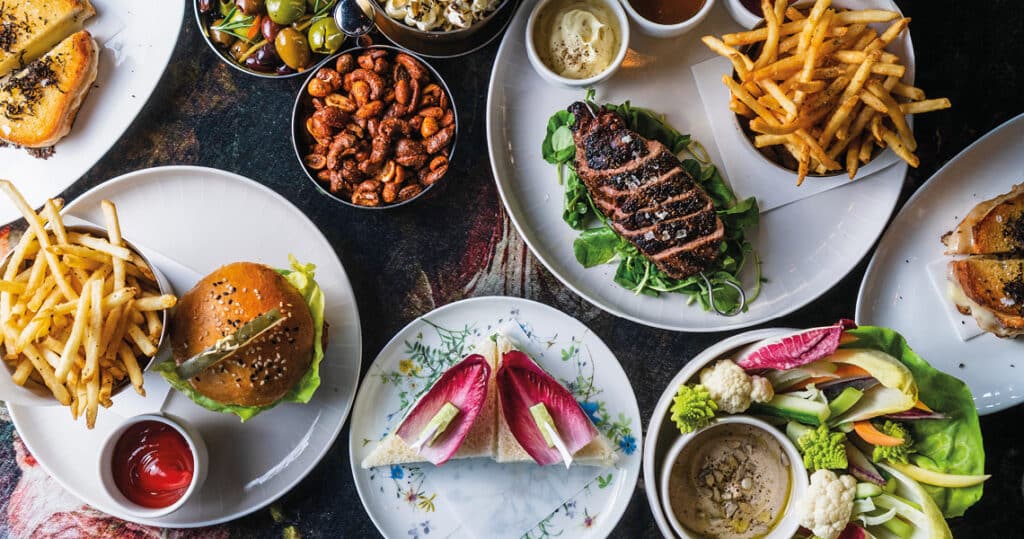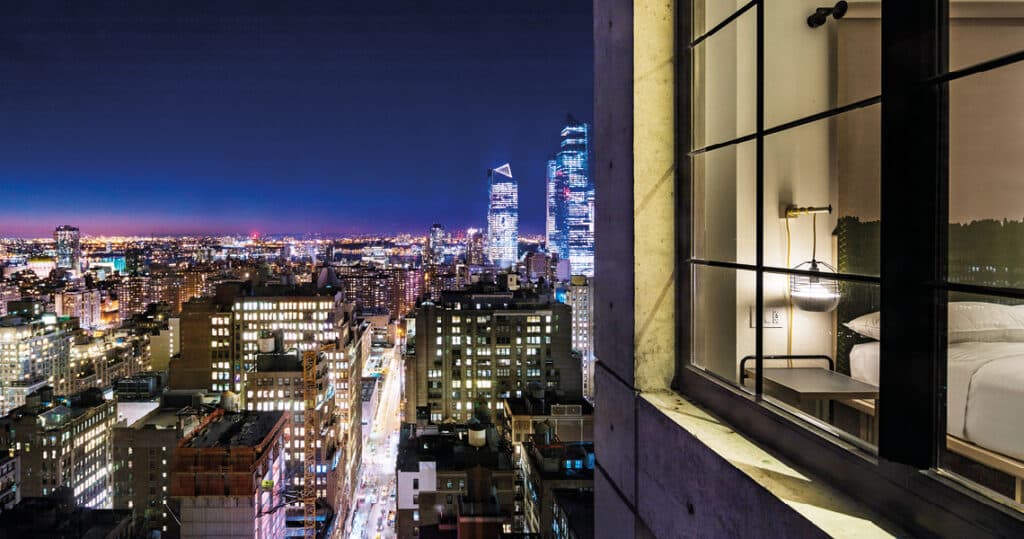 Honouring the botanical landscape in which the hotel resides, architects Stonehill Taylor and interior designers Yabu Pushelberg, along with the Rockwell Group, did a stellar job to create an industrial façade that perfectly frames the glass atrium and vertical gardens within.
The rooms are micro but the amenities are macro: from the plush 300-thread-count European duvets and Egyptian-cotton linen to individual climate-control panels, 43" smart TVs and what the Moxy Chelsea likes to call "furiously fast and free Wi-Fi", you feel like you're living luxe. If the design details don't impress you, the floor-to-ceiling, wall-to-wall windows and three-metre-high ceilings certainly will. The bedrooms also feature custom multipurpose furniture – like a folding desk, which can be flattened and hung on wall pegs when not in use – to maximise space and allow guests to personally configure the suite to their needs.
In the entrance beyond Putnam & Putnam, four butcher blocks (inspired by the nearby Meatpacking District) are dramatically suspended from the ceiling to act as check-in kiosks, replacing a formal reception desk. This area also features a kinetic digital art installation designed by Anthem AV, where words emerge from LED panels and spell out phrases such as "Good Morning, Stranger" and "You Love Me, You Love Me More".
The quirky elements continue in Bar Feroce, which offers a modern twist on traditional Roman comfort dishes. Here, classic Italian art and sculptures take on traditional themes with a contemporary "glitch": Renaissance-style portraits are broken up by pixelation or visual blips; a sculpture of David strikes an unexpected pose; and a life-sized, toga-clad statue rests on a column, one arm extended so it can hold a guest's phone and pose with them for a selfie. The bar's all-season garden terrace gives a terracotta oven pride of place, with delightfully moreish gourmet pizzas emerging relentlessly throughout the day. Other dining options include Feroce Ristorante, where renowned chef Francesco Panella serves up delicious Italian fare using locally sourced, seasonal ingredients, and Feroce Caffè – an all-day, street-style, café-culture type spot that overlooks West 28th Street and offers diners everything from a frittata to a panini.
The continuous botanical flair and Italian romance culminate dramatically in the jewel of Moxy Chelsea: the Fleur Room. Located on the 35th floor, the rooftop lounge is encased in glass to showcase panoramic 360-degree views of the Manhattan skyline – from the Statue of Liberty to the Empire State Building and beyond. The copper-clad bar is manned by mixologists who serve up creative cocktails to the eclectic crowd nightly, but the pièce de résistance has to be the lounge's glass walls, which descend at the touch of a button and instantaneously convert the space into an alfresco sky bar. Add to this a DJ booth and a massive vintage disco ball, as well as dedicated high-speed elevator access, and you'll see that the Fleur Room is a destination to put on your must-visit list – whether you're spending the night or not.
Moxy Chelsea may be the secret garden of the district, but it also seems to be the best address in Manhattan…