Growing up in the picturesque Cape Town enclave of Llandudno – a third-generation Llandudnian, in fact – Jasper Eales's career was (unsurprisingly) destined to be interwoven with the sea. As a child, he dreamt of being a creator and "inventing cool things" – well, that or a pro surfer. His parents, creatives themselves, fostered and encouraged his passions. Jasper completed a degree in industrial design and launched his own product-design company.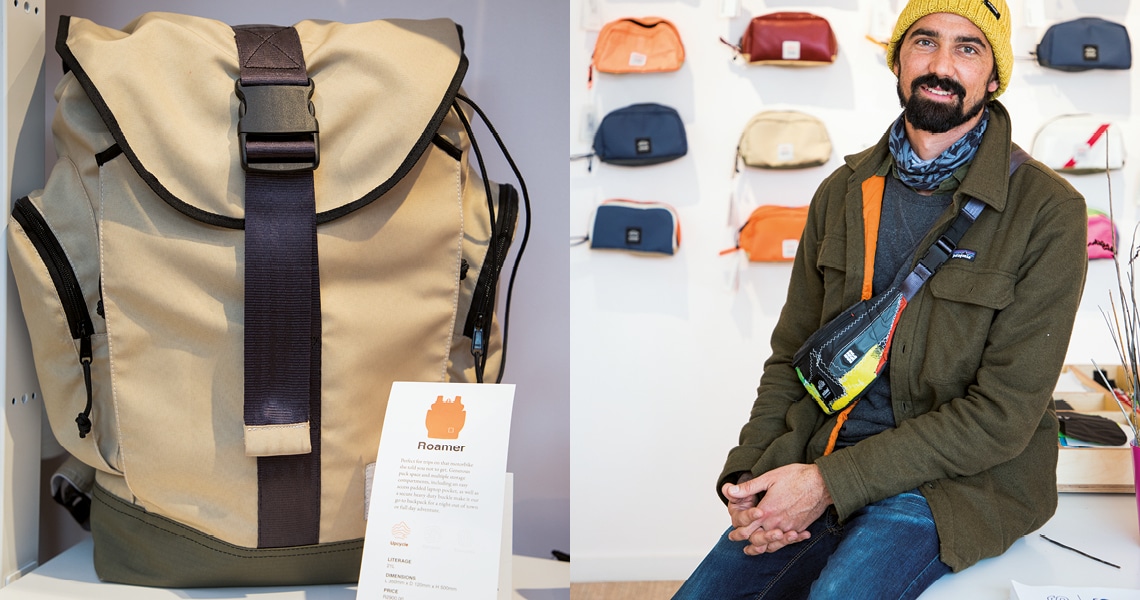 In 2015, he teamed up with fellow surfer and ocean lover Mike Schlebach to launch Sealand Gear. Driven by sustainability, environmental awareness and a love of the great outdoors, the brand's urban adventure gear is handmade from upcycled yacht sails, Bedouin stretch tents, advertising banners, recycled plastic bottles and other durable materials that would otherwise end up in a landfill and take years, if not centuries, to biodegrade.
The award-winning brand has flourished in the four years since its launch, with steady growth around the world and a flagship store that opened earlier this year in Cape Town. Jasper and the team are working on a collaboration with an internationally recognised shoe brand, with the hopes of releasing a sustainable Sealand shoe in 2020. He's also spearheading the development of a Sealand cooler bag, which will launch in time for summer.
A self-confessed "man of many things", Jasper and his partners plan to create a foundation as an extension of Sealand that will focus on funding and supporting sea and land conservation and development organisations. Health is another of Jasper's passions, not least because he's a full-liver-transplant survivor, and he's involved in the online food business Fresch Online, which offers pantry staples from nuts and dried fruit to the healthiest granola, and is soon to release a range of super food smoothie blends. Balance and personal satisfaction are key in all he does.
Q&A WITH JASPER EALES
Earliest design memory When I was a boy, my dad taught me woodwork – he designed and built a beautiful wooden push car for me. Around the same time, my grandfather and I designed and built a go-kart. As I grew up, I began to appreciate the design company that my mother started (Naartjie clothing), and I started to see the bigger world of design. In my final year of junior school, I designed and hand-shaped my first surfboard – which is what I learnt to surf on.
Designers I admire Locally, I admire guys like sculptor Otto du Plessis, furniture designers Gregor Jenkin and James Mudge, artist and blacksmith Conrad Hicks, and designer Porky Hefer. Internationally, I aspire to Patagonia's founder Yvon Chouinard and pro surfer and environmentalist Kelly Slater.
What inspires me People and places. I'm inspired every day by different things – an interesting conversation, a hike up a mountain, a trip exploring a different city or retail culture. The outdoors keeps me fuelled, and constantly inspired to keep dreaming and searching. Music keeps me upbeat. It all fires my drive to create, to do business differently, and to enjoy the journey.
Destinations on my bucket list Japan, Morocco, the Philippines, Transkei, Lesotho and the Drakensberg.
The most magical place I've visited There've been a few, but Chacahua – a remote village on the coast of Mexico – stands out. I lived with a local family for four months in a palapa on the beach, surfing the best waves, eating freshly caught fish, and living a simple life without a care in the world. (Besides the cyclones, that is!) I also recently visited Amsterdam, a beautiful city with a forward-thinking, sustainable outlook. And then there's Llandudno, the place I call home. No matter where in the world I travel, I'm always excited to come home – which says a lot.
Travel staples Comfortable shoes, an open mind, a desire to explore, and my medication. Post-liver transplant, I'm a slave to my meds, and can't go a day without them.
The last place I visited – and what I bought On a recent business trip to Europe, I visited London, Amsterdam, Copenhagen and Paris. I returned with a few gifts: a clever reusable cutlery set for life on the go; a newly designed reusable water bottle with a built-in purifier that uses UV; and a linen suit for special occasions.
A building or smart design that stands out for Me The sculptural brilliance of the Afrikaans Language Monument in Paarl blows me away every time I see it. I'm also fascinated by the beautiful restoration of the silos at the V&A Waterfront. And when it comes to smart design, my iPhone 8 Plus is an amazing piece of tech: it puts the world at my fingertips and the office in front of me, it makes communication possible, it has a high-quality camera… It does, however, require discipline for it not to become a distraction!
What I'd put in a time capsule My car: a Toyota Land Cruiser 78 Series (Troopy). It's a limited-edition shape and the ultimate adventure vehicle, built to handle any obstacle and last a lifetime.
My take on the African and South African design landscape It's creative and innovative. There are plenty of internationally regarded South African artists, sculptors and designers making a name for themselves. Our geographical location creates some challenges, as does our currency, and I feel there's a lack of support for emerging creatives and business owners – but we're hungry to make it happen, to show the world what this incredible place at the tip of Africa is capable of. And if we're clever about it, we can use our weak currency to our advantage.
Best advice I ever got Seek balance in life while making sure to live every day to its full potential. Look people in the eye when you speak to them. Smile and laugh regularly. Nurture your family – they are your ultimate support. Work hard, and finish what you start. Be the 5% that the 95% wish to be.
What I love about my home The lifestyle and access that it offers: it feels removed, yet just 20 minutes away from the Cape Town CBD; it's in a safe, community-driven environment and quiet at night; and it's a stone's throw away from the beach, allowing for frequent surfing and daily walks. Its positioning and layout mean it's private both inside and out. It's a homely surfers' hangout with great natural light – a work in progress!
An object of desire A safe, stylish, electric city runabout.
A design piece I covet A Wavescape surfboard with artwork by Beezy Bailey.

MY MOST TREASURED POSSESSIONS
Southern GUILD-commissioned SOUL ARCH coffee table In 2014, I was commissioned to create an ocean-, wave- and surfboard-inspired coffee table. It's my most considered piece of art/design. I created a four-part fibreglass mound with reinforced fibre cement. The best part of the design is a hidden detail: machined 12mm marine-grade aluminium that allows the cantilevered laminated-hardwood-surfboard table surface to float seamlessly on the wave-inspired cement base.
Self-portrait by Atang Tshikare It reminds me of the time we worked together.
Sacha Specker photos I love his images of the ocean.
Driftwood sculpture My most precious and delicate creation is a sculpture I made for my wife while we were dating and travelling the world. It's a rose made from perfectly shaped pieces of driftwood collected along the Mexican coastline.
Jasperealesoriginal.com | sealandgear.com | freschonline.com