If you were to take an epic road trip with the intention of visiting just one luxurious safari lodge in each of the seven African countries where South African interior designer Caline Williams-Wynn has worked, you would clock up to six thousand kilometers. One way.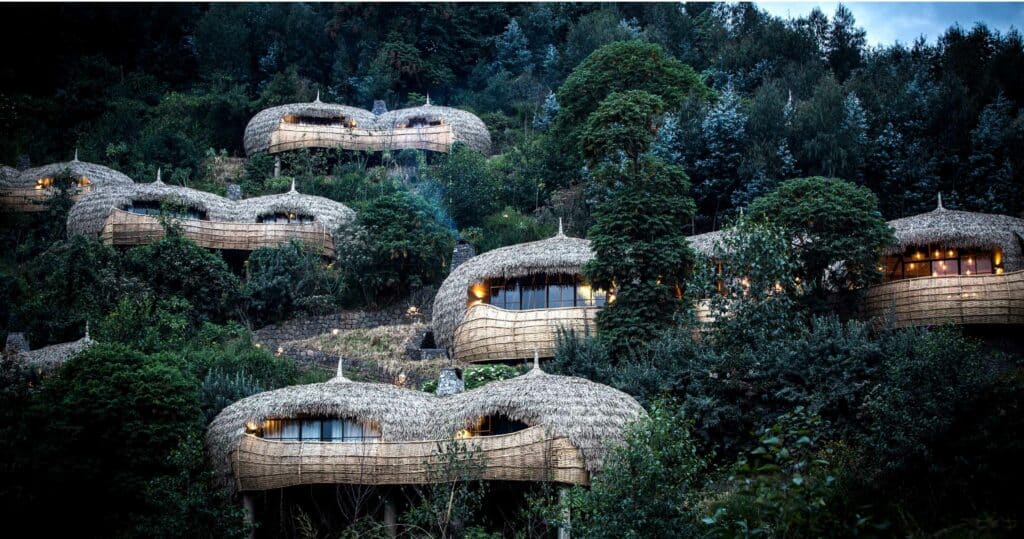 You could tailor-make your adventure by choosing from a selection of over 40 safari lodges with Caline's remarkable touch, from KwaZulu-Natal and Botswana's Linyanti region to Victoria Falls and Mozambique. Beyond southern Africa, you'd traverse Zambia and Tanzania's Serengeti to finish off with a stay on the rim of an eroded volcanic cone in Rwanda's Volcanoes National Park.
Caline, owner of Cape Town-based Artichoke Design, claims not to have a signature style. She also hasn't reused a single piece of furniture, decor or art in the past 23 years. And she doesn't need to, as she draws her design ethos and inspiration from a sense of place. This sees her spend weeks at a time in the region where she's refurbing or designing her latest safari destination.
For a recent project at Wilderness Safaris' Little Makalolo in the heart of Zimbabwe's Hwange National Park, Caline went into the neighbouring Ndebele villages and drew inspiration from the way the villagers had painted their homes. "With their permission, we took photos of the geometric designs on the walls and printed a fabric for the lodge," she says.
Establishing authentic partnerships with local communities and regional women-run non-profit organisations helps her ensure environmental and economic sustainability. "We use sustainable elements – such as paper instead of plastic bags and beeswax container covers instead of plastic wrap – to ensure longevity," she says. "In Rwanda, we involve local communities to make beeswax candles instead of importing tealights from South Africa, make light fittings from recycled glass, and reuse wine bottles as lamp features."
Caline admits to falling into lodge refurbishments by pure chance – but she has made a big name for herself in the industry. In fact, she no longer needs a business card or a website – all her projects arise from word- of-mouth recommendations.
1. Bisate Lodge, Rwanda
With community partnerships at the heart of operations, the beehive-shaped thatched forest villas are decorated in locally crafted baskets and imigongo (cow-dung artwork) while exuding opulence. The lodge's unique selling point is definitely its location in the amphitheatre of an eroded volcanic cone within Volcanoes National Park, from where guests can undertake gorilla trekking. wilderness-safaris.com
2. Mombo Camp, Botswana
The spacious, rustic-chic tents of this all-inclusive lodge in an Okavango Delta floodplain give guests the sense of being in their own luxe apartment complete with a private plunge pool. When it was rebuilt in 2018, much attention was paid to retaining the history and traditions that made this safari camp a firm favourite, while encouraging responsible travel. wilderness-safaris.com
3. The Highlands, Tanzania
Expect a high-style contemporary escape during a stay at the perspex-and-canvas domed suites of The Highlands. Set in a mountain forest on the edge of the Olmoti Volcano, north of the Ngorongoro Crater, this safari camp is solar- and generator-powered. asiliaafrica.com
4. Vumbura Plains, Botswana
Each of the spacious modern suites at the two raised camps found at Vumbura Plains boasts a wraparound deck – and a plunge pool that allows for game viewing right from the suite. These northern Okavango Delta camps offer land- and water-based safari excursions in the private Kwedi Concession. wilderness-safaris.com
5. Little Makalolo, Zimbabwe
With suites interspersed along teak walkways – and a mesmerising Madison Pan star bed – this intimate tented bush camp offers a luxurious safari experience with a lighter environmental footprint. Located in a private concession within Hwange National Park, on the edge of a watering hole, Little Makalolo boasts spectacular game viewing from your veranda and the log-pile hide. wilderness-safaris.com
6. Magashi Camp, Rwanda
Inspired by Rwandan culture and traditions, this raised tented camp in the only exclusive-use area of the Akagera National Park defines ultra-luxe glamping. The solar-powered camp offers sweeping panoramas over Lake Rwanyakazinga and sunset views from the sundeck, while subtly blending into the surrounding landscape. wilderness-safaris.com