I met artist Shaunez Benting on a Friday afternoon in mid-May 2022. He's based in Strandfontein, a Cape Flats' suburb 30 km from Cape Town's central business district. We chatted in the lounge of his brother's house, where he currently lives. Various paintings had been arranged as a display; some against the flatscreen television, others just above dainty cushions on the couch. Many depicted street scenes of children playing, while others showed adults in conversation or musicians in action. All spoke to me in a deep way that immediately struck a chord with my soul, as the characters seemingly shared a piece of their own souls as they looked at me from the canvas. Seemingly, a moment in time somehow interrupted.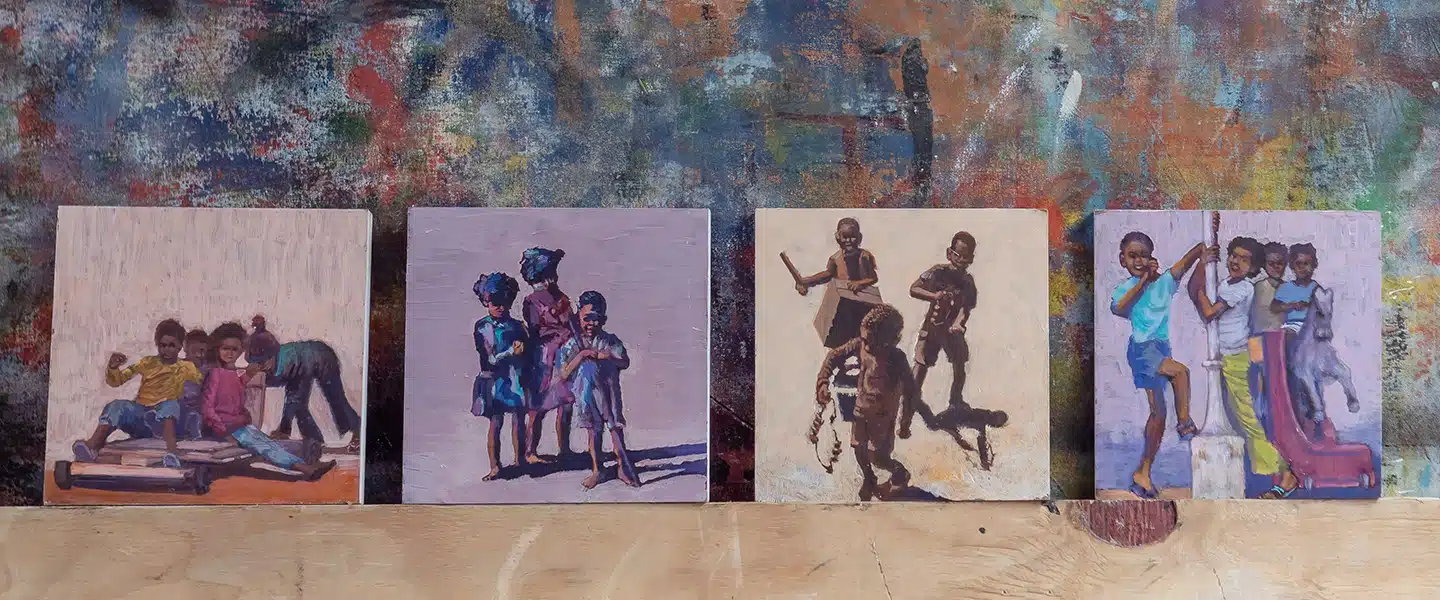 A Creative Block initiative
At the time I had just written about Spier Wine Farm and had been intrigued by the Creative Block artist career development programme run by the Spier Arts Trust (SAT). In essence, the programme issues local artists with white blocks on which to create art. Submissions are assessed at regular intervals by curator, Tamlin Blake, and selected works are purchased upfront from the artists. The pieces are then on-sold to art buyers through the SAT and its extensive network.
I suggested to Benting that he should submit a few blocks and duly found the correct person for him to chat to.
Shaunez Benting is a son of the Cape Flats, a hard place with an unforgiving reputation that all too often results in people, and the place, being overlooked. Born in Bonteheuwel, Benting spent the first five and a half years of his life in the nearby Red Cross War Memorial Children's Hospital. He was born with a condition known as Strabismus, which caused a severe squint and extreme sensitivity to sunlight.
His first memories date back to the age of three; of the hospital ward he called home and of time spent drawing with crayons. At the age of five and a half, his father decided Benting should be returned to the family home as his mother had died some four years earlier. "I was so taken with all the new experiences — the green lawn, the sounds from the radio — they all made me curious," Benting tells me on my return visit to Strandfontein in early September 2022.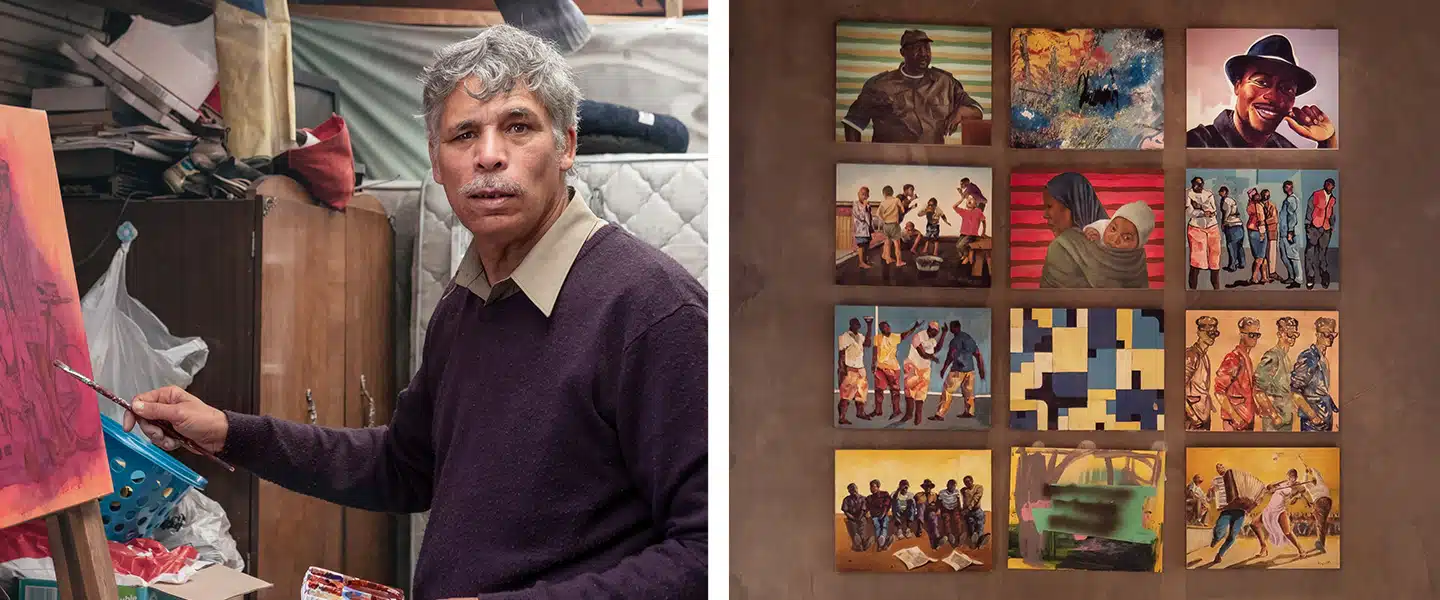 Overcoming all obstacles
"I had a really great childhood from age five and a half to around 13," he says. This despite the political turmoil that was the reality of everyday life in 1970's South Africa, made even worse if you were a person of colour. Born Muslim, Benting converted to Christianity at the age of 14, an act that would see him expelled from the family home by his authoritarian father. Not one to be constrained by setbacks, Benting continued his school education while living on the streets of the Cape Flats.
Leaving school in then-Standard 8 (Grade 10), Benting would go on to complete a Business Development Programme course at the now-Cape Peninsula Technikon, aged 36, earning him his matric, plus two years of tertiary education credits. There isn't much that breaks this creative's stride.
Capturing childhood memories
During this time Benting painted as a hobby and in his spare time qualified as a professional signwriter. Married with three children, aspirations of earning a living from art were just a pipe dream due to the daily reality of feeding a family. "Art runs in your DNA; it's not a choice you make, it's something you just do," he reflects.
Despite ongoing pressure from all sides, he says art was his happy space. In 2014 he threw caution to the wind and has worked as a full-time artist ever since. "Some of my best work comes from those dark days. It's those early childhood memories, from five to 13 years of age, that I aim to capture in my art." This accounts for the scenes in the works I see before me, played out in Salt River and Woodstock, where family holidays were spent.
True to character, Benting did submit art for Creative Block consideration and proudly shares that all four pieces from his first submission were purchased by the SAT. A further six pieces have since been purchased. "I'm grateful for the opportunities offered by the SAT, and that they recognise there is talent here on the Cape Flats," he says.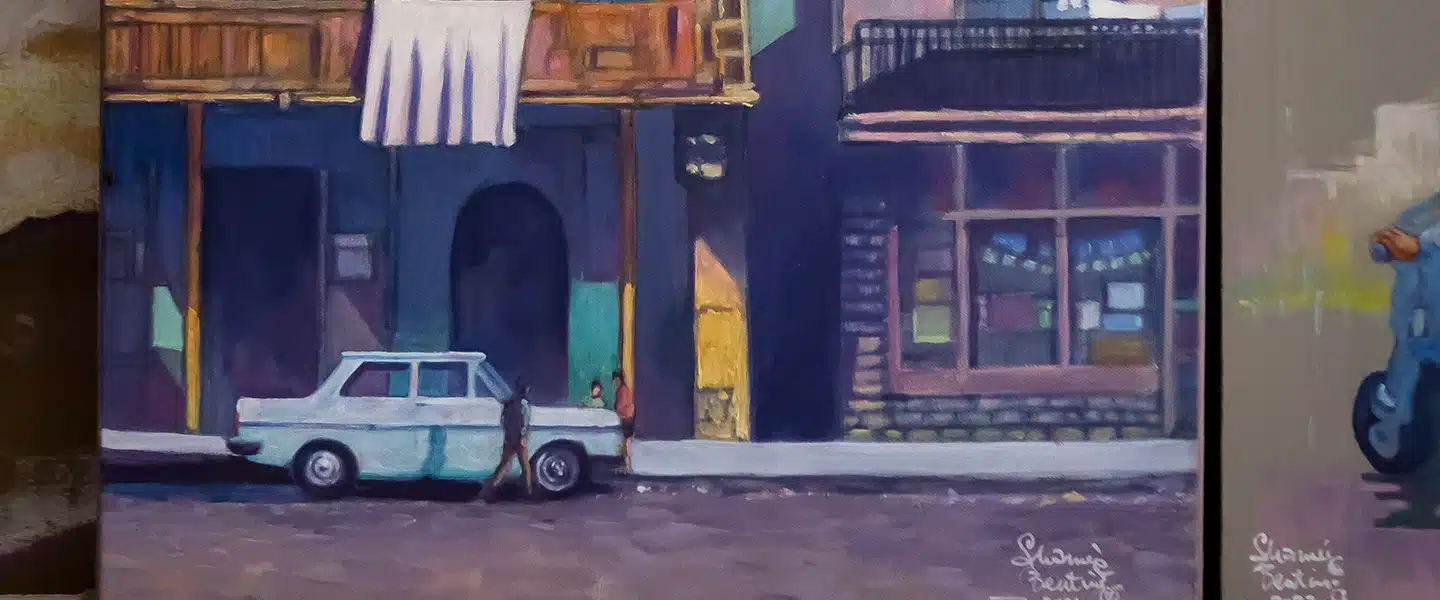 Developing local artists
Wanting to understand a little more about the programme, I sat down with Tamlin Blake for a chat at her studio in the village of Riebeek West. "By developing artists, we aim to improve the situation of art in South Africa," she explains. It's a noble endeavour, with tangible benefits to the artist in terms of upfront payment and subsequent access to an extensive art-buying network. Plus, there's the potential for inclusion in showings at international art fairs, like the 1-54 Contemporary African Art Fair, to which the SAT have been taking select artists from their programmes for the past five years.
Creative Block has seen some wonderful success stories in its 15-odd years. Artists such as Ricky Dyaloyi, Liza Grobler and Patrick Bongoy are past participants. Vivien Kohler, Robyn Pretorius and Fanie Buys are current participants and use the programme to actively develop their work and careers.
"Art is not just a picture, when you make art, you give away something of yourself, you're selling an emotion," says Benting as I bid him farewell. I then realise that it was this emotion that I had connected with when I first took in his works. It's an emotion fuelled by Benting's recollection of happier times at a younger age. And in that I see beauty.
Something tells me that the name Shaunez Benting will soon be added to the list of Creative Block-inspired successes.