Mandla Sibeko was exposed to the diverse South African experience from an early age. Born in Mpumalanga, he describes his childhood before he moved to Johannesburg at the age of eight as rural. "I attended a school as most people understand it for the first time when I got to Joburg," he says. "Until then, my schooling days took place under a tree in a village where there were only black people, so I never knew of this world. It was the first time I was in a school with white people."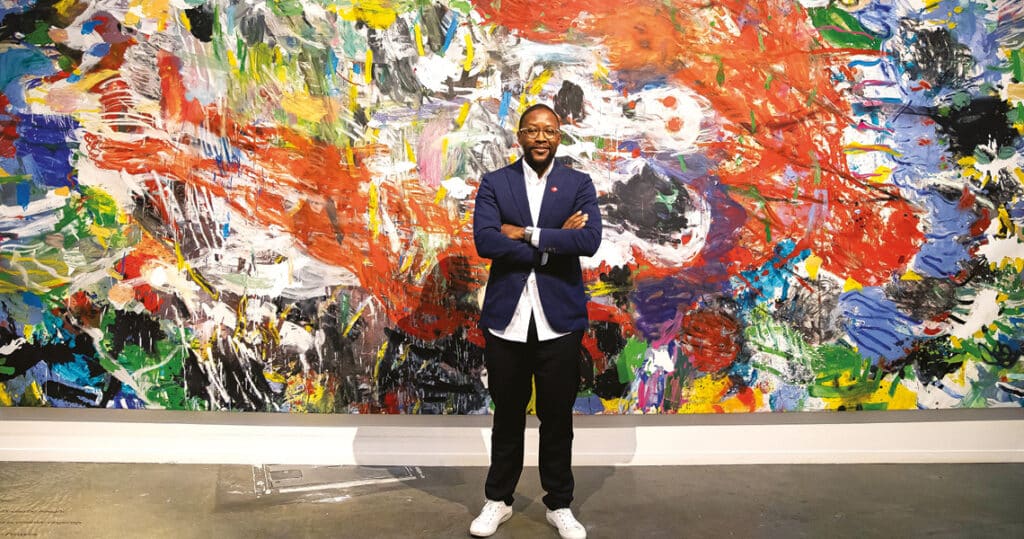 Through his big-city immersion and the influence of his guardian parents, Mandla was exposed to art, culture, industry and eventually travel – all elements that would shape a future grounded in a deep sense of his roots. Among many successful endeavours, Mandla's innate entrepreneurial spirit has seen him own one of the first Pick n Pay stores in Soweto, act as chairman and shareholder of NetFlorist, tackle the look-and-feel of the FIFA World Cup stadiums and concessions in 2010, and, most recently, acquire the legacy that is FNB Joburg Art Fair, which he has been a part of as director for three years.
"After Mandela, I feel that art is our biggest symbol," he says. "It has an ambassadorial role to play, which we haven't used to our advantage. We have used the 'Mandelaness' to our advantage, but not our creativity."
But that's changing – and Mandla is undoubtedly part of that change.
What is one of your earliest memories of appreciating the arts? I grew up in a home with beautiful art. Some of the art on the walls, collected by the guardian parents I lived with in Johannesburg, was William Kentridge's early work. I appreciated all of that … although I didn't really know who he was, just that he was a great artist.
Describe some of your early influences. My guardian mother took me to shows on weekends, at the Goodman Gallery and at the Philharmonic, and I was involved in arts and culture at school. I got to encounter someone like [interior designer] Stephen Falcke at a young age – he used to come in and out of our home
– and I admired what he did, although I didn't quite understand what a career like that entailed. It was only much later, when I was travelling around the world and I got used to seeing major designers and architects doing amazing things, that I could put it all in context.
Talk us through the new direction of FNB Art Joburg this year. The FNB Joburg Art Fair was pioneering in many ways. It was a good fair, but 11 years down the line, the ecosystem of the art world was changing quite fast, and our ecosystem in South Africa was evolving.
Quite a bit of work needed to be done to reposition FNB Art Joburg to be unique, first and foremost, and to design our own narrative; to cater to an audience that has matured and has become much more engaged than it was 11 years ago; and finally, to celebrate Johannesburg and make it the centre of it all. Johannesburg doesn't always have the best reputation, but I've found that our arts, design and culture are something people are always amazed by. We've carried the flag not only for Johannesburg, but for the entire continent.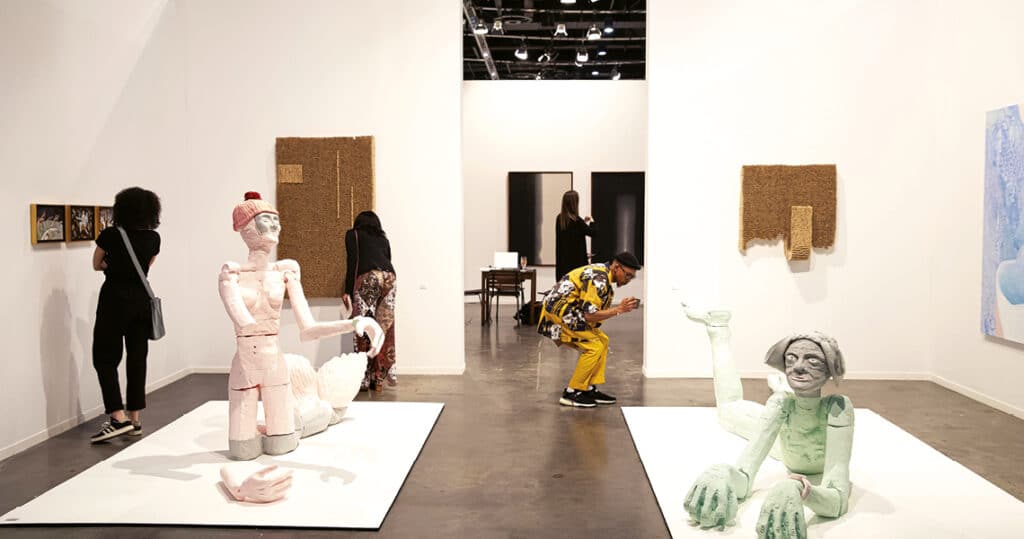 How did you go about making this happen? Our new positioning is centred around making sure that we become an art fair that's about quality rather than quantity. So we reduced the number of exhibitors and sought instead to re-imagine ourselves as an art scene. It was amazing, because it was the first time we collaborated with the galleries and found an elegant new solution for everyone. Over the same dates in Johannesburg, there is also a curatorial platform called Underline, as well as a fringe fair called Latitudes. Then, to experience the best of the best African art, you come to us.
What were the highlights for you? The fact that art has become the central part of the fair. We had a new section that's dedicated to what we call MAX: large-scale works, such as the beautiful hanging tapestries by Igshaan Adams. Artists took time to create large pieces so that audiences could experience them. I often get to see these works in Europe, but not locally, so it was really the first time audiences could see how far one could go with art.
Is there anything you plan on developing for next year? We had such a short space of time to do the fair – just three months. Next year, we'll have more time to recruit interesting galleries from around the continent to join us. We'll refine the concept of Gallery Lab, which I think is where more talent is going to come from; I hope it will become a space in which the entire continent can collaborate.
Then there's been a longer-term south-to-south conversation. When I visited Brazil, I found so many similarities between that country and South Africa. So there has been an ongoing discussion to move in the direction of curatorial galleries – and I think next year we would like to take it there.
Is there an emerging artist we should be looking out for? All the FNB Art Prize winners: each one has been amazing and achieved much success. This year's winner Bronwyn Katz is someone to look out for. Her work is relevant – she's dealing with many of the issues that we're currently facing as South Africans.
And she's only 26!
If you had to design an "arts tour" of Joburg that every local and visitor should do, what would it include? I'd suggest visiting artist studios in Bertrams – of artists such as Nicholas Hlobo, who is based in a converted synagogue; Nandipha Mntambo; Bronwyn Katz. I'd also suggest going to the Johannesburg Art Gallery, which is so beautiful; galleries in Rosebank and Parktown North, and the Market Theatre. Joburg has so many exciting options. We launched a Gallery Week concept aimed at warming the public up and making the spaces friendlier, with galleries curating brunches and tours. It was a success.
What would you like FNB Art Joburg to be remembered for? The platform for viewing the best African art in one place. I'd like for it to be the space and place to see what Joburg has to offer.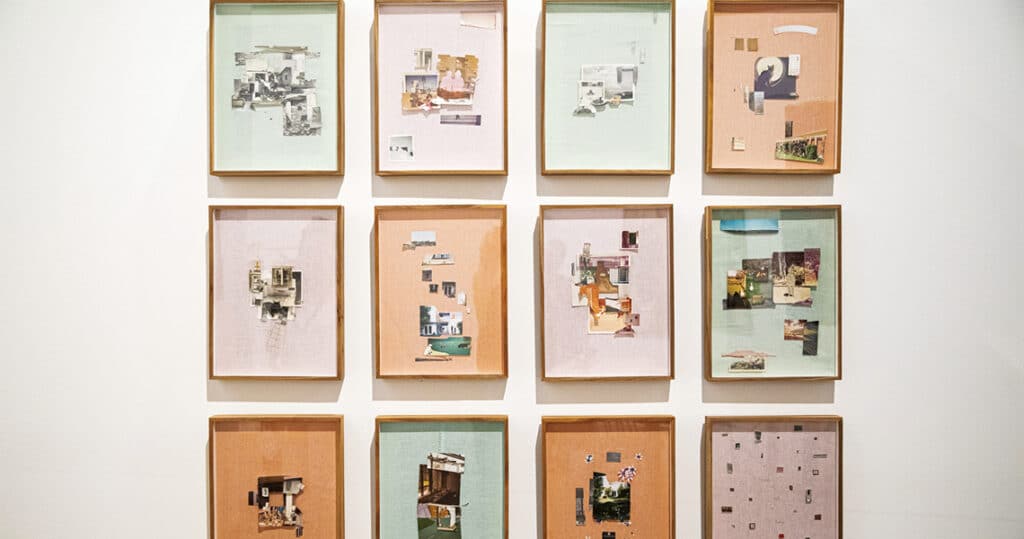 QUICKFIRE QUESTIONS
How do you choose a piece of art? It's instinct. My eye directs me, then I engage with the work, with the artist.
In addition to art, what are some of your other passions? Travel. Running. Reading and collecting books.
Where was the last place you visited? Did you buy anything? I went to Marsala in Sicily and thoroughly enjoyed it. It has a Moroccan influence, and it's so beautiful. I didn't buy anything – but it was an experience and a half on its own.
What do you always travel with? A book. I mostly travel to Europe in summer, so I pack my swimming stuff. And definitely my iPhone. It offers everything – navigation, photos, places I want to visit… I always get a local SIM card when I land, so I stay connected.
What's on your travel bucket list for 2020? Japan. And I'd like to return to Italy.

A favourite building? Johannesburg Art Gallery. I think it's one of the most iconic buildings in the city – architecturally timeless.
The three people you'd invite to dinner? [Musician] Abdullah Ibrahim, [artist] Marlene Dumas and [director and head curator of the Studio Museum in Harlem] Thelma Golden.
What would you cook for them? Something by Yotam Ottolenghi. I collect his cookbooks. I'd probably cook something from Simple.
What item would you put in a time capsule? Definitely art. A piece by Robin Rhode.
What's the best advice you've been given? Be yourself. The rest will cover itself.