When South African artists collaborate with international brands, magic happens: the projects push aesthetic boundaries and set the scene for upcoming local creatives who want to make their mark on a global scale.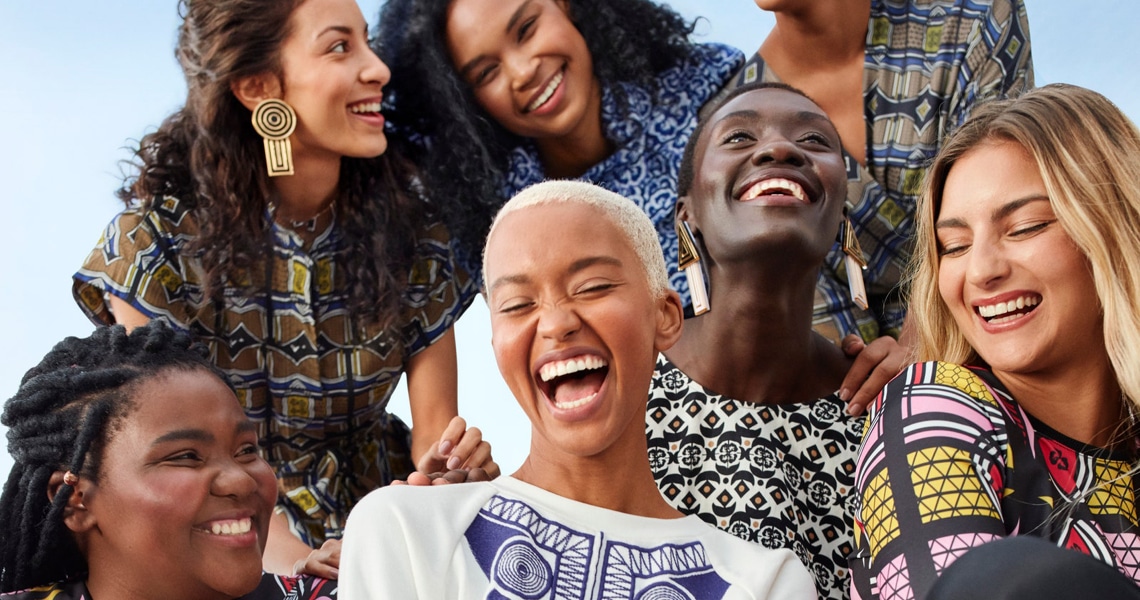 The potential of collaboration cannot be underestimated. Joining forces on any creative endeavour not only increases the possibility of generating innovative ideas, it also combines different perspectives to produce something truly unique.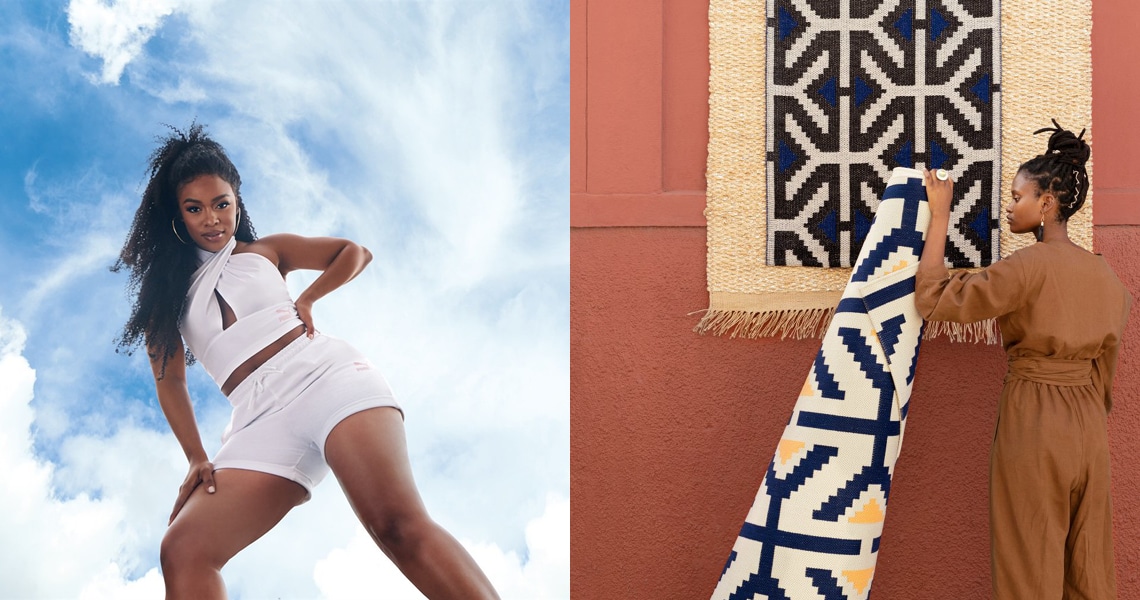 "A collaboration is always an exchange of creative energy – that's what makes it dynamic and surprising," says Trevyn McGowan, co-founder of Southern Guild, a gallery space and platform for African artists. "Working with a major international brand offers emerging talent in South Africa exposure to a much larger audience, access to resources that they may not ordinarily have to realise their creative ideas, and insights into best practices within their industry. These are all valuable opportunities. In return, they bring original ideas, a completely fresh perspective, and the raw talent that big brands want to associate with."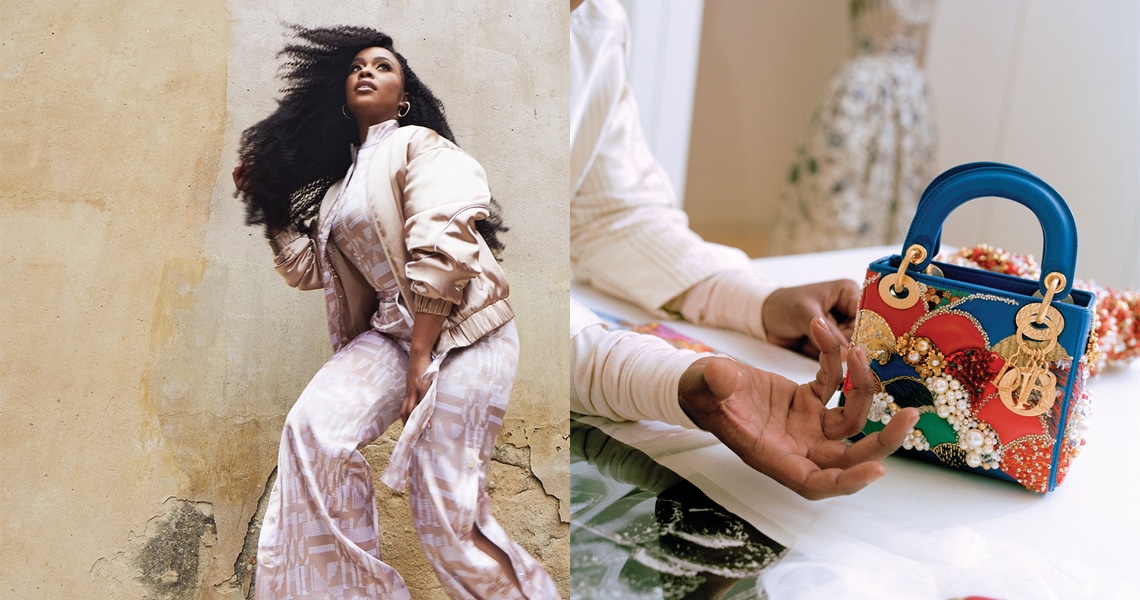 Palesa Mokubung of Mantsho and H&M
"H&M's global team were looking to find a designer who would best reflect their intention to create an African-inspired collection," says Mantsho's head designer Palesa Mokubung. "Mantsho was selected for its distinctly African designs, and its ethos and aesthetic, which perfectly resonates with the global trends of diversity and finding inspiration from all over the world. H&M liked the way we work with colour, print and silhouettes to enhance the female shape in a flattering and playful way. And from the outset, both parties wanted a collaboration that remained true to my brand. H&M's biggest role was to support and advise on the best and most cost-conscious way to make that possible."
The collection consisted of seven dresses, one skirt, two kimonos, two pairs of pants and a range of accessories – and according to Mokubung, her culture and upbringing were the inspiration behind it. "I was moved by black women all around the globe, wanting to bring about change to the world and to start a conversation about evolving as a generation," she says. "I also wanted to be at the forefront of an honest, delicate and significant conversation about our industry."
She spent time at the H&M headquarters in Sweden, and regards this as one of the highlights of the experience. "It was an honour seeing the day-to-day operations, and the different processes that are implemented to bring us amazing collections."
Athi-Patra Ruga and Dior
The performance artist was one of 11 international artists selected to fuse art with fashion in the fourth edition of the Lady Dior Art Project. Ruga customised two iconic Lady Dior handbags using pearls, crystals, fabric and embroidered flowers – a secret that had to be kept for a year while the project unfolded behind the scenes. The collection made its way to 27 Dior stores around the world in January 2020.
"I think that's the modernist curse: if it's too beautiful, it's not art," he says of his punchy submission. "I find that there's just something so punk about high fashion and high craftsmanship – which are the cornerstones of both my studio and the Dior studio."
This year saw emerging South African artist Chris Soal taking part in the project, which is now in its fifth incarnation. The youngest artist to be involved to date, Soal has produced three customised bags, each limited to an edition of 100.
Nomzamo Mbatha and PUMA
"Like me, this collection is African through and through," says actress and human-rights activist Nomzamo Mbatha of her debut collection with global sports brand Puma. "It's an ode to the family and clan that I come from. My grandmother has always pushed me to believe that each of my dreams is attainable. She taught me how to stay humble but sassy, how to love and accept myself, and how to remain true to who I am and, most importantly, to where I come from. That's exactly why this collection couldn't have been called anything other than Shandu. It's a tribute to my family and my clan, and a thank-you to them for helping me break barriers."
The US-based South African actress – who stars alongside Hollywood legends Eddie Murphy, Leslie Jones and Wesley Snipes in Coming 2 America – created Shandu with women firmly in mind. "This collection is a defining moment in my career," she says. "When you put these pieces on, wear them with pride because, for the first time, Puma – a global sports brand – has collaborated with a young black woman from Africa to create a collection. I have dreamt of many things; to see these dreams realised is down to a combination of hard work, determination, resilience, a bit of luck and a lot
of preparation."
The first Shandu drop is available at Puma stores now – look out for the soft colourways and the digital, African-inspired print on easy-to-wear items such as bomber jackets, jumpsuits, sandals and accessories.
Laduma Ngxokolo and Ikea
Gqeberha-born designer Laduma Ngxokolo, founder of MaXhosa Africa, was one of 12 creatives from five African countries to take part in the Överallt Africa Collection with global homeware giant Ikea. Consumers and art lovers got their first look at Överallt at the 2019 Design Indaba, with the impressive collection taking the shape of cookware, seating, baskets and bags. It was a huge milestone for Ngxokolo, whose star continues to rise.
Beyond this international collaboration, Ngxokolo's work has also previously caught the attention of Beyoncé, who blogged about it after seeing it at an exhibition in New York.
And most recently, several of his iconic MaXhosa designs were featured in Coming 2 America, released earlier this year.
Join forces and thrive
"Collaboration is a fundamental part of advancing business and creative markets," says trend analyst Nicola Cooper, founder of Nicola Cooper & Associates. "It continues to be vital for brands to explore and develop a unique point of differentiation and new product categories, reach new audiences, and drive relevance via product development, marketing or interpersonal relationships between the brands and their ambassadors (or influencers).
"According to new research by global trend forecasters, to thrive in this ever-competitive environment, brands should look to invest in three key areas over the next five years: exclusive collaborations with relevant partners, exclusive (secret) brand experiences, and personalised online experiences."
For information about Cooper's e-book, The Future Of Collaboration, visit nicolacooper.co.za