Hlabisa, a small rural settlement in northern KwaZulu-Natal, is far removed from the cosmopolitan hub of New York. But a woven basket from Hlabisa is on display in the city's Museum of Art, described as a work whose "elegant structural forms are enhanced by complex and masterful graphic and chromatic designs". There are other pieces in the Smithsonian Institute in Washington, the SA National Gallery in Cape Town, and in private collections around the world.
The Met says the piece has "blurred the line between utilitarian craft and fine art".
Its creator, Beauty Ngxongo, is a lot more pragmatic: "I agree – but I can't see someone using any of my baskets as a beer basket. It would be a waste of something that's meant to be collected, looked at and admired."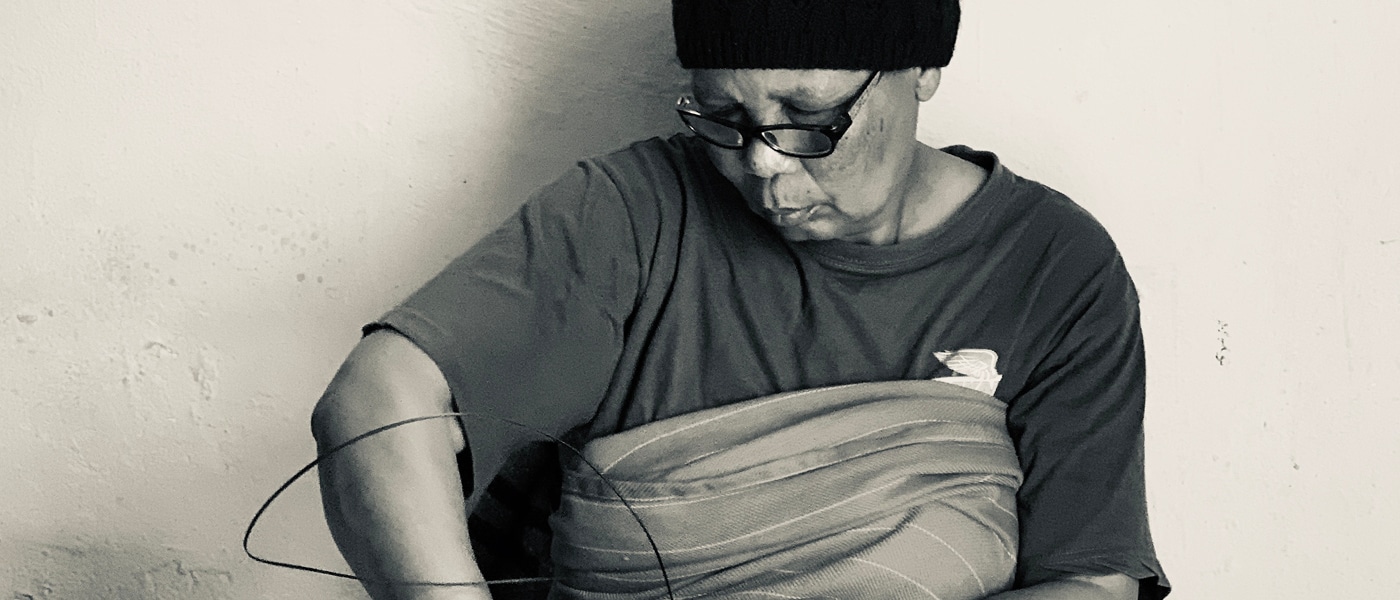 Despite her global reputation, Beauty radiates simplicity. Her baskets, with their graceful, feminine lines, reflect her gentle faith in the strength of women, who through their sharing of skills with each other have turned Hlabisa into what might be the epicentre of Zulu basket weaving.
Curves also inspired a collaboration with Houtlander, the furniture design company, and Mash. T Design Studio. Commissioned to create a piece of uniquely South African art for an exhibition in Paris, they settled on a bench with the solidity of a three-legged pot and a curving back suggesting the undulating hills of KZN. For the design on the back they turned to Beauty and the master weavers of Hlabisa. It took six women 1 350 hours, but there's no mistaking the genesis of the "Hlabisa Bench".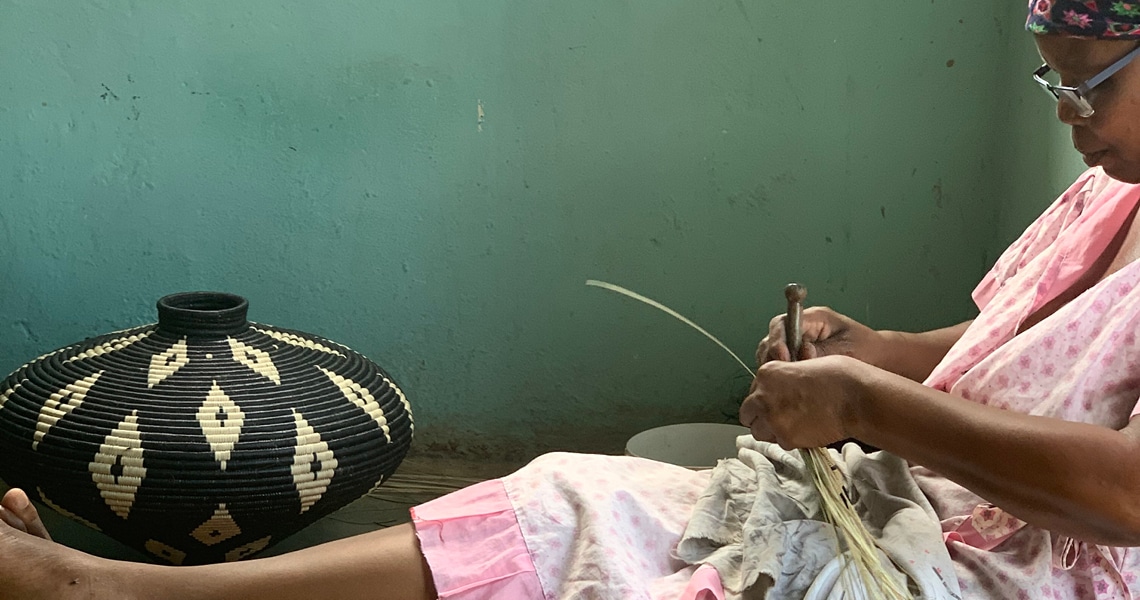 This South African master won't be drawn on whether she's an artist or an artisan. "I'm someone who lives to weave, and who continues to learn."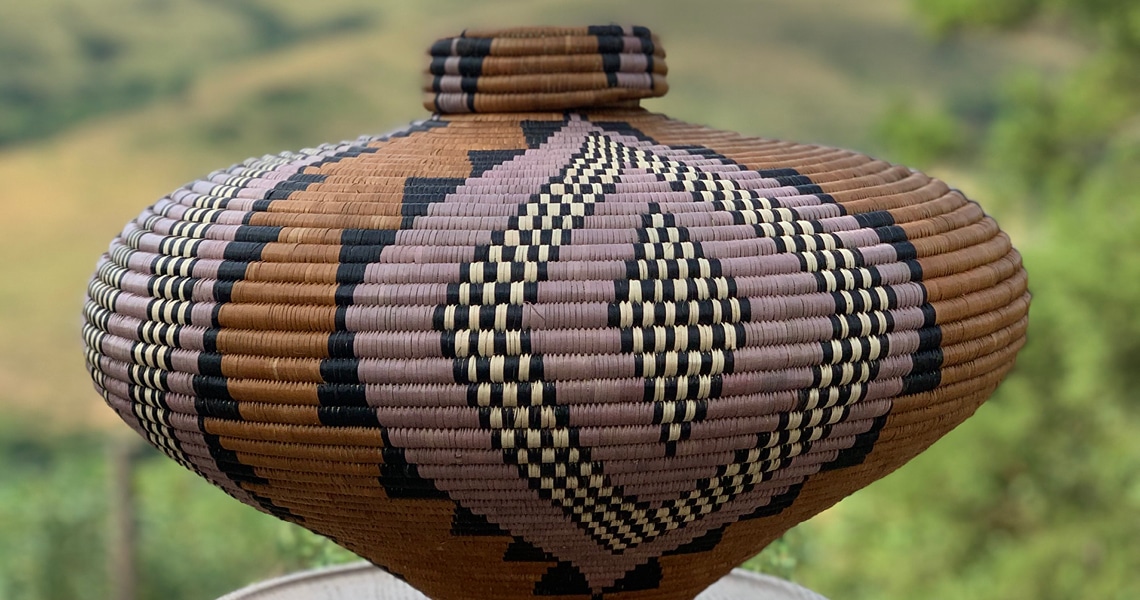 Beauty shares more:
Trapped in each basket is a bit of my soul. From collecting the grass and buying the ilala palm, to looking for the fruits, barks and berries in the forest, the process of making my baskets is a long one. So by the time I'm cooking the palm [to create the colours] my heart is ready to create this amazing piece. When it's all set – grass, needle and palm, it's really my soul using my hands to do the work. I'll be seated at that basket for as long as a month, pouring myself into it.
In 1983 I had just moved to Hlabisa and had my first-born. At church one day someone was weaving and it looked so beautiful I wanted to learn. A lot of ladies were already weaving, supplying a craft project in Eshowe. My good friend Laurentia Dlamini was among the few who remembered and revived the craft, and she trained me.
I'm known for izichumo, water or beer vessels, because that's what Laurentia specialised in. But I couldn't get the shape right. Mine were – and still are – more heart-shaped, and that's what now makes them distinctively mine.
My work was noticed in Eshowe because of the heart shape and the distinction of the weaving, which was a bit different to the others. They searched for me and with the help of the African Art Centre in Durban, I visited Sweden in 1994 to showcase my work. That was my breakthrough internationally.
WHEN IT'S ALL SET – GRASS, NEEDLE AND PALM, IT'S REALLY MY SOUL USING MY HANDS TO DO THE WORK.
At first I didn't think much of my baskets being in all these museums. I knew that being invited to shows overseas meant they appreciated my talent. But it wasn't exactly extraordinary that a person would buy my basket and put it in a nice place in a nice building. I wasn't aware of the importance because there wasn't much recognition here in South Africa. That only began to change when more invitations came from abroad.
One day in 1998 my eldest daughter came across a study in her university textbook that featured me and my baskets, and the lecturer mentioned my name. She was so excited. Later my granddaughter, Sinegugu, started telling me she could search for me on the internet and that my work was really important.
That made me look back and reflect on this work I've been doing for such a long time. When the younger generation, and young designers like Thabisa Mjo of Mash. T Design Studio, see this as historically important work, it makes me feel like everything that was done before was worth it.
I'm so proud of the women who, despite a difficult economic background like me, have persevered through all the difficulties and darkness to make a home for their children. I'm proud of the black woman who finds her own opportunities where there are ceilings and creates spaces where we are hardly given enough. The world has been very hard on us, and harsh. To remain graceful and standing in faith is what has kept most of us alive.
I weave love and spiritual strength into my work. You either put your heart into it and it turns out beautifully, or you don't and it turns out mediocre. When there's love poured into my work and I see its beauty, it not only lives up to my name but it shows the world that God gave us the hands to create beautiful things. Anything can be done, no matter where you're from. That is where hope is born.