As a youngster, I was obsessed with Al Pacino's Tony Montana in Scarface," says master tailor Grant van den Berg, the man behind the Frank Bespoke brand. "I was also blown away by Richard Gere's character in American Gigolo – especially when he opens his wardrobe and lays out all those suits and shirts on his bed, before getting dressed and roaring off in his cabriolet."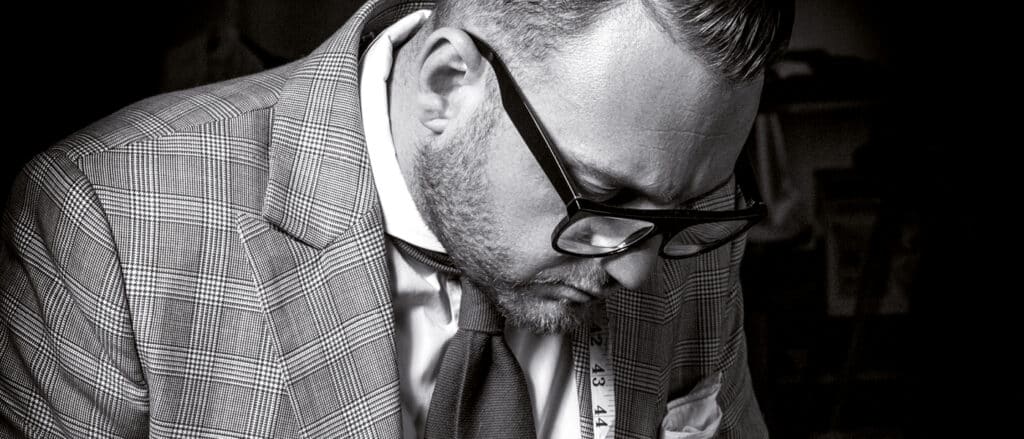 These childhood memories stayed with Grant, who worked for Diesel and Fabiani before striking out on his own with Frank Bespoke. But what his company offers is an entire haberdashery away from the double-breasted, pinstriped cream suits with showy contrast buttons and splayed-collar shirts that featured in Scarface.
"Men's formalwear has a long and storied legacy – equal parts decadence and refinery, with an alluring dash of gangsterly disrepute thrown in for good measure," Grant says. "Our potential clients are looking for a different, more personalised shopping experience. They understand the value of a long-term relationship with their tailor, and the feeling of wearing a customised suit that they simply can't buy off a rack."
To complement the experience, Grant has also created a cluster of stores reminiscent of old-school, 1920s gentlemen's clubs. "There's nothing slick or modern about Frank Bespoke," he says. "We play jazz and blues, the Victorian furniture is upholstered in blue velvet, and the walls are the colour of my favourite single malt whiskey." Vintage sewing machines, old boxing gloves and vintage motorbikes add to the ambience. "It's the South African version of Savile Row. We deliberately chose not to be in shopping malls, because we want our clients to be able to park just metres from the door."
Bespoke suits are growing in appeal for two reasons, Grant believes: the art is a noble backlash to fast fashion, and people are yearning for meaningful human interaction. "Our clients – from elite sportsmen to captains of industry – often pop in for a drink on their way home from work," he says. "It's not just about a luxury suit."
When it comes to the suits, the quality is unparalleled. "Our fabrics come from the best mills and family-owned, boutique fabric houses in the world," Grant explains. These include pure wool, cashmere, silk and angora from Drago, Holland & Sherry, Loro Piana and Dormeuil.
"When a client walks in, we get to know them over a whiskey. We don't just tailor suits to fit the body – they need to fit the lifestyle too. Once we've built a client profile, we take up to 28 different measurements and discuss the fabric, linings and haberdashery. Each Frank Bespoke suit takes approximately eight weeks to make. It's bench-made in the workshop by a master tailor, cut to your precise measurements and finished to our exacting standards."
Frank Bespoke suits feature hand-rolled lapels, hand-sewn buttonholes, fine pick stitching, custom-made silk or acetate linings, and quality trims such as Freudenberg fusings, YKK zips and buffalo-horn buttons. "We've made suits from alpaca wool, in medium blue with brown Prince of Wales checks, brown tortoiseshell horn buttons and custom-made linings printed with anything from Zulu shields to vintage cars and pin-up girls," Grant says.
For those not beguiled by the thought of a bespoke suit, Grant offers a Demispoke range of made-to-measure attire, based on standard patterns that are scaled up or down according to a client's specific measurements. "Introducing bespoke suits for women is also in development," he says.