"With Inga Atelier, I tell the story of a boy who grew up in an underprivileged, marginalised village in the Eastern Cape, where people live below the poverty line and are not exposed to fine things," says 32-year-old Inga Gubeka of his eponymous luxury handbag company. "Even someone living in a small village in Nigeria or Malawi can be inspired by my story – because it's about a person who grew up just like they did, and who is now making waves on the global stage."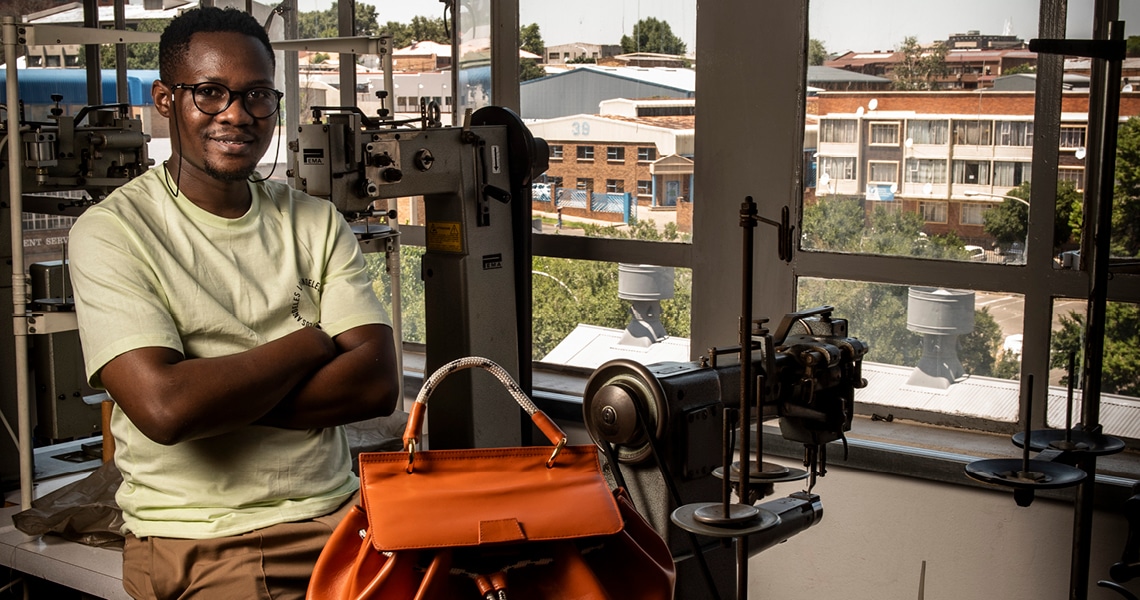 In Engqeleni, Inga was raised by his grandmother; he grew up riding his bicycle, and making wire cars and small clay cows and houses. At 14, he moved to Durban to live with his grandfather. There he was exposed to the world of design, art and creativity, which led him to complete a course in Arts and Design at the Durban Institute of Technology. "If I weren't a designer, I'd be an engineer," he says. "I like solving problems and making things with my hands."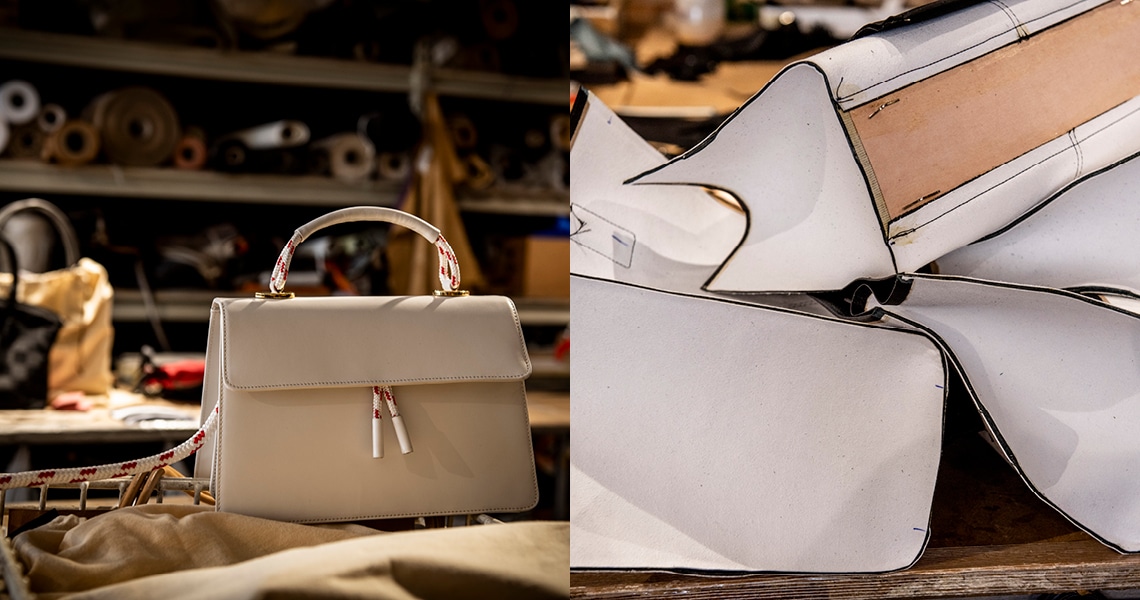 Inga's aesthetic has been described as a "fusion of African luxury and Scandinavian design elements", and while he has his sights unapologetically set on the global stage, he weaves his Xhosa roots through his product and collection names – Uhambo, meaning journey; Impumelelo, meaning success. "I have a global vision
of making Inga Atelier the African dream – of making a product that Africans can be proud of," he says.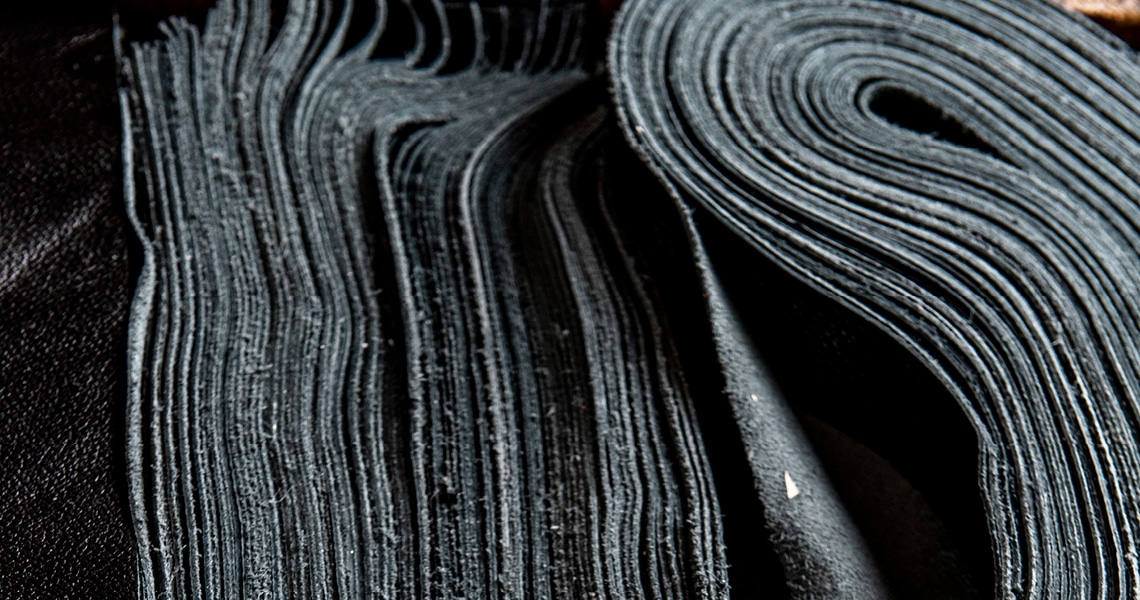 How do you come up with a new design?
I'm always out and about, observing people. I'm curious about current trends; I read trend reports. You'll notice that when an international brand drops a bag – Louis Vuitton, Bottega Veneta, Chanel – they all have a similar style. Previously, I was just designing; now I design based on guidelines and the brief I've created for myself, informed by trends. I'm not designing for myself – I'm designing products to sell, so it's important to find a balance between creativity and what's trending.
How often do you release new pieces?
Bags have a longer "shelf life" than clothes. A bag is a piece. Louis Vuitton, for example, uses similar styles and just tweaks them here and there to suit the trends of the moment. I release two pieces every eight months.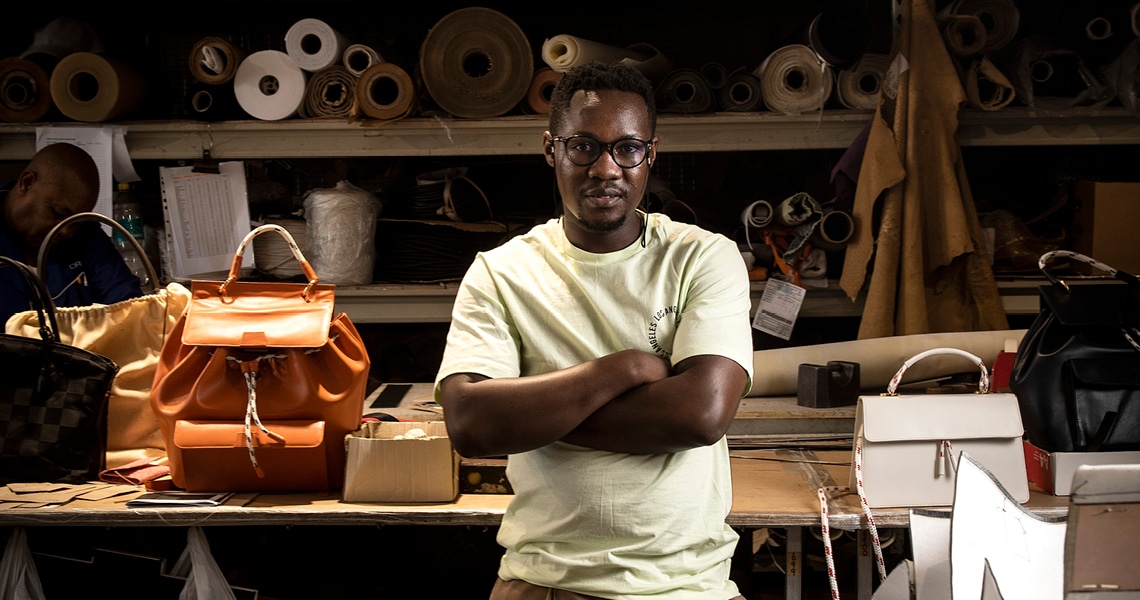 How would you describe your style?
Minimal. I favour straight-cut, clean lines. I like the Scandinavian design ethos and style – clean, seamless, smooth. As far as African design goes, I think for a long time we've been told what it is: that rustic, curio sort of design, which I don't agree with. I believe the mere fact that something is made in Africa makes it African. It could be inspired by a Japanese or Scandinavian design movement – but the fact that it is made on our continent means it's African.
Where do you turn to for inspiration?
I go back to my roots – to the Eastern Cape. At the beginning of 2020, I spent a month there, considering where I wanted to take the brand, enjoying the quiet, just being in my thoughts. The people of the Eastern Cape remind me where I come from, and of my humble beginnings.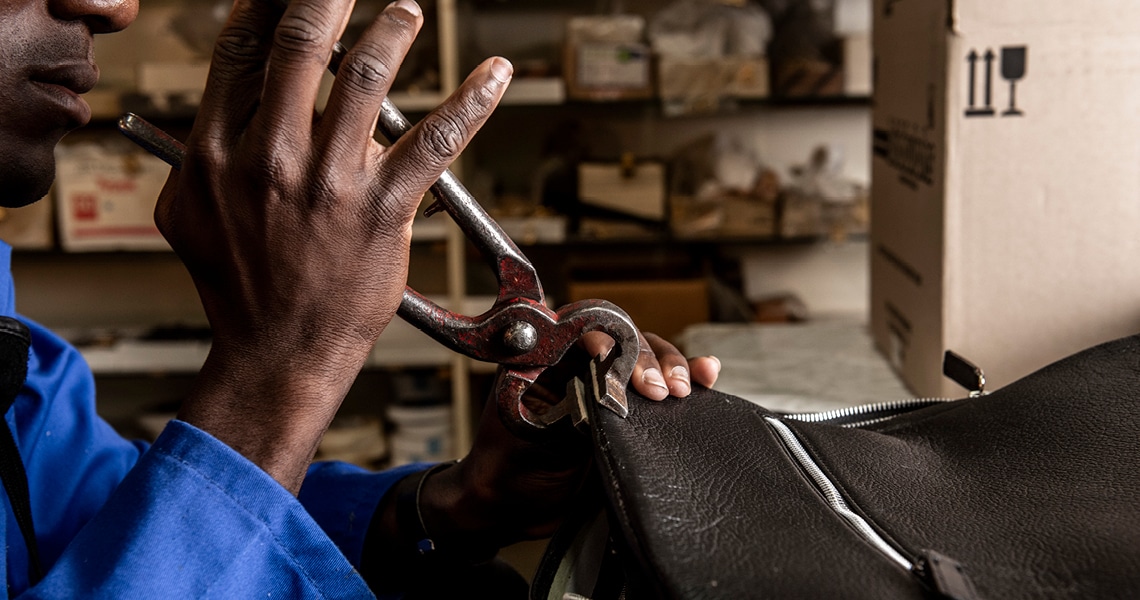 Who are the key members of your team, and how does your design process work?
I'm the creative director of Inga Atelier. When it comes to production, I'll usually sketch a design and discuss it with my production manager. We develop patterns with the pattern-maker, and do three rounds of samples. We're then left with a master sample that can be sent to the manufacturing team.
How did you train to become a master craftsman?
Product designer Aidan Bennetts used to have a slot on TV's Top Billing, where he would go into people's homes and do makeovers. This sparked my interest in product design. Years later, Aidan agreed to mentor me, and it was an amazing experience; now my plan is to offer mentorship across the continent. For example, Ethiopia has one of the biggest textile industries in Africa – so
in 2019, I conducted a masterclass in arts, design and handbag design in Addis Ababa. It was supposed to become a series of masterclasses; hopefully after Covid-19, we'll be able to pick that up again.
Last year was a strange one. What are your plans for 2021?
Many of my plans had to be pushed out in 2020 – my mentoring programme was put on hold, and we lost out on corporate gifting because there were no year-end events or functions. For 2021, we're focusing on our international footprint, specifically the US market. We have bulked up our team with experts in e-commerce, and are looking to launch in the US by the second quarter of this year. We're not leaving South Africa, but we're ready to take over the global market. We want to strengthen our ties with the rest of the world – it's such a big place, why limit ourselves?