Off the craggy coastline of Lindesnes, Norway's southernmost region, the Skagerrak and the North Sea converge, resulting in strong currents and winds. While rough seas and inclement weather once made it a potentially perilous route for sailors, today they make for the wonderfully dramatic setting of Under, the world's largest – and Europe's first – underwater restaurant.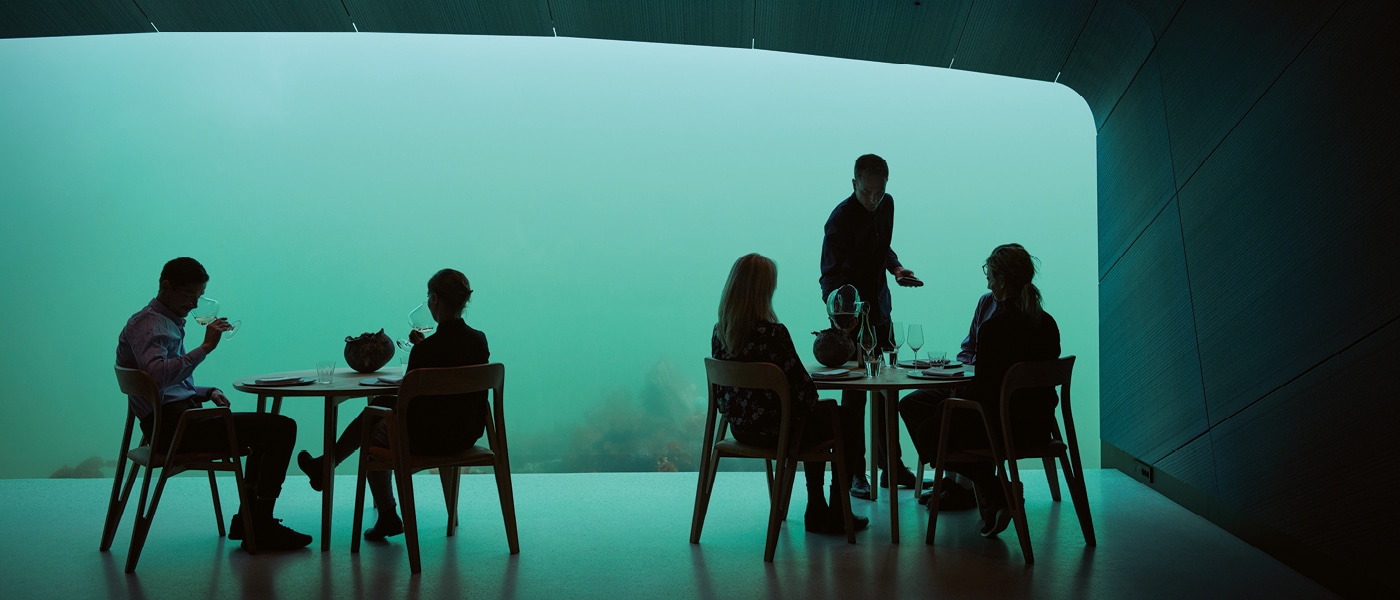 The building itself contributes to the drama. Appearing as if somehow washed ashore, the half-sunken 34m monolithic structure rests directly on the seabed five metres below. Boasting thick concrete walls to withstand the forces of its harsh coastal context, this feat of engineering was masterfully designed by Norwegian architecture firm Snøhetta.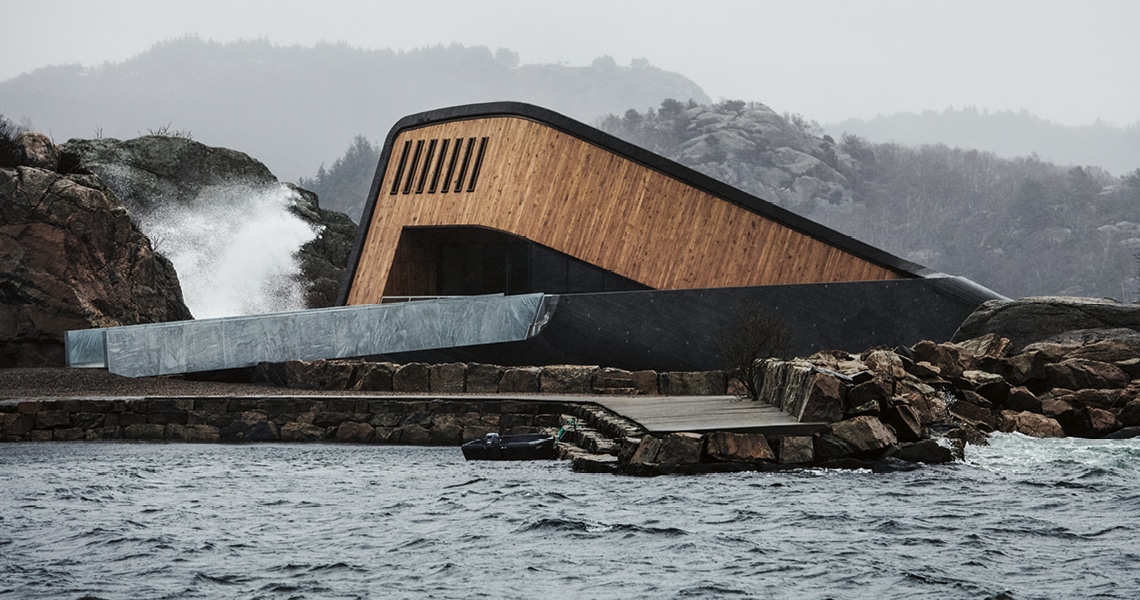 The project was divided into three pillars: marine biology, architecture and gastronomy. Before any work began, research was done on the ecology and geography of the site. One of the goals of the project is to expose visitors to the biodiversity of the North Sea, and for the building to act as a marine research centre.
The "pipe", as architect and founding partner of Snøhetta Kjetil Trædal Thorsen described it, was constructed on a barge and transported to the site so as to have as little impact on the ecology as possible. It's been designed to integrate fully with the marine environment over time: the rough concrete shell will eventually function as an artificial reef. Cameras and other measurement tools have been installed in and on the facade with the goal of documenting the population, behaviour and diversity of the species that live around the restaurant.
The restaurant's panoramic window, which measures 11m x 3m and spans the length of the restaurant wall, affords visitors an ever-changing view of the seabed as it evolves through the seasons and varying weather conditions. Under has three levels, including a foyer and a cloakroom, a champagne bar, and the main fine-dining restaurant on the lower floor.
Under's final pillar – gastronomy – has been brought to life by head chef Nicolai Ellitsgaard. The 18-course "immersion" menu celebrates local, seasonal and wild Norwegian ingredients, many of which – like sea rocket and salty sea kale – would have been foraged from the beach itself. Nicolai spent more than a year prior to the restaurant's opening planning the menu, foraging and exploring new ways of using locally found fare.