It's time to celebrate dads across South Africa so we thought we'd curate a gift guide of unique Father's Day gift ideas for the discerning man out there. Whether he's the outdoorsy type, a fashionista, sporty or into culture, there's something for every guy. And not a soap on a rope in sight!
Photographs: Graeme Wyllie. Stylist: Karin Orzol.
THE

ADVENTURER
Short of treating to him to an adventure, the next best thing is to treat him to cool tools and accessories that can accompany him on his adventures. From proudly South African veldskoene to a macho sun hat, the must-have braai book and a trusty multi tool in his pocket – with these goodies, he's ready for anything life throws his way.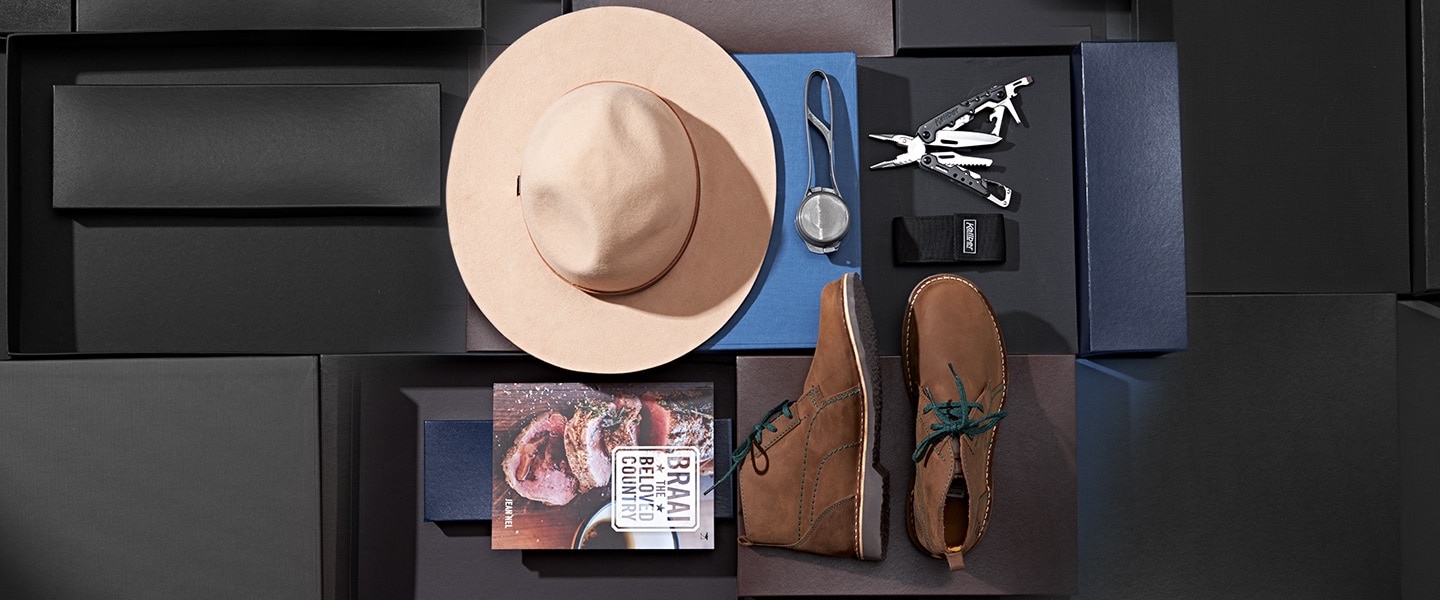 Clockwise from top left: Beige felt hat, R950, Simon & Mary | Brewspoon, R199 | Kaliber multi tool, R799, Cape Union Mart | Vellies, R1,199, Puma | Braai the Beloved Country by Jean Nel, R190, Exclusive Books 
THE STYLISTA
So he's the man who always looks the part – organised, groomed and well turned out. He loves a label, but is stylish enough to never flaunt it. Treat him to a printed robe for his evening reading, fancy cufflinks for his business meetings (or a pair of Converse sneakers if he's the creative type). And how about a fancy wine aerator to impress his dinner guests?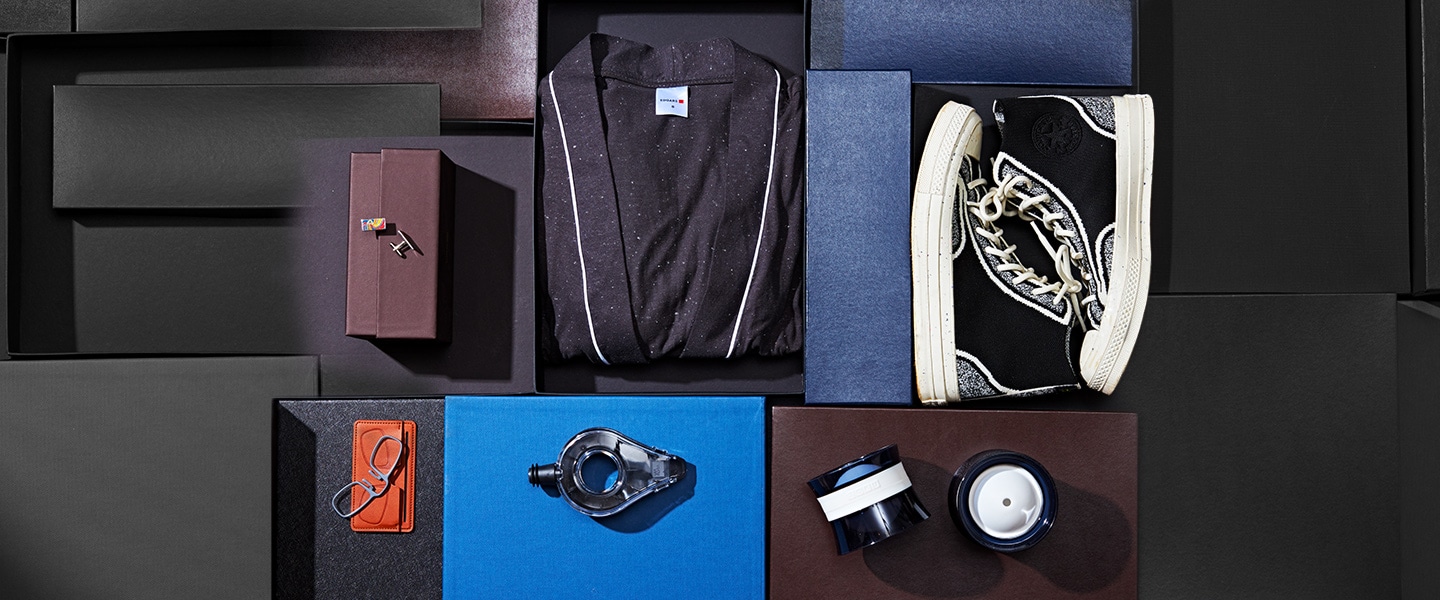 Clockwise from top left: Paul Smith collector's cufflinks, R850, Wizards Vintage | Terrazzo charcoal print cotton gown, R400, Edgars | Limited edition Chuck Taylor All Star woven sneakers, R1699, Converse | Zoko sphere whiskey ice ball maker, set of 2 moulds, R399, Yuppie Chef | Wine aerator, R399, Yuppie Chef  | Handy specs with phone wallet, R133, Exclusive Books 
THE
CITY SLICKER
What to buy the man about town who loves a gadget and always looks super fine? Add to his urban repertoire with a classic Panama hat and a cross-body bag to hold his city essentials, including the must-have charger and other necessary gadgets to get him through a day on the town.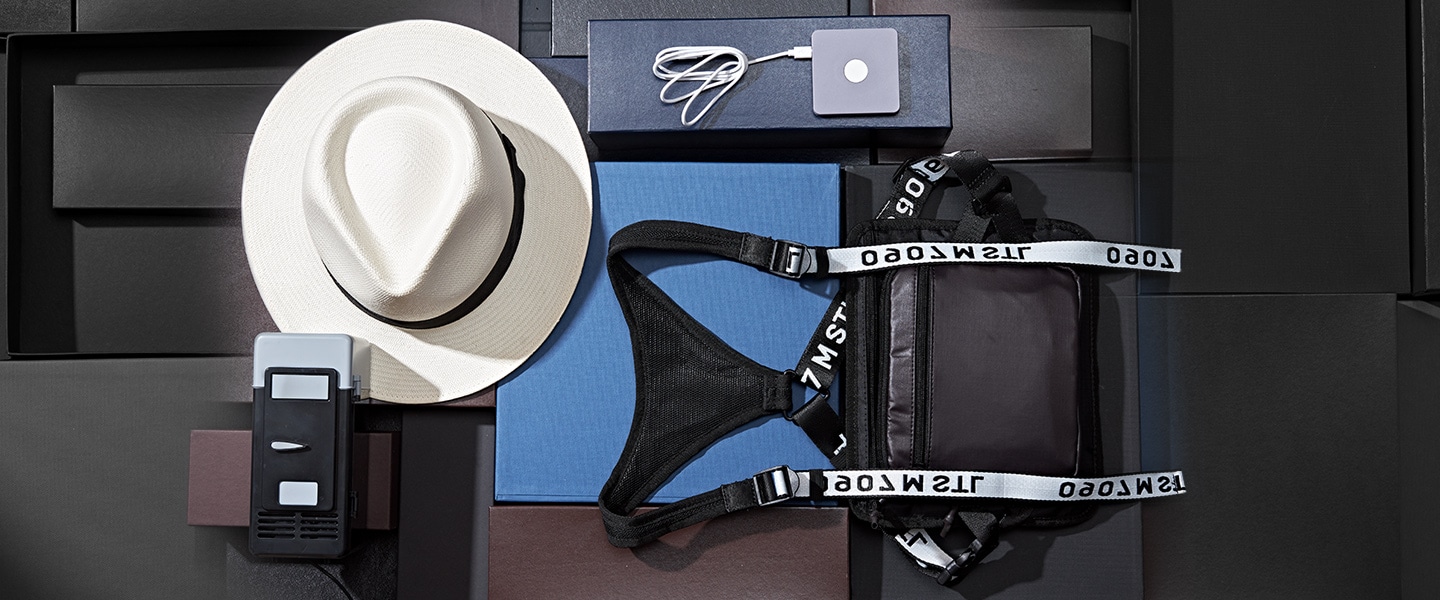 Clockwise from top left: Panama hat, R740, Panama Hats | Portable wireless charging pad, R299, Typo | Cross-body bag/harness, R699, Zara | On the go USB mini fridge for one can of soda, R399, Typo 
THE HIPSTER
A person who "follows the latest trends and fashions, especially those regarded as being outside the cultural mainstream" (thanks to the Oxford Dictionary), this man will undoubtedly enjoy a quirky surprise. Quality gifts include a shiny new boules set for Saturday afternoon entertaining, a warm, ambery fragrance (we love Molton Brown's sensual Neon Amber EDT), funky slippers or a cool shaving set. A little personalised notebook is also a great addition to his desk.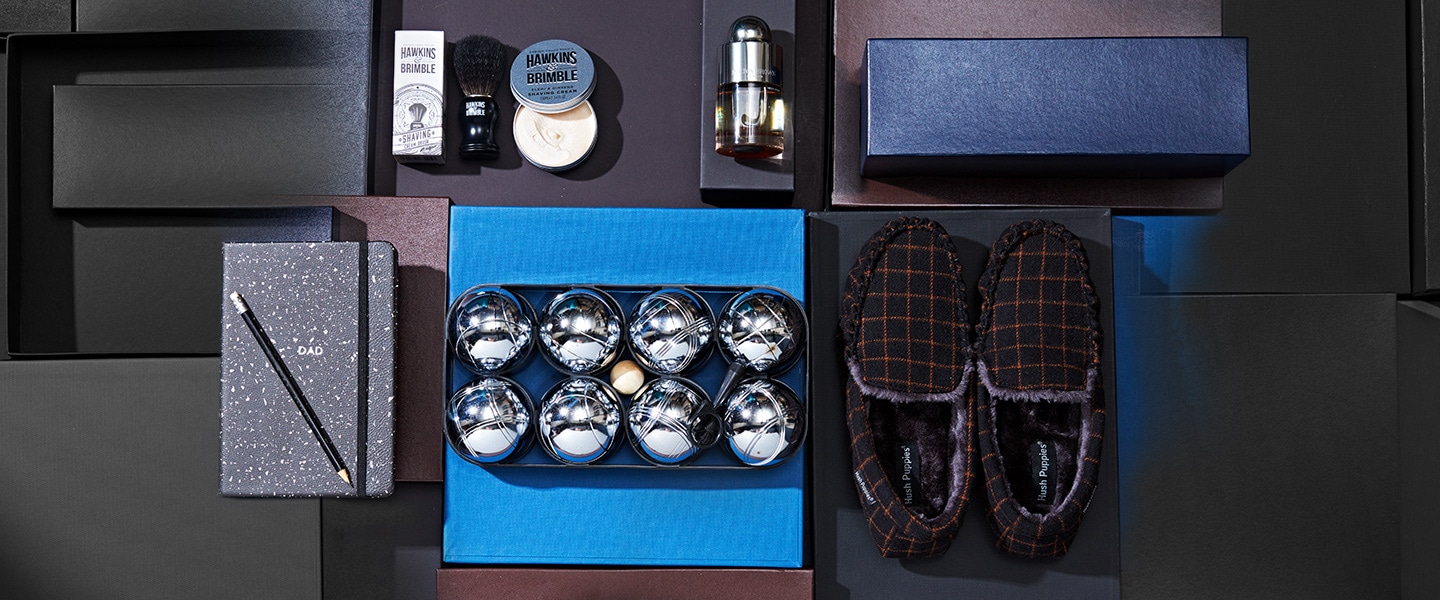 Clockwise from top left: Hawkins & Brimble shaving cream brush, R440, and shaving cream R250, Dischem | Molton Brown Neon Amber 100ml EDT, R2,035, Skins Cosmetics  | Old-school plaid slippers, R399, Hush Puppies | Boules game set, R649, Sportsmans Warehouse  | Terrazzo notebook (personalised embossed lettering can be added @ R10 per letter) R149, Typo 
THE
FOODIE
Ah, the guy who loves to browse the kitchen stores and is always cooking up a storm – be it on the stove or the braai. There are just so many cool buys out there – from wine gadgets for that cellarmaster to clever cooking boards that impart flavour, delicious gin kits and of course, the must-have for the coffee connoisseur. Let the tasting begin!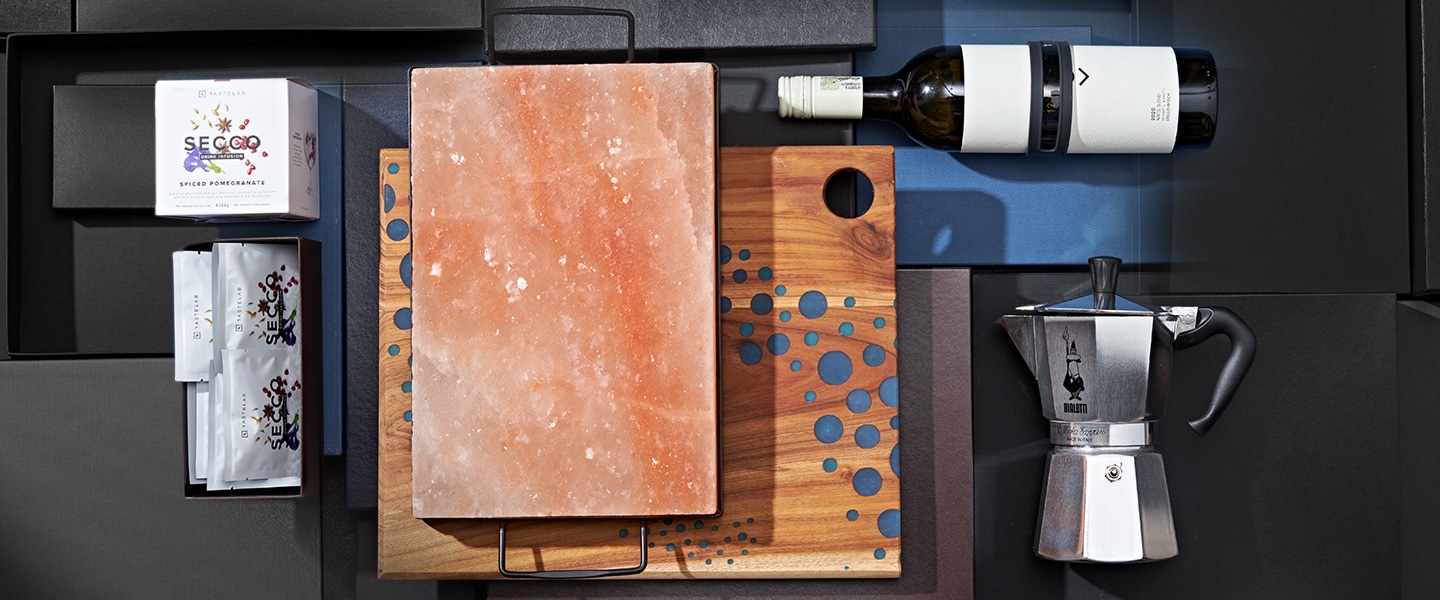 Secco Spiced Pomegranate Gin Infusion kit, R149, Yuppie Chef | Himalayan sea salt cooking slab with metal stand, R850, DivaLuscious, +27 (82) 772-1187 | Vacu Vin snap-on wine thermometer, R229, Yuppie Chef  | Bialetti Italian coffee maker, R1,119, Yuppie Chef | Customised, handmade wood and resin cutting board/braai board, R550, Simeon, +27 (73) 017-7659 
THE TRAVELLER
If there's one thing that serves the globetrotter well it's quality, stylish luggage for an overnight trip. Pack it with cool essentials like funky Converse sneakers, a unique fragrance (you can't go wrong with a woody aromatic scent like Ex Nihilo The Hedonist) and classic aviators (in time for the new Top Gun movie of course).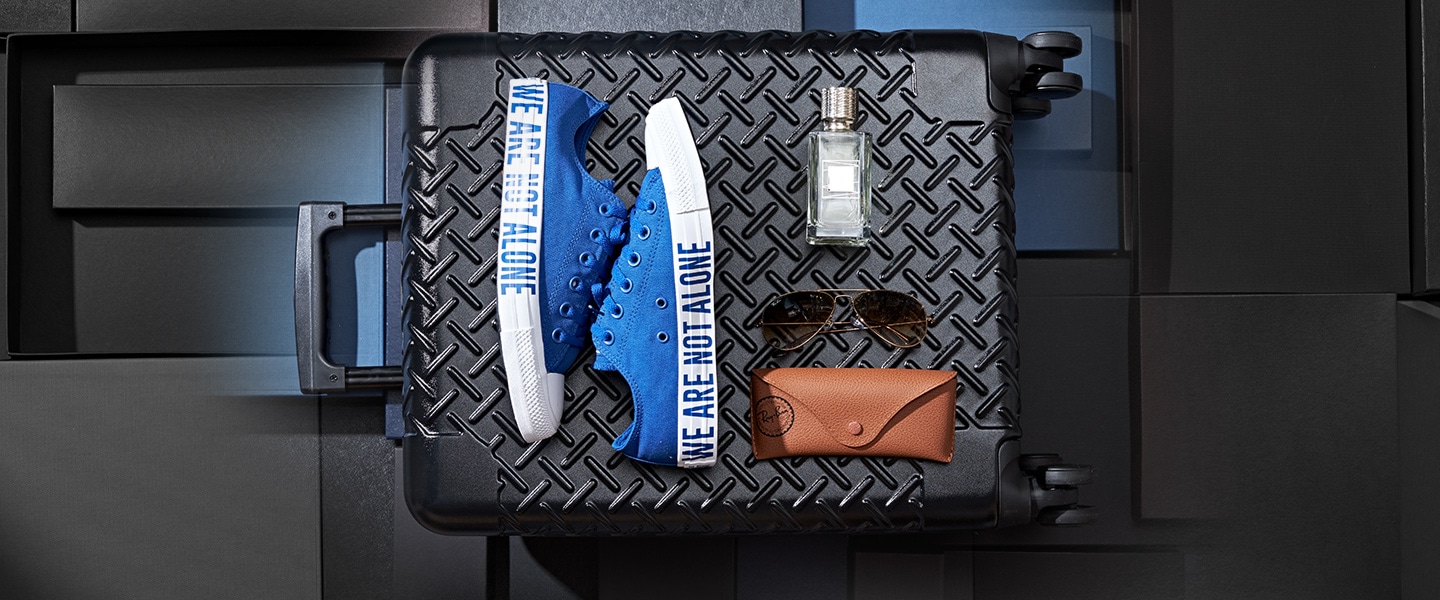 Black trolley suitcase, R1,899, Zara | We Are Not Alone sneakers, R899, Converse | Ex Nihilo The Hedonist 50ml EDP, R3,900, Skins Cosmetics | Classic RayBan Aviators with gold frame, R2,500, Sunglass Hut