Exclusive and off grid, each private lodge offers full-frontal views of the drama unfolding in the bush beyond.
Inspired by the form of acacia thorn trees, the architecture adds unexpected geometry to the natural surroundings.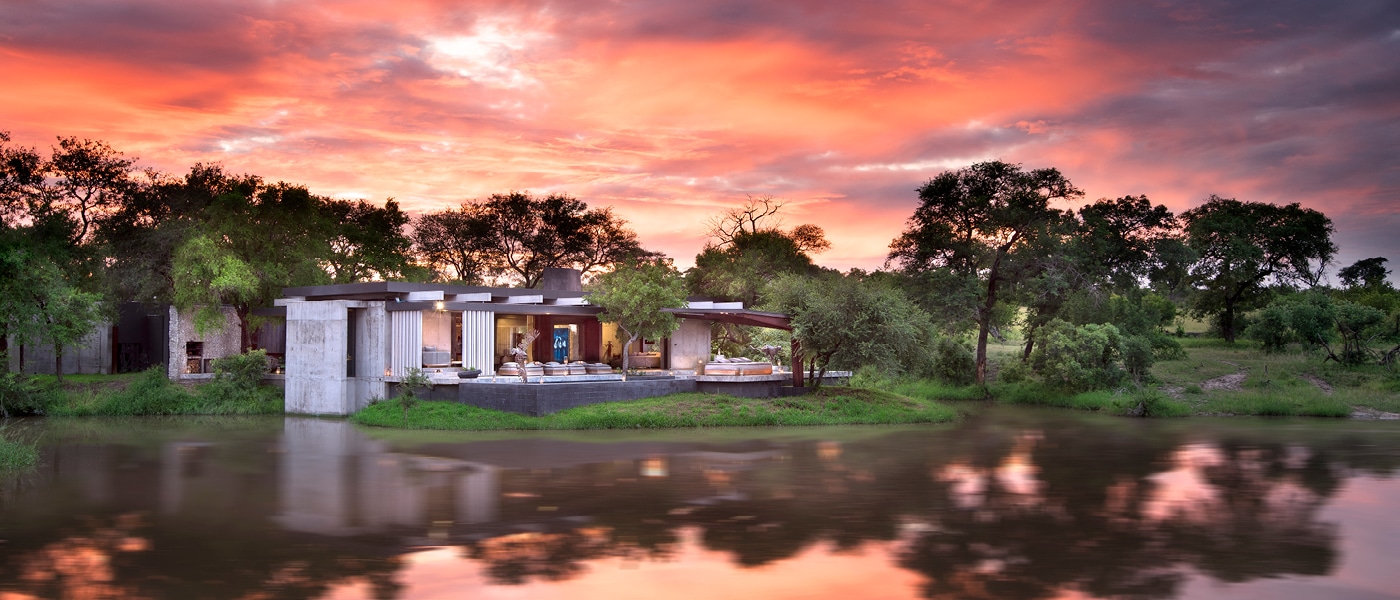 Sharing an unfenced boundary with the Kruger National Park, the Sabi Sand Game Reserve is the most expensive land under conservation in South Africa. This is the undisputed sharp edge of safari travel. Getting there is easy, and then there are the leopard, lion and other predator sightings that are both up close and virtually guaranteed. Made up of private concessions, many of them family owned, land in the Sabi Sand doesn't change hands very often. When a property called Cheetah Plains became available, current owner Japie van Niekerk could not believe his luck. The only way to step into this highly competitive arena was to do something that nobody else had done before. Ever the entrepreneur, he enlisted the creative input of a crack squad, headed up by ARRCC co- founder and architect, Stefan Antoni, to overturn existing notions of safari chic with the rebuild. He also took the entire property off grid. The result is a game- changer.
Instead of a conventional lodge layout, Cheetah Plains is three stand-alone, self-contained bush houses, each one a mini-lodge in its own right, utilising the latest in grey-water recycling systems and operating entirely on solar energy. Even on overcast days, everything works seamlessly, from the air-con to the pool pumps.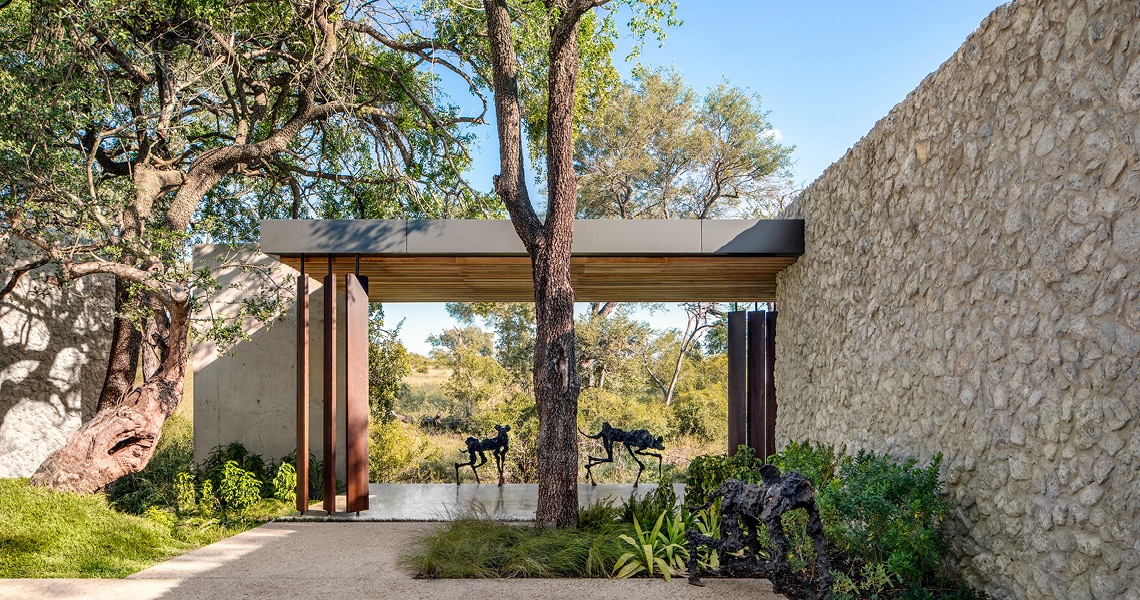 Resilient and robust, the off-shutter concrete and rough stone buildings are cantilevered over the landscape, and constructed carefully around the trees. Everything has been designed to weather over time. Inspired by the form of acacia thorn trees, the architecture adds unexpected geometry to the natural surroundings. Surprisingly, it doesn't feel intrusive.
Each exclusive-use mini-lodge accommodates up to eight guests in four, stand-alone guest suites. An open-plan layout of generous indoor and outdoor living spaces is conducive to house parties or multi- generational family gatherings, especially the media and entertainment lounge, temperature-controlled wine room and a solar-heated swimming pool generous enough to swim laps in.
Throughout, glass walls slide away into raw concrete. It's often hard to tell where the outdoors begins or ends. The effect is electrifying, offering full-frontal views of the drama unfolding in the bush beyond. It's not unusual to observe grazing antelope or feeding elephant mere metres away, while lazing in the bath. The spacious guest suites are blissfully private, each with its own lounge and shaded veranda. The mosquito net surrounding the bed and all the blinds disappear at the flick of a switch. In-room spa treatments with Africology plant-based balms and serums are complimentary, as is the use of binoculars and a camera to take on game drives.
It would be difficult to pick a favourite house, and even the owner and his family can't decide. Mapogo House, named after a notorious coalition of lions, and Mvula House, in memory of a legendary leopard, are decorated in swarthy, masculine tones enhanced by the rich patina of worn leather, while Karula House, named after a female leopard, is lighter and softer in design with metallic accents.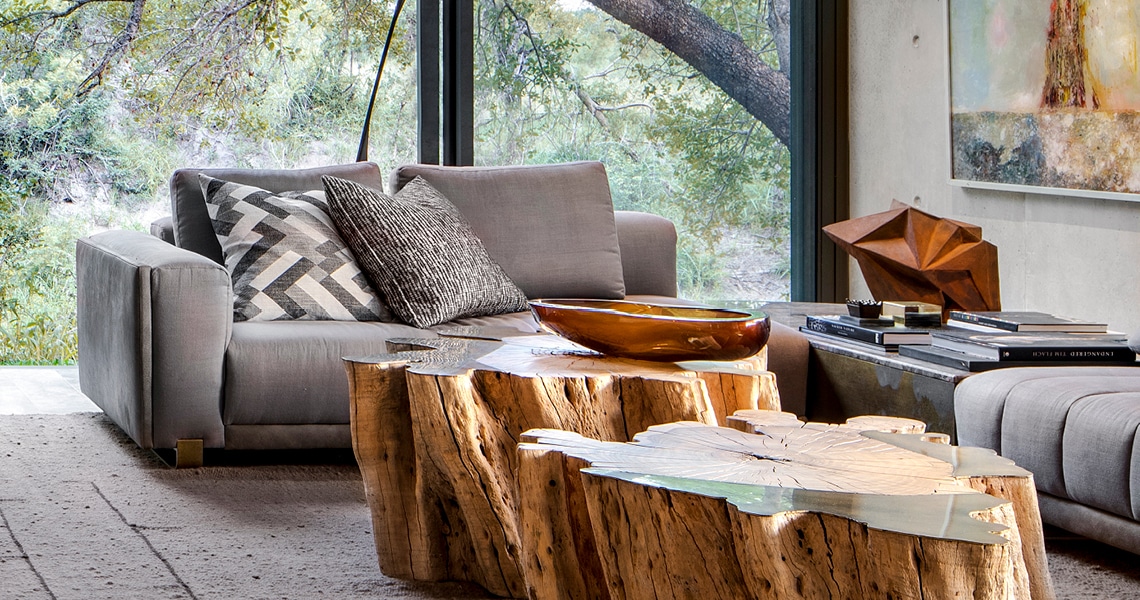 OKHA was commissioned to design the bespoke statement pieces that enhance the bold, almost brutalist architecture, adding a sophisticated, sensual counter- point to the raw and rough-hewn external elements. ARRCC's Jon Case, the lead designer for the project, chose to work with OKHA because of the design company's proven ability to connect to a deeper narrative, rooted in Africa. South African artists and craftsmen brought a handcrafted, hand-tooled feel to all the furniture. A contemporary South African art collection, each piece personally selected by Van Niekerk, adds exciting pops of primary colour.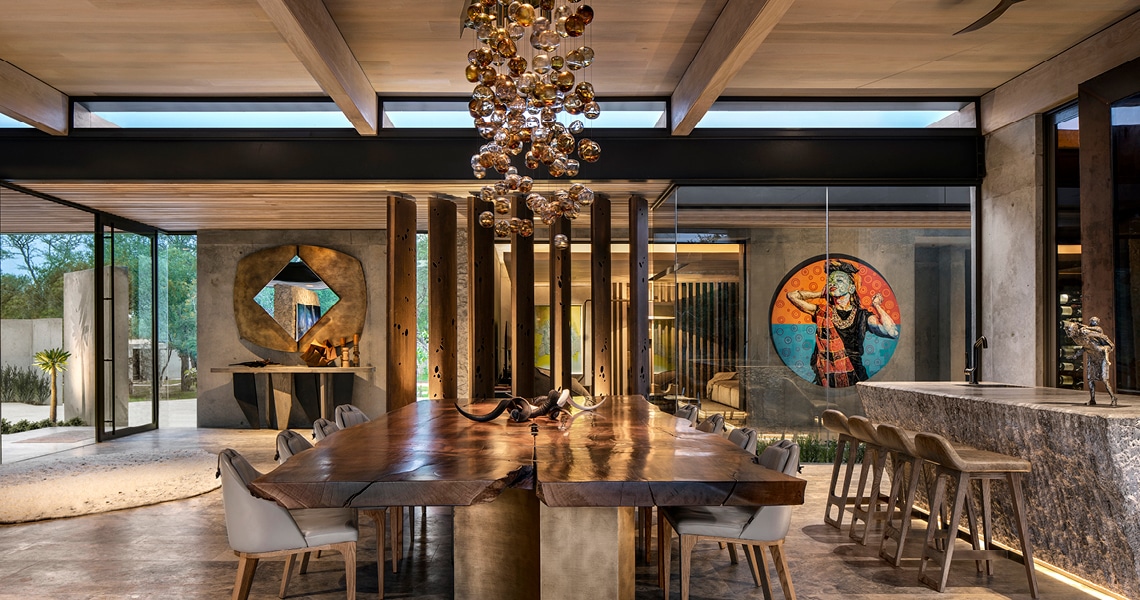 Oxidised, patinated and etched processes on mild steel, brass and copper create a lustre and depth on surfaces that resonate with the surroundings. Marble and unpolished stone were chosen according to grain and colour, and rich tones, such as sienna, rust, ochre, and copper, all reflect nature's earthy palette. Naturally fallen timber from the veld was used to build a five- metre long dining table for each house. Handblown glass, such as chunky vases, and chandeliers made from bronze glass baubles in the shape of tamboti seed pods, add further texture and detail.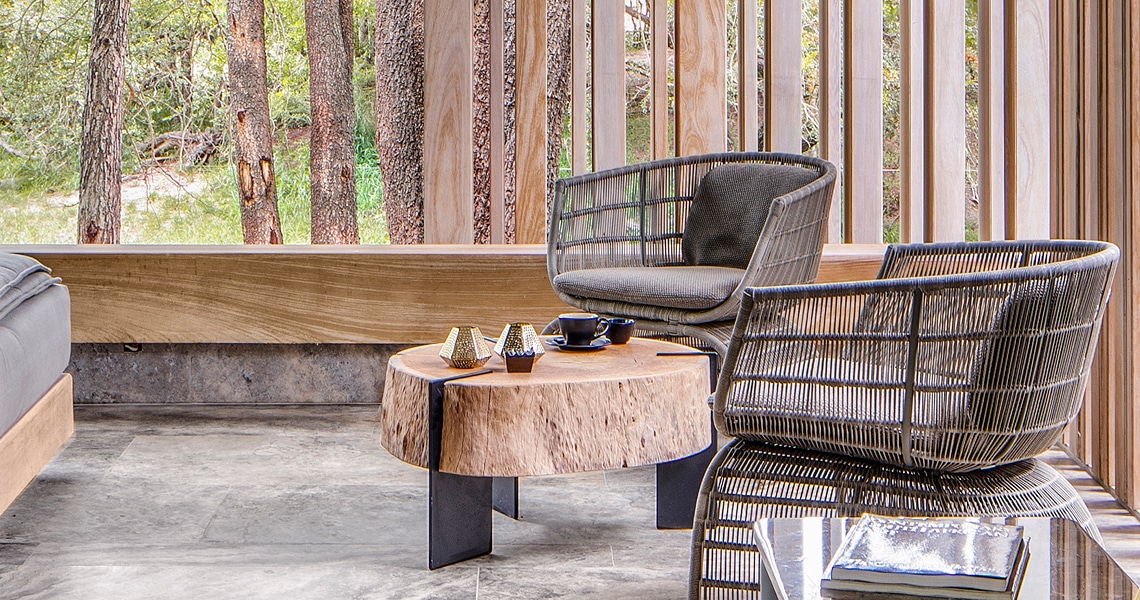 INSTEAD OF A CONVENTIONAL LODGE LAYOUT, CHEETAH PLAINS IS THREE STAND-ALONE, SELF- CONTAINED BUSH HOUSES, EACH ONE A MINI-LODGE IN ITS OWN RIGHT.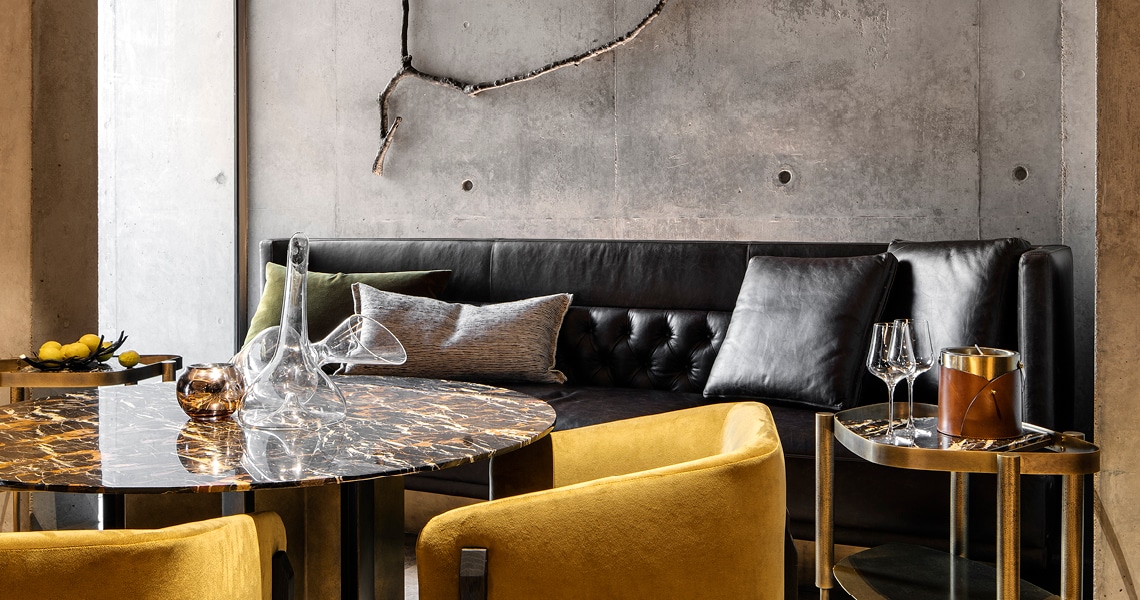 Diesel fumes and the roar of a workhorse engine are usually part of the stop-start process of tracking animals on the twice-daily game drives that define days on safari, but not here. While Van Niekerk was incentivised by being able to offer zero-emission, environmentally friendly game drives to his guests, as an ex-rally driver he also wanted the ride to be as comfortable as possible. The fleet of Toyota Landcruisers are all fitted with the latest Tesla battery technology. Fully charged, the electric engines will cruise for a full morning over any terrain before needing to be recharged using solar technology. They also have modified suspension and ergonomically designed seats with extra padding and seat warmers. Avid photographers, particularly birders, will be thrilled by the advantages of gliding in near silence through the bush. All the sounds of the bush, including bird song and the rustling of the wind through the grass, are evident, providing the sensory overload more typical of exploring an area on foot. And if anybody is concerned about whether an electric- powered vehicle can make a quick getaway in an emergency situation, the acceleration is impressive.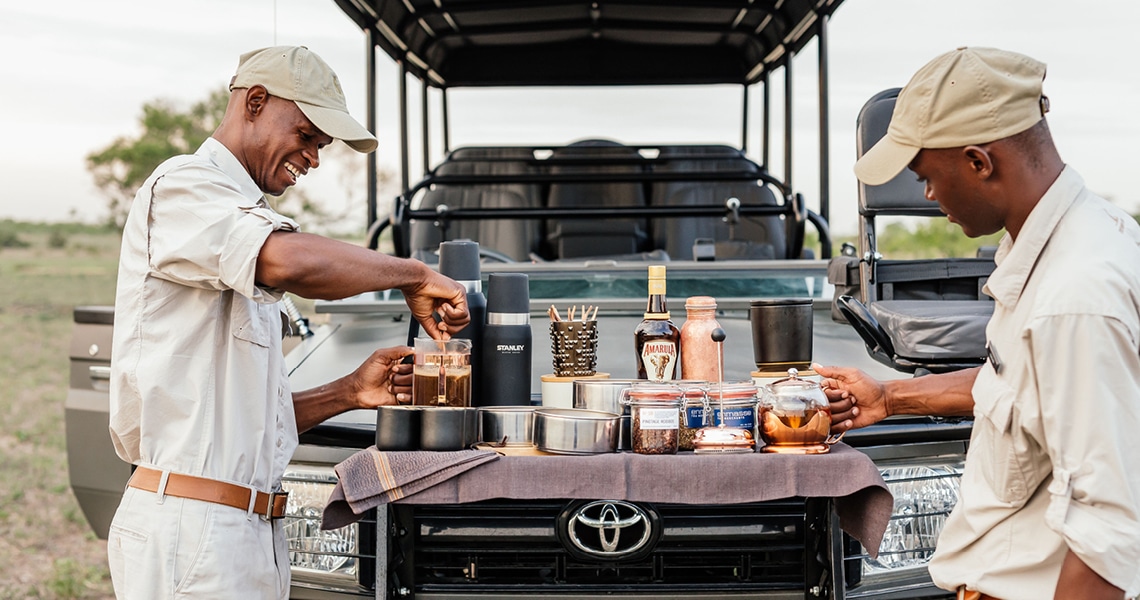 Along with animal sightings with bragging rights and minimalist Afro-chic interiors, the luxuries of privacy and time are what set Cheetah Plains apart from the competition. A private guide, tracker and vehicle always at the ready is a major perk of taking over one of these houses. With this comes the freedom to tweak everything about your stay from menus to activity times. From substantial, meal-in-one salads and cocktails around the pool to barbecued steaks matched to vintage red wines served around the fire under the stars, it's all about what you want when you want it. For as long as social distancing is a consideration when it comes to planning a holiday, not having to share space with strangers or fall in with anybody else's plans will make the likes of Cheetah Plains highly sought after. Its planet-saving credentials clinch the deal.